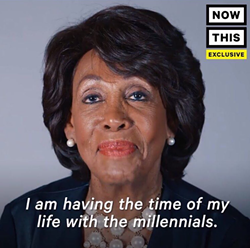 Maxine Waters,
who's black feminist clap back to "dishonorable person" Bill O'Reilly is the stuff of legends
, will be honored by the Detroit Branch of the NAACP. Waters is a democratic congresswoman from California where she is the senior African American woman serving. She is also the former chair of the Congressional Black Caucus.
The organization will present Waters with the James Weldon Johnson Lifetime Achievement Award.
Liberal queen and Massachusetts Senator Elizabeth Warren
will give the keynote address during the Fight for Freedom Fund Dinner on April 23 at Cobo Center.
According to a canned quote in a press release regarding the award, the Detroit Branch's president, the Rev. Wendell Anthony, said Waters is deserving of the award due to her unwavering dedication to "speaking truth to power." We'd have to agree.