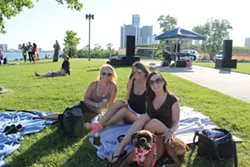 As the weather warms around the city of Detroit, there are more and more reasons to head outdoors and enjoy the scenic views the city has to offer thanks to not only man-made structures and landscapes, but the natural beauty of the riverfront.
Since 2012 the Detroit RiverFront Conservancy has hosted Light Up the Riverfront, a bonfire, barbecue, and evening of entertainment that takes place once a year at Milliken State Park.
The $25 event is BYOB, which is probably the best part of the whole thing. Bring your favorite bottle of booze or a six pack of craft brewskis, there will be food and non-alcoholic drinks available onsite. Aside from alcohol, we suggest packing a blanket — if you decide to sit, you'll probably be sitting on the ground.
There will be free secure parking across the street as well as free bike valet.
Oh, and no need to leave Fido at home — dogs are welcome too.
Milliken State Park is located at 1900 Atwater St., Detroit. To buy tickets go
here
.