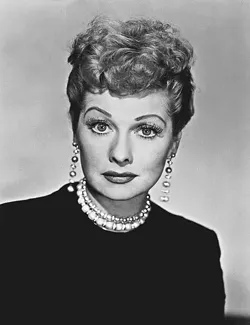 Let's talk today about two icons — undisputed titans of television — and the contrasting ways they're being remembered.
About a week ago, had she still been around to blow out all those candles, Lucille Ball would have celebrated her 100th birthday. Lucy: America's redhead, once hailed, derisively, as "Queen of the B-Movies." We love Lucy, and 54 years since her transcendent sitcom ended its primetime run on CBS, we still do.
I'm not particularly happy to admit I was alive to watch many of those first-run episodes on the network, albeit through a child's eyes. Still today, it's said no hour passes any day when a black-and-white I Love Lucy rerun isn't airing somewhere in the world; cable's Hallmark Channel seems to run them on a continuous loop. The daffy New York City housewife and frustrated nightclub performer is constantly being introduced to new, younger audiences who admire her comic genius afresh. But incredibly, that nearly wasn't the case.
In the '50s, most series were broadcast live and quickly forgotten, or, if recorded at all, committed to fragile kinescopes. Ball wouldn't stand for that, or maybe she knew something. Some biographers suggest she was pregnant with "Little Ricky" and didn't want to make the commute to New York from her California home. Whatever the reason, she and Desi Arnaz, her on- and off-screen husband, fought tooth and nail with CBS and sponsor Phillip Morris to put I Love Lucy on film, ultimately agreeing to take pay cuts to cover the added expense.
What good fortune! Can you imagine our national comedic DNA without Fred and Ethel, "Babaloo" or "Lucy, you got some 'splainin' to do!" Or deprived of Lucy's classic scenes that can be recalled with a single word? Winemaking? Chocolates? Harpo? Vitameatavegamin? Ball put the "situation" in situation comedy. As a glorious side effect, she and Arnaz virtually invented the rerun and syndication.
That's not all. She had television's first intercultural marriage — again, going to war with network nabobs who didn't believe the country would accept a Cuban bandleader as her TV hubby. Eventually, she and Arnaz went on the road with a live music-and-comedy revue to prove their likability. And again, she must have known something: For four of its six CBS seasons, I Love Lucy was the most-watched show in the United States and ended No. 1 in the ratings. She also gave us TV's first high-profile pregnancy, incorporating her real-life gestation into the show's storyline in its second season, though they weren't allowed to use the word in those days. (They said she was "expecting.") When she finally gave birth to Desi Jr., the news pushed Dwight Eisenhower's presidential inauguration off the front pages of papers nationwide.
That's not all. Ball and Arnaz (who for my money was nothing short of a genius) enlisted the help of Oscar-winning cinematographer Karl Freund (Metropolis) to develop the three-camera style of shooting their show that is still used to tape most situation comedies to this very day. They used a live audience instead of "canned" laughter, which was the norm.
That's not all. Ball was the first woman to head a major Hollywood studio when she bought out Arnaz's shares of Desilu Productions in 1962, following their divorce. Desilu was home to many of TV's most iconic series, including Star Trek, The Andy Griffith Show, Mission: Impossible, I Spy and The Untouchables. She starred in movies with the Marx Brothers (Room Service), the Three Stooges, Red Skelton and Bob Hope. She learned her comedic timing from Buster Keaton. She was a tough broad in the most positive sense, a pioneer for women in Hollywood with an unquenchable work ethic.
People often ask me if there's anyone I haven't interviewed that I would like to. I've been fortunate enough to talk to most of the personalities on my wish list; I'm an admirer of classic clowns, and two hours spent one-on-one with Skelton early in my career remains a life highlight. But I would have relished the opportunity to sit across from Lucille Ball for as long as she cared to chat. Because, you see, I love — no, make that adore — Lucy. Happy birthday.
And then there is Jerry Lewis. You may see him as a puffy old coot today, but trust me when I tell you that in his '50s heyday, he and partner Dean Martin were bigger than the Beatles. His solo comedy films, like The Nutty Professor and The Bellboy, are hallmarks of the genre. He is lionized in France. Yet this Labor Day weekend, for the first time in many of our lives, the annual Jerry Lewis Telethon will not include Jerry Lewis.
After 45 years, the Muscular Dystrophy Association, for whom his efforts have helped raise more than $1 billion, has ousted Lewis as its national chairman and barred him from appearing on the telethon as if he were a third-rate juggling act. And neither side is saying why.
Lewis, 85, told reporters he plans to hold a press conference the day after the telethon to clarify the situation. Until then, he told writers, "It's none of your business." Lewis said last May he would make his final appearance on the telethon Sept. 4 and sing "You'll Never Walk Alone" one last time, but the MDA subsequently announced Lewis would not be appearing on the special at all and so far has declined further comment.
Earlier this month, about a dozen comedians rallied at the Laugh Factory in Los Angeles to express their outrage over Lewis' treatment. Among them was Norm Crosby, the master of the malaprop who co-hosted the telethon with Lewis for more than a quarter-century. "If this is the way we're going," cracked Larry Miller, "we should also tell Grandpa we don't need him for Thanksgiving."
I will be fascinated to see how donations run for this year's Labor Day Telethon and what the tote board will finally read. All things must end, I'm certain an icon like Lewis can be a bit churlish, and there's much to this saga that has yet to be told. But in the absence of an explanation, the MDA seems like a prime suspect for elder abuse.