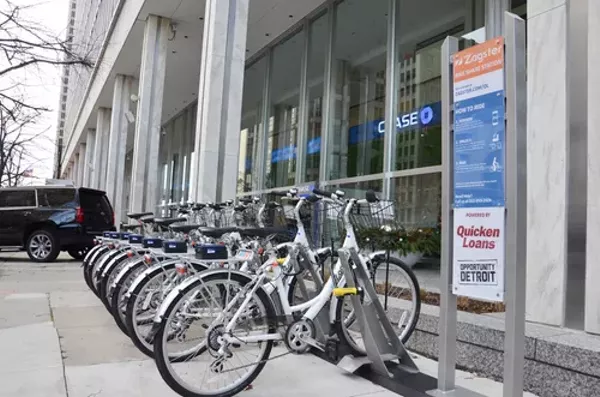 Do you have an old bicycle in the garage that you'd like to get oiled up and ready for riding? Looking for an impetus to get out on the road again this spring? Want to see what it feels like to leave the car at home and pedal for a day?
If you answered "yes" to any of the above, here's some good news: This Friday is
National Bike to Work Day
.
It's a special day when veteran cyclists and bicycling advocates do what they can to help people making their first attempt to bike to work that much more bearable (and less intimidating).
"We try to keep it a little broader than just biking to work," says organizer and Detroit Greenways Coalition executive director Todd Scott. "Our thought is that this event gets people thinking about biking for transportation. It's just one day a year, but hopefully it can get people to change their minds about what's possible."
One way is to sweeten the deal a bit, offering "pit stops" near downtown's major employment centers, gifts for those who pre-register, and even some use of showering facilities.
That also means established routes (
click here to see Detroit Greenways' maps
), leading from the suburbs to downtown, especially the popular Woodward Avenue and Jefferson Avenue route, and a Michigan Avenue route that will have some riders biking as far as Northville.
These routes have been a regular feature of the ride since its inception here a decade ago. But Scott tells us they aren't as big a part of the Detroit day as they used to be. In fact, the Grand River and Gratiot avenue rides may be canceled for lack of participants. But that news isn't necessarily bad, as Scott says the action is shifting elsewhere.
"In the beginning," he says, "it was more long-distance suburbanite routes bringing people downtown. But now we're seeing more people bike to work within the city, doing their own thing. I think that's a big positive change."
Obviously, for those who already live within city limits, it's less of a challenge to get motorists to give up their chariots for a day. And for those within and around Detroit, Detroit has a lot of advantages over other cities, at least when it comes to cycling.
"We have a really good grid system of roads, without a lot of cul de sacs," Scott tells us. "And compared to other cities, Detroit extremely flat."
Cyclists who pre-register get a chance to pick up some goodies at three "pit stops" that will be open from 7 to 9 Friday morning: in front of the Spirit of Detroit at the Coleman A. Young Municipal Building, in front of Old Main on the campus of Wayne State University, and at New Center Park. Special perks include an athletic wear T-shirt and a Whole Foods tote bag, but there will be plenty of snack bars, coffee coupons, and more for all participants.
What's more, the good people at
Fitness Works
adjacent New Center Park have agreed to open their doors to cyclists who bring a photo ID and their own lock.
But perhaps most interesting of all is a demonstration model that will be at the City Hall location for
Detroit's new MoGo bike rental system
, which debuts May 23. Scott tells us everyone who participates in Bike to Work Day will get a free 24-hour MoGo pass.
Anything else we forgot? Todd Scott reminds us all, "The most important thing is to make sure bike is in working order." If you haven't ridden your bike in a while, take it to a bike shop and make sure it's ready to go.