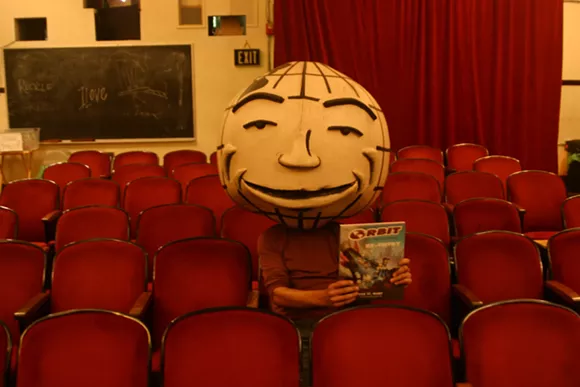 Orby
—
the mascot of
Orbit
, Detroit's long-defunct free humor magazine — was officially returned to publisher Jerry Vile after going MIA 16 years ago.
On Monday, Cinema Detroit hosted a book signing event for
Re-Entry: The Orbit Magazine Anthology
featuring author Rob St. Mary and Vile, who were presented with the giant wearable head modeled after the magazine's cartoon mascot.
The head was last in the possession of Vile in 1999, when the staff of
Orbit
threw a party at Saint Andrew's Hall to mark the end of the magazine. That's when the Orby head was left backstage, where it disappeared.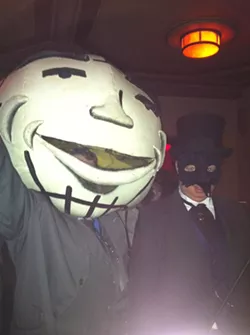 But that wasn't the end of Orby. The head would make appearances throughout the years at parties around Detroit. In 2011, shortly after starting his work on
Re-Entry
, St. Mary spotted Orby at the Theatre Bizarre Halloween party, but couldn't get any information about the man behind the mask before he got lost in the crowd.
St. Mary recounted the story to us earlier this summer while we were putting together
the Orbit takeover issue
. As it turned out, our own Michael Jackman knew a guy who knew the guy who owned the head.
That wound up being Erik Maluchnik, an audio engineer who was working as the sound guy at the Saint Andrew's Party. Maluchnik says the original plan was to bring Vile onstage wearing the head, who was going to be theatrically beheaded with an oversized battle ax — but the party got so out of hand that it never happened.
So Maluchnik decided to take Orby. "I was a huge fan of
Orbit
magazine. I was really sad to see it go," he says by phone. "When that head was there at the end of the night, I fuckin' grabbed it."
For years, Maluchnik says the head just sat in the corner of his apartment. "I always planned on making a lamp with it," he says. "It was a stupid idea, but I always wanted to get a full-size male mannequin and put him in a thrift-store suit and put the Orby head on it, and put a couple of lamps in the mannequin's hand. But I never found a mannequin that I could afford. If I had found the mannequin, they probably wouldn't be getting it back!"
Occasionally, Maluchnik's buddy, Phil Salatrik, would borrow the head to wear to Halloween parties — such as the 2011 Theatre Bizarre, which happened to have a large amount of
Orbit
fans in attendance.
"I couldn't walk through the halls. It was a constant photo op," Salatrik says by phone. "I kept meeting people who were telling me that Jerry Vile was there and they wanted me to go take a picture with him, but it never happened because I couldn't move."
According to Salatrik, years of deterioration means Orby's party days are probably over. "The last time I wore it, the foam was sticking to my head, so I wore a ski mask just so it wouldn't get all over my face and stuff," he says. "I probably still breathed in some nasty stuff. But it was worth it, because I was like a celebrity."
For now, St. Mary says he and Vile are trying to find a proper place to store the head, hopefully on display as part of Detroit history.