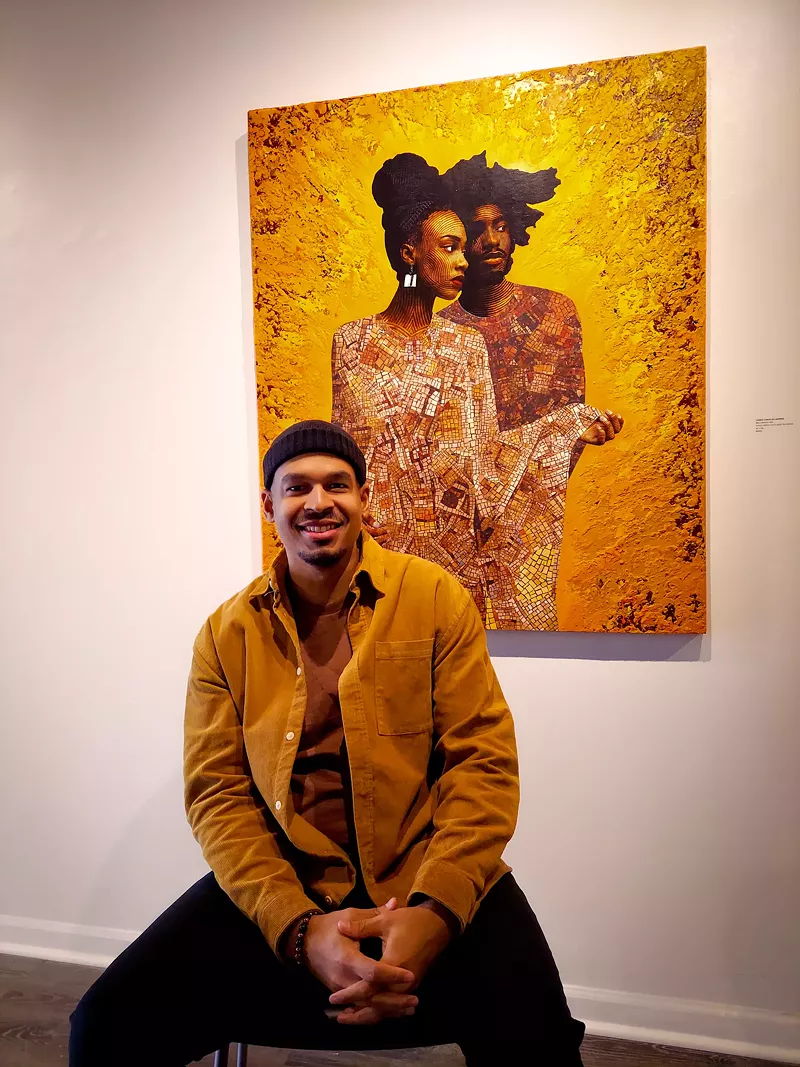 This feature highlights a different local artist each week. Got someone in mind you think deserves the spotlight? Hit us up at [email protected].
Artist of the week: James Charles Morris
Art has always been a part of James Charles Morris's life. It's in his blood.
That's a given when you have distinguished Detroit gallerist Dell Pryor for a grandmother. Morris grew up exploring Pryor's gallery and began helping her hang art for shows in his teens.
"You name an esteemed Black artist, I've held their work," he tells Metro Times. "Romare Bearden, Carole Harris, Shirley Woodson, Gilda Snowden, Anthony Barboza, Jamel Shabazz, Senghor Reid… the list goes on and on. It's a lot of different artists whose work I've held and hung, and with that, you're taking in the spirit of their work. It influenced me so much, taking in all of these masterworks. It's like this circulating experience of different energies that would flow through the different incarnations of the gallery and I was there from pretty much the beginning."
Now Morris is making his own mark on the art world with his multimedia collage pieces. The self-taught artist and photographer digitally manipulates his photos, layering his subject's faces with sweeping texture.
His most recent piece, "Becoming One," meshes photography, digital manipulation, collage, and painting. It debuted at Norwest Gallery of Art as part of the Expressions of Black Love exhibit in February. The show also features work by Judy Bowman, Shirley Woodson, Phil Simpson, Mieyoshi Ragernoir, Sheefy McFly, Maisha Hughes, Doug Jones, Abifola Abraham, Simone Bryant, Taylor Childs, Jamar Lockhart, Jason Phillips, DaJaniere Rice, Reggie Singleton, Rosemary Summers, and Vonmash.
When we meet Morris at Norwest Gallery on a rare sunny afternoon, he's busy hanging lights for the exhibition's opening reception, as he's done countless times for Dell Pryor Gallery.
"I call it full circle that my piece is right across from Shirley Woodson, who I've grown up admiring her work," he says. "That's why when you saw me up on the ladder adjusting the lights, I'm used to it because I used to hang a lot of her shows."
Looking around the gallery, many of the pieces on display are overtly affectionate — two lovers gaze at each other, a mother holds her son, a man puts his arm around his lover — but in Morris's piece, a couple stares off the canvas at an unknown subject, putting space between each other and the viewer.
"With 'Becoming One' there's no emphasis on a romantic relationship," he explains. "There's no emphasis on showing any of the tropes that people see when you're talking about love like kissing or being hugged up. There's more of a close separation, though they are connected by looking at their road ahead together."
The mosaic montage that forms the couple's clothing is made out of photos Morris shot himself and cut into various pieces. An ethereal aura emanates around the couple in bursting hues of orange that warm the entire wall behind it.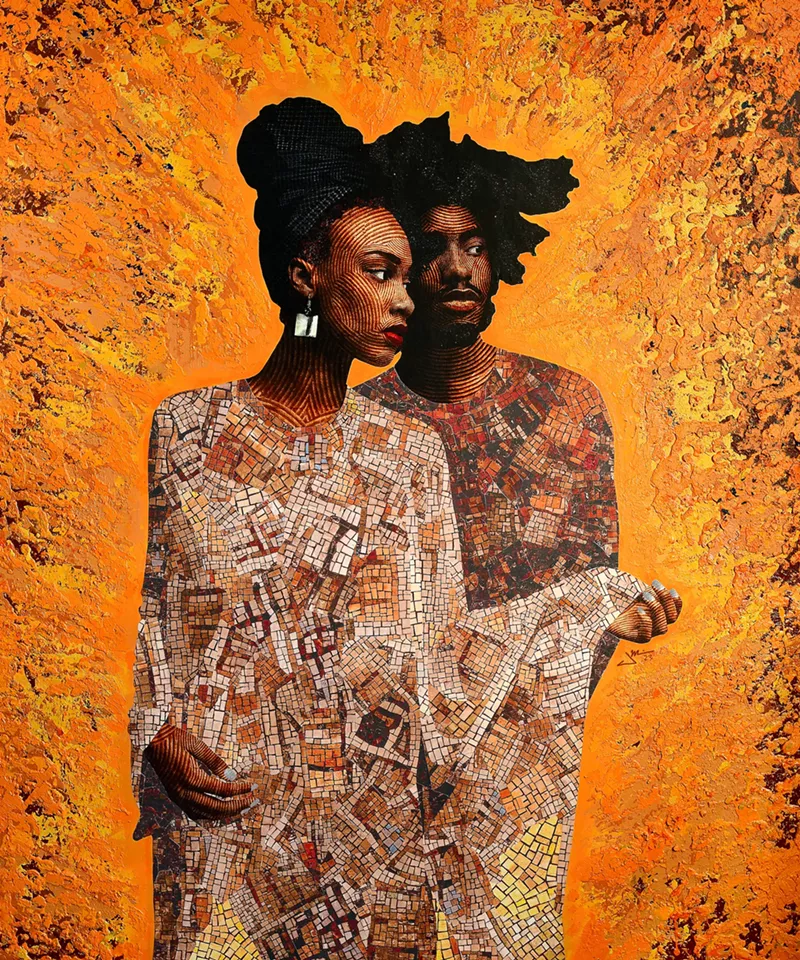 Morris has been a photographer for roughly 20 years, and he started digitally manipulating his work around 2020 during the pandemic. Prior to that, he ran a boutique in downtown Detroit called Definitive Style Exclusive (DSE) for 10 years. He closed the shop and switched to online sales as "things were starting to change downtown" and some of his politically charged T-shirts began to feel out of place.
"I saw the writing on the wall," he says laughing as he reminisces about the shop's final days. "No diss to anybody who's going down there, but ain't too many folks driving downtown going into a shop where there's a shirt that says 'I'm Black get over it.' I remember seeing this couple looking in the window from outside, they didn't realize the window was thin so I could hear them, and they were saying, 'I think this is just a Black-only store.'"
Morris says art hasn't just been "a part" of his life, it's been an immersive experience.
"Every single moment of my life I've been involved in some way shape or form in an artistic project or happening, and all it did was help me realize my potential as an artist," he says. "As a kid, I was always creating figurines and different projects made out of materials like duct tape, electrical tape, cardboard, anything I could find. So it's no coincidence that now what I do with collage has the same spirit. It was never any type of pressure from my family or anything, it just flowed naturally."
He adds, "For the last 15 years I've been more on the commercial side with my clothing brand and I had moved away from fine art, but once the pandemic hit it forced me to stop and get back into this creative bag. It made me say, 'You really need to explore this more, because you have so much to say through your art, it would be a crime if you didn't explore it.'"
Where to see his work: Expressions of Black Love is up until March 19 at Norwest Gallery of Art.
Coming soon: Metro Times Daily newsletter. We'll send you a handful of interesting Detroit stories every morning. Subscribe now to not miss a thing.

Follow us: Google News | NewsBreak | Reddit | Instagram | Facebook | Twitter