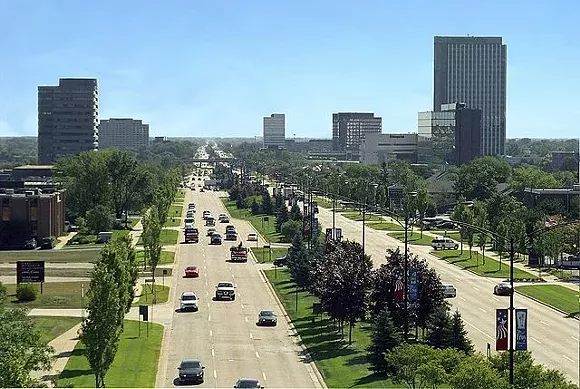 We get all sorts of press releases here at MT, and many of them declare this city or that city to be superlative.
Whether it's worst small towns (
Roseville
), 50th best place in the United States to live (
Westland? For real?
), the best place to open a yoga studio (
Detroit
), or the best city for singles (
Ypsi
).
These press releases all trade on the same idea: Local publications love to be able to say their city showed up on somebody else's list. It's a great way to barge into local publications and get more clicks.
Sometimes, though, these lists leave us scratching our heads. Like the latest one, from SeniorAdvice.com, which names Troy as the seventh-best city for seniors.
Really? The "City of Tomorrow, Today" is practically the poster child for the car-dependent city depicted by General Motors in its FUTURAMA exhibit. The good people at walkscore.com identify Troy as a "car-dependent city," in that "most errands require a car in Troy."
That is to say, most errands demand the perfect eyesight, acute hearing, and lightning-fast reflexes. And, yes, we know there are plenty of older people who have no problem driving, thankyouverymuch. But you don't need to be James Howard Kunstler to see there are some problems ahead.
And don't blame us at
Metro Times
for being sourballs. It's an issue that we've seen plenty about in the news lately. Perhaps you've seen
a Stateline article
from the Pew Charitable Trusts that's been making the rounds. It points out that "car-centric suburban neighborhoods with multilevel homes and scarce sidewalks are a poor match for people who can't climb stairs or drive a car."
Sure, Troy does have amenities that older people might find desirable. We can't argue with that. But a new body of research suggests that people need more than some magic mix of things within driving distance.
They might need them organized a sensibly designed, walkable neighborhood.
Good luck finding that in Michigan.