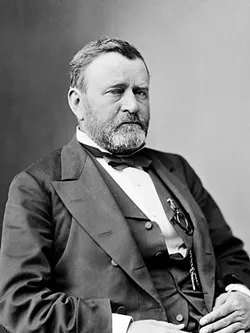 Class can sometimes be boring. Especially when students are expected to just read a book and absorb the information with the snap of a finger. This is why field trips are so important: Giving students a chance to actually try and experience new things. Well what happens when the "field trip" comes to your school?
Students at Detroit Edison Public School Academy, a charter school in the Eastern Market neighborhood, may soon be in for a real educational treat.

According to MLive, the school is in the process of obtaining the former home of 18th U.S. president Ulysses S. Grant. The actual relocation, however, is going super slow.

"The plan is moving very slowly. We are still negotiating ... We're still planning to remove it," Sandra Clark, the director of Michigan History Center, who has been trying to move the property to DEPSA for over a year now, shared with MLive.

For years Clark and local state representatives were tasked with figuring out how to address financial and rehabilitation problems associated with the Grant house. A big issue with the house has to do with its size — it's big and old, in other words maintaining it is hard and moving it is equally difficult.
The house was originally built on East Ford Street, relative to where Lafayette Park is now. Then, the house was moved for the first time to the State Fairgrounds in 1936. Since 1950, the house is located on the former State Fairgrounds near Woodward and Eight Mile.

In October 2013, Magic Johnson gave the city a strong feeling of euphoria and hope for the antique, by purchasing the 160-acre site where the Grant house was located. Unfortunately, Johnson refused to purchase or take responsibility for the Grant house on his property.
The house has been through some tough transportations, and, ever since Grant died, it has caused some debate regarding its value and suitability. At one point it was offered to Greenfield Village, however, Christian Overland, executive vice president at the Henry Ford, decline the gift saying it "did not meet our collecting goals." Clark, who has been a fierce advocate for the house, opposes this viewing saying the "house itself is an important artifact. It's just a very big artifact."
The Grant house holds deep roots for not only an influential man in the country's history, but also Detroit's. The house strongly reveals the architecture and exterior design trends that Detroit had back in the 1800s.

Tori Carroll, Metro Times's youngest intern, will be a sophomore at Cass Technical High School this fall.