On April 20, the world got its first glimpse of the cover art for hip-hop recording artist J. Cole's newest album, KOD. It turned out the occasion was a breakthrough moment for a Detroit-based artist who'd designed the trippy album art. The artist, known as Sixmau, gave a brief interview to Vibe, revealing how he'd been making art as long as he could remember, although now, of course, his phone was blowing up after being discovered by J. Cole.
MT recently caught up with the artist, a 22-year-old named Kamau Haroon. Haroon had grown up in Highland Park and attended Henry Ford Academy: School for Creative Studies, and went on to attend the College for Creative Studies. But, two years ago, Haroon dropped out.
"It was a lot of money, a lot of stress," he says. "I was failing art classes. And I thought that my art was the shit, but ... I think maybe I felt unmotivated in that space. I wasn't making the kind of art I wanted to make. And I always had a solid vision for the kind of art I wanted to make. ... I learned a lot, but I just felt like it wasn't the right place for me creatively."
Instead of veering away from art, Haroon decided to dive into creativity 100 percent.
"I didn't really have anything going for me besides my artwork," he says. "I had a strong following on Instagram, because I've always been posting my art. I decided that was just what I was going to do, focusing on that 100 percent."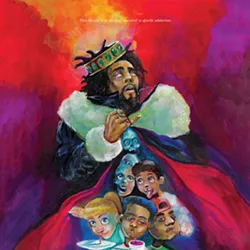 A few months after dropping out, Haroon was down in Texas, staying with his father, and broadening his horizons. For about a year he treated it as his home base while he traveled as far as California and Miami, painting large-scale pieces and murals, going wherever his work took him. More importantly, he met artist Roberto Munguia, who played mentor to the young man, showing him how to work in new mediums, how to stage shows, and giving him the confidence to take off on his own.
"He's a cool-ass old Mexican painter," Haroon says. "He has stuff in museums, he has stuff in books, he's a legitimate dude. I feel like that experience was way more valuable than what I learned at school. I started just growing exponentially in that period of time."
Haroon had already been working on a local level, designing album covers and doing creative direction for clothing lines and hip-hop artists. But over the last year, bigger names, such as Ohio rapper Stalley, have started recognizing his work as Sixmau on social media and hitting him up. When Ohio rapper Childish Major asked if he could use a sketch Haroon had posted, the artist was happy to sell it at a bargain price.
"I knew it was a great opportunity," Haroon says, "because that track was produced by J. Cole. Afterward, it was a hit, everybody loved it, J. Cole loved it, and he was asking, 'Who was the dude who did that cover?'"
That inquiry culminated in April's KOD cover, which took the college dropout and vaulted him into the company of star recording artists at Dreamville Records.
"Each time I do one of these little projects," the artist says, "it's not like I'm not just sending them art. It's creative direction experience. I was actually in the studio with Cole, like, meeting his graphic designer and his photographer and his filmmaker, trying to visually capture the vibe of this album. J. Cole, he's just a regular person like me. He's not super corporate. From when he first hit me up, it wasn't like a business hitting up a design firm. It was a chill vibe, like a person talking to another person. Just people communicating, and that's how I like it."
"And while I'm having these conversations, I'm getting people's numbers and I've been making connections with good people, like my boy Felton [Brown] from Dreamville [Records]," Haroon says. "He's working on getting me hooked up with gallery representation in New York. So right now everything's looking up, as far as business goes."
That positive outlook might seem at odds with some of the compelling, real-life subjects that crop up in Sixmau's work. The KOD art, for instance, shows J. Cole as a regal figure whose cape reveals what appear to be young children using drugs and turning into skulls. Evidently, somebody thought the work was controversial enough to add the caveat, "This album is in no way intended to glorify addiction."
And yet the palette of colors seems out of a psychedelic ice cream bin, with swirling ochre, crimson, and purple washes. Asked if the colors are there to soften the dark subject matter, Haroon says the juxtaposition is intentional.
"I don't really see it as a darkness, though," he says. "I just see it as, like, a realness. Like, this is our reality. We're here, and we're in it. ... This reality has to be represented in some way. It's not all sunshine and rainbows."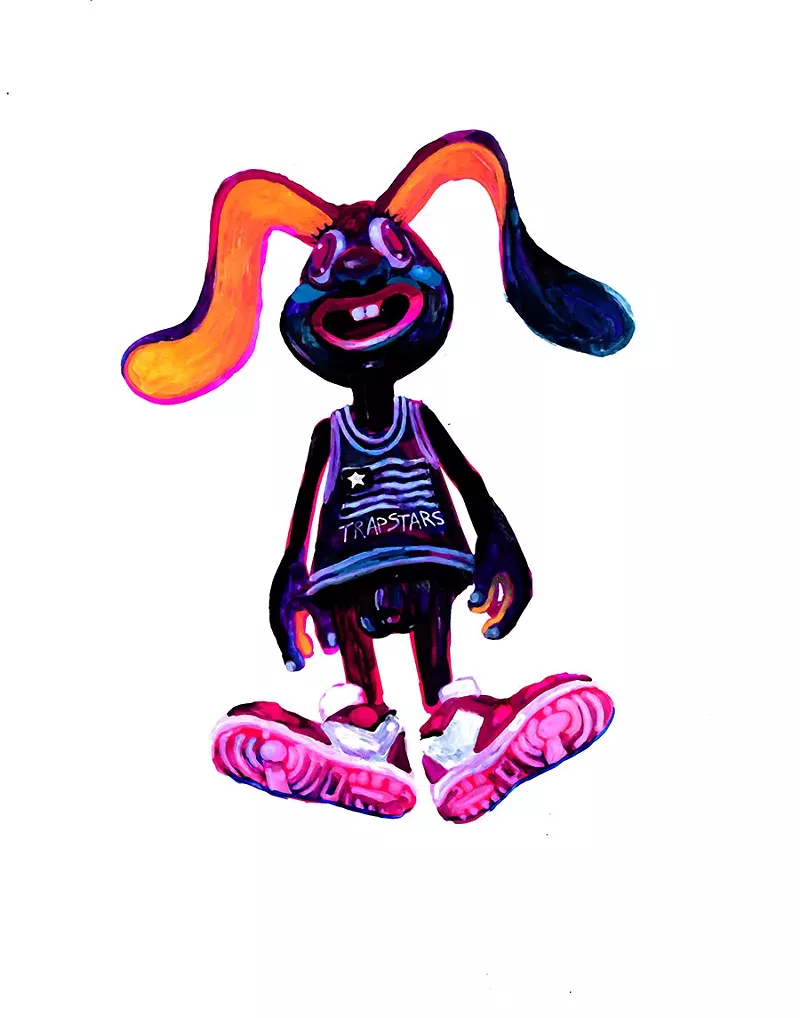 "But also, I know that a lot of people don't want to look at these topics and try to brush them under the rug. So I figure if you make it beautiful, then you kind of gotta look at it." He adds with a laugh, "You know? You see all these beautiful colors and these interesting characters and you're like, 'Whoa! What is that?' and then you see it's some deep shit and then you're like, 'Whoa, wait, wait, wait, wait.' It grabs your eye and then after that you can inspect it and come up with your own interpretation of what it actually means."
The artist uses a hands-on process that sometimes incorporates actual photos, painted over, with sparing use of digital means in the actual process.
"For me, my pieces are never finished," he says with a laugh. "I just get tired of working on them."
"It's just a constant creative process. There's always more stuff I feel I can add to them. I make collages, I do photography, I even make music and do animation and film. There's a lot I dabble in. Eventually, I want to go on and be a filmmaker. Because that's the one thing that can combine all my talents. That's one of my goals. But because I have all these talents, all these hobbies, all these things I want to do, I feel that's why my art has this hodgepodge, mismatched vibe. I have a specific vision that I want, but sometimes it takes a bunch of different elements to accomplish it."
Whatever Sixmau chooses to do next, ever since April, it appears the kid from Highland Park now has the connections and resources to make it happen.
"Ever since it's just been on," Haroon says. "People have been hitting me up. ... It's all just tumbling in really fast. I've always been a hands-on, visual learner, but everything just topped off when I left school."
Stay on top of Detroit news and views. Sign up for our weekly issue newsletter delivered each Wednesday.