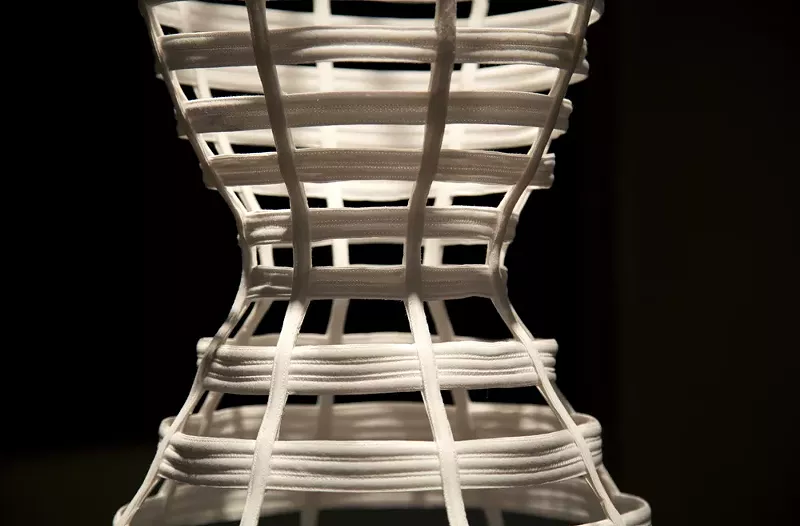 On Friday, Detroit's K.Oss Contemporary Art Gallery will host an opening reception for
Annica Cuppetelli: Measures of Constriction
. The sample image used on the flyer reminded us of a corset, so we were intrigued to learn more. Turns out we were onto something.
Cuppetelli, a fiber major who attended the College for Creative Studies for her undergraduate studies and Cranbrook for graduate school, says she's inspired by fashion and clothing in her work, and especially the corset. We met up with the artist, on a break from her Corktown studio, at the gallery along with owner Kristina Oss to discuss her work.
Metro Times:
Is this new body of work that you're showing different for you, or is it
a in
line with the way that you've been working?

Annica Cuppetelli:
It's kind of in the line that I've been working, but it's pushing boundaries in
different
way. It's the same material I've been working with for maybe 10 years now, but it's a material that I keep learning from. It goes along with
my research
that I'm doing, which has a lot to do with the dress reform movement that happened in the late 18th century and early 19th century, and the relationship between dress and politics historically but also contemporarily.
Before, was about the corset — how it's all made out of boning, which is what gives the garment structure, contains, refines shape, form, and silhouette. But now I'm kind of thinking about this in contemporary times, and what does that mean and how can I start to bring that conversation into this body of work?
MT:
Can you tell us more about the dress reform movement?
Cuppetelli:
It was the late 18th century, early 19th century, and it was women fighting against the corset — to be freed from it.
So there was that happening, and then also pantaloons, or pants — which comes up a lot in this new work, is the being able to wear pants and the freedom of a garment. So having this freedom also changes the roles that women had in society. Instead of being confined and not being able to move, being able to wear pants and have more freedom really changed a women's roles in society.
MT:
Was the change led by fashion designers or consumers?
Cuppetelli:
It also happened along with the Public Health Reform of the 19th Century too. It was women that were sick of being confined to these garments, in these norms of what the ideal beauty was. And what beauty was of these dresses where they couldn't move basically, and they were caged into wanting more freedom. So a lot of it goes hand in hand with women's rights and the women's rights movement that was also kind of happening with that.
MT:
Do you see a reflection of this in our time now?
Cuppetelli:
It's kind of scary, looking back historically and seeing, and then also still seeing how women are still confined with these
ideals
of beauty, but they're in different ways, right? So it's not [the same] way. We're not tight-lacing ourselves in [corsets], but we are in different ways, too. So there are things are still happening that you can really look at almost over a hundred years ago and spin them into contemporary time for sure.
MT:
What sparked your interest in learning more about dress reform?
Cuppetelli:
I've always been interested in dress and dress as something that was political and a means of communication, specifically identity and personal identity. I'm also a feminist and my medium is fiber, which already kind of has this, feminist [take] on women's work. I'm already bringing that language in, too. It's the technique — it's "women's work," or it's sewing, all these things that already go back to [ideas] of the female and work.
It really all started off with my interest in the
corset,
and realizing that this garment was in fashion for 400 years. I did not know that. And it was used in male and female fashion — it did go both ways. So I was reading about how there were women that didn't want to leave the corset, and there were women that did want to leave. It was just really interesting for me to kind of see how a garment became so political, and it has all these meanings — which still happens nowadays within
dress
. It's also about its relationship to women's rights, which is also something for me that I'm very, very passionate about and I'm interested in. I'm just kind of bringing my interest together within fashion.
MT:
Is your technique old-school?
Cuppetelli:
Contemporary corset boning went through a lot of different stages between being made from whale bones to ivory to reed, which is used in basketry. And sometimes it was steel, too — so they really were literally cages for the body. To me, that is so interesting. So within this body of work, I'm thinking about my research, and kind of and trying to bring that in. I'm playing with the silhouette and kind of changing that, but also confining myself within the own measurements of making — of making the structure first, you know, having a shape and an idea in a sketch, but then confining myself to it. And it's not easy to work with. It's very physical. There is a physical element with it. It got to the point where I had to drive myself to the emergency room because I hurt my shoulder and I couldn't move!
So I'm really kind of controlling and figuring out when to move forward when not, thinking again of the female form, shape, silhouette, and the past and the contemporary. Mostly all the work is made out of boning. Jasper Johns has that famous quote that says, "Do something, do something to that, and then do something to that." So I feel like I'm still "doing that" with this material. You can see these are kind of sewn together and then it comes together. These are all woven, and so it's applying weaving and basketry techniques, which then brings in my textile reference, and also the ideas of a women's work and labor hopefully to the conversation.
MT:
To be clear, these are not garments — they're sculptures, correct?
Cuppetelli:
Yes. It's kind of the absence of the body — kind of bringing this memory or this form or figure that maybe was there or could embody it. That's what I'm interested in, the conversation between dress and sculpture. I've always been interested in the space between the body and the garment, and how that's kind of defined. And so for a long time that's been another thing in my research — like, how can I define it without the body actually being there?
Kristina Oss:
I think the work has both a feminine and masculine quality to it.
Cuppetelli:
That's interesting you say that. I think with this new stuff, the masculine is starting to come in with the feminine a little bit more, when before it was more about the female. I haven't had a solo show in six years, so this was my first show in a while, which is really exciting, but also kind of scary again. The last one that I had that was also kind of based off of this work, a woman came by and she's like, "I walked by and I thought that this was a wedding dress shop." And she's like, "OK, sorry, I don't want to insult you." And I was like, "No, that's a great compliment."
MT:
That was a compliment to your craftsmanship. Plus, it's white.
Cuppetelli:
Yeah, so far it's been mainly white because color has a lot of other meaning. I still think of white and the purity and the cleanliness of it all. It's still conceptually bringing stuff to the work.
MT:
Just to kind of go back to it, would you say that it was the patriarchy and social norms that were enforcing this fashion? Do you think that we've just replaced corsets with other garments?

Cuppetelli:
I think you're right on that. I mean, I think
there's
other things, you know, like high heels and stiletto shoes, too. You
know,
you think about the corset, but what about Spanx? They're still undergarments that women wear to contain and hold in their body. It might not be as severe as the corset or the hoop skirts. But again, it's that ideal of beauty that women are still sacrificing themselves for. They're still putting themselves in a shoe that they can't walk in to have the
look,
or be what we consider beautiful. And that's something that's really interesting.
Annica Cuppetelli: Measures of Constriction
has an opening reception from 6-9 p.m. on Friday, Jan. 11 at K.OSS Contemporary Art; 1410 Gratiot Ave., Detroit; 248-599-2232 kossgallery.com; Admission is free; Show runs through March 2.

Get our top picks for the best events in Detroit every Thursday morning. Sign up for our events newsletter.