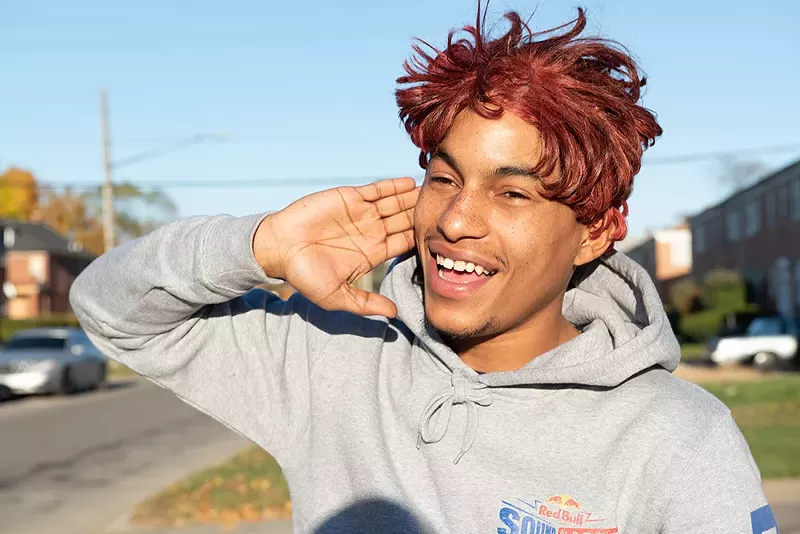 Tay Crispyy is posted up on Glendale Street on Detroit's Westside as the sun sets. It feels like he's waiting for some unexpected action to happen that only he knows about, but nothing eventful is going on. He's just hanging with a friend enjoying a not-so-cold Detroit day. He has on a maroon wig (one of many he's been known to wear), jeans, and a Red Bull "SoundClash" hoodie.
"That was a great experience," he says regarding SoundClash, an event he recently hosted that featured rappers Larry June and Detroit's Babyface Ray. "I hosted an event at the El Club, met Drew (Drialo) there, and he hooked it all up for me. It's about relationships, doing good business, being on time, and doing you. You never know who you can meet."
Over the last four years, the 28-year-old has evolved and elevated himself into a very original entertainment personality in Detroit. He's not necessarily a comedian, but he has his own unique comedic swagger that he brings to hosting gigs. And his autoschediastic "reporting live" media-like commentary on Instagram Live has made him a social media favorite.
Tay grew up in Detroit's Brightmoor neighborhood. He says he bounced around through about a half of dozen high schools until he graduated from Livonia's Churchill in 2011. He says he had always had a keen sense of humor and a natural magnetic energy when he was in front of crowds.
"I have always been a live person" he says. "I've been hosting parties and being around the entertainment scene since I was about 15 or 16 years old."
One day in 2019 he witnessed a minor car accident on Detroit's Eastside. Without putting any thought into it, he took out his phone, logged into Instagram live, yelled "Reporting live," and began doing a fast paced, exaggerated "live on the scene" anchorman-type commentary. The video received thousands of views.
Tay knew he was on to something.
"I saw the numbers that I got back, my face wasn't in the video but the next couple of videos I started putting my face in there," he says. "That's how I built my network."
As the weeks went on Tay found himself "reporting live" at hip-hop video shoots, street car races, and other minor car accidents. In April of 2020, WDIV-TV interviewed him and used his cell phone footage and skit to cover a highschool fight.
His impromptu act goes beyond words and typical mimicking. Once Tay announces "reporting live," he holds his hand to his ear like he has an invisible earpiece talking to a TV station. Sometimes he even uses an invisible microphone as he delivers his spitfire narrations. Imagine a younger, Black version of Bill Bonds delivering the news like rapper Twista.
"My whole act, everything is really improv, it's not skited out, some of them are skited out, but it's mostly all improv. I never want to be too scripted," he says confidently.
After the first wave of videos Tay started to wear Ron Burgundy-type wigs with a flip to it, and Tay Crispyy the character was complete.
"The wig makes the brand, so I would say I started using it by my third or fourth video, that's what built the character," he says through a laugh.
As his social media numbers went up, so did his opportunities. His first Instagram account hit 100,000 followers but has since been hacked and deleted. He took loss in stride and has been busy moving through a very diverse body of work. He's hosted events at Ace of Spades, Club Fame, sneaker conventions, and the Barcade. He's also done commentary and advertising work for Lefty's Cheesesteak, Puff Cannabis, the Life Medical Center, Foot Locker, Flavor Clothing, and even the Detroit Pistons. "I released the Piston's schedule this year," he says. "I broke the news in front of their practice facility."
Last August, Tay was invited to be a part of Big Sean's Don Weekend, a block party that featured carnival games, crafts, and other forms of community engagement. Tay participated in the celebrity kickball game, and went into his "reporting live" mode with the rapper post-game.
"I went to the Mary Sheffield event during that weekend," he says. "Icewear Vezzo was out there. It was a giveback — clothes, bookbags, and shoes. Mary Sheffield told me to come the next day, and she had a jersey for me."
In the most unexpected way; Tay has become one of the voices of Detroit. It's almost like if WorldStarHipHop was a person, it would be Tay.
He sees no limits to where his "Mr. Reporting Live" persona can go, and feels he can make it just as impactful to the world as he has in Detroit. He's already taken his show on the road, doing "reporting live" skits in Atlanta, Miami, and other cities. He has aspirations of working with celebrities like Jamie Foxx, Kevin Hart, Ice Cube, Mike Epps, and DC Young Fly.
His popularity has also surged with teenagers. His schedule stays booked with school gigs, and he feels he has a lot of knowledge and perspective to offer in an entertaining way.
"The dopest thing is seeing fathers walk up with their daughters to take a picture with me," he says, adding, "I'm inspiring the kids to know that you can still be original. You can do other things other than be a rapper. It's OK to be a rapper if that's what you want to do, but I'm showing them it's OK to act, to be different. If you want to be an entertainer, you can be an entertainer in your own way."
As of right now Tay is gearing up for latest venture, Reporting Live, a talk show in which he'll interview a variety of guests while implementing heavy doses of his own comedic swagger.
"You will see business owners, news [reporters], football players, rappers, entrepreneurs, artists, doctors, the youth, and so much motivation," he says.
Coming soon: Metro Times Daily newsletter. We'll send you a handful of interesting Detroit stories every morning. Subscribe now to not miss a thing.

Follow us: Google News | NewsBreak | Reddit | Instagram | Facebook | Twitter