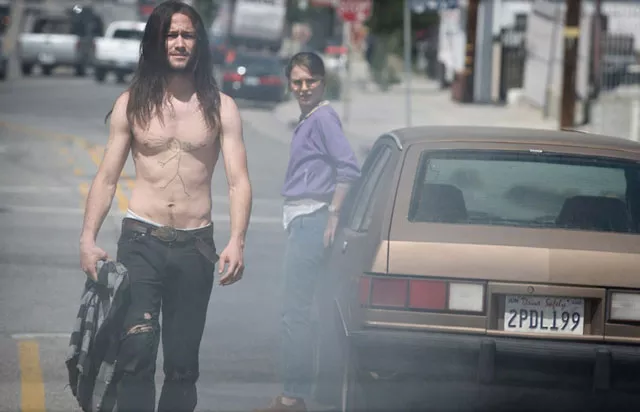 For those not versed in dated mall lingo, a "hesher" was a particular breed of long-haired, pre-grunge headbanger, similar to a burnout; but usually distinguished by more grime and a nastier attitude. Joseph Gordon-Levitt has attitude in spades as the title character, a living personification of the scraggly social misfits who'd do donuts in suburban parking lots.
Indeed this Hesher (no other name given) is such a sulky and unrepentant badass that he appears to be a near mythical figure, at least in the eyes of grieving middle-schooler TJ. (Devin Brochu).
His chaotic new "friend" drags the kid through a series of dangerous pranks and risky situations, in turn tip-toeing into the scary adult world. Hesher needs a place to crash, and, sure, TJ's afraid of him, but then again so is the freaky little junkyard-dwelling bully who constantly torments him; and thus an unlikely alliance is formed.
TJ's dad (Rainn Wilson) is so shell-shocked he hardly protests this strange invader flopping in his house, and the desperately lonely young man is happy to be catered to by the family's gentle grandma, effectively rendered by an unrecognizable Piper Laurie. The ubiquitous Natalie Portman dons giant granny glasses and lumpy sweatshirts in a return to her nerdy dream-girl roots, causing boys to squabble over her affections, even though one of them very clearly has the inside track.
Hesher shares a tense, chaotic energy with its title character; both parodying and embracing the indie-movie trope of oddball misfits uniting to emerge from their mutual depression. Writer-director Spencer Susser has about as much adolescent energy to burn off as his protagonist's, overthinking certain moments while ignoring some plot holes. Just when we've started to lose patience with this motley crew of broken toys, we are treated to what may be the most hilariously inappropriate eulogy and inspirational metaphor in screen history. Hesher is uneven, unpolished and too easily pigeonholed as a "festival favorite," sharing obvious themes with the like of Little Miss Sunshine but not the commerciality. Still the film is darkly funny and refreshingly blunt, giving a big middle finger to conventionality, and offering a rebel yell that's hard to ignore. —Corey Hall
Showing at the Birmingham 8, 211 S. Woodward Ave., Birmingham; 248-644-3456; and at the State Theater, 233 State St., Ann Arbor; 734-761-8667.