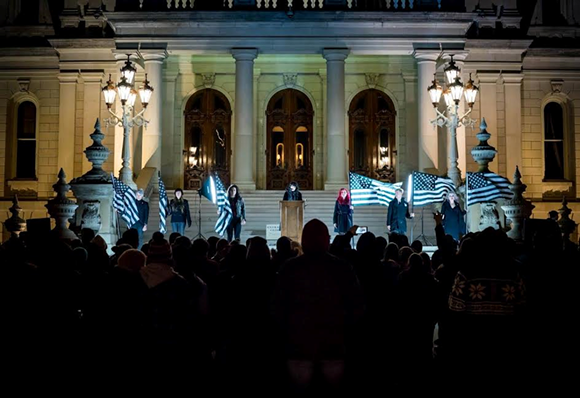 On Saturday, Detroit's Satanic Temple chapter gathered on the Michigan capitol in Lansing to perform what they're calling the "nation's first state-sanctioned Satanic Ceremony in history." The event came one week after Republican presidential candidate Ted Cruz supporters held a "live Nativity" display on the capitol grounds.
As with the group's previous public demonstrations, the Satanic Temple says their ceremony was not an anti-Christian protest but rather as a demonstration of religious plurality as well as a stance against the breach of the separation of church and state in the government.
"To those who boldly propose that organizations of faith hold a leading role in guiding American policy and justice, I solemnly, and with great sincerity thank you," the TST Detroit director Jex Blackmore said in a speech. "Satanic America has heard your call to action."
Blackmore reiterated that
the group does not have an atheist agenda
. "It is time for us to put aside our differences and realize that we have a common problem. It matters not if you are a Baptist, a Methodist, a Muslim or the faithless," she said. "To be clear, we are not anti-Christian, and we are not anti-religion. We are anti-degradation. We are anti-oppression."
The ceremony ended with a call to "Hail Satan."
Additionally, the group once again displayed their
"Snaketivity"
holiday display on the capitol lawn alongside a traditional Nativity scene. Earlier this year, the group
unveiled a controversial "Baphomet" monument
in Detroit.
Watch the video of the ceremony below, or read the transcript of the speech
here
.