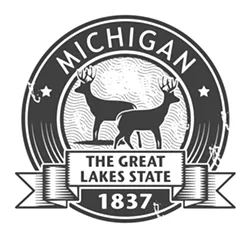 Way, way back on Jan. 26, 1837 the Michigan Territory was admitted to the Union and thus became the 26th star on Old Glory.
Today, the Great Lakes State celebrates its 179th birthday so we here are 10 random facts about Michigan that you may have already known.
10. The name Michigan comes from the Ojibwa Indian words "mishi" and "gama," which mean "large lake."
9. Woodward Avenue in Detroit was the world's first concrete road.
8. Michigan ranks first in boat registrations.
7. The Mackinac Bridge is one of the longest suspension bridges in the world.
6. Vernor's Ginger Ale, which was created in Detroit, was the first soda pop to be made in the United States.
5. Michigan has the only floating post office in the country. The J.W. Wescott has be in operation for over a century.
4. Cross in the Woods, located in Indian River, is the largest crucifix in the world.
3. The state has the largest freshwater shoreline in the world.
2. The Detroit-Windsor Tunnel was the first auto traffic tunnel in the world to be built to connect two countries.
1. In 1846 Michigan abolished the death penalty, making it both the first state and the first English-speaking government in the world to do so.
Happy birthday, Michigan!