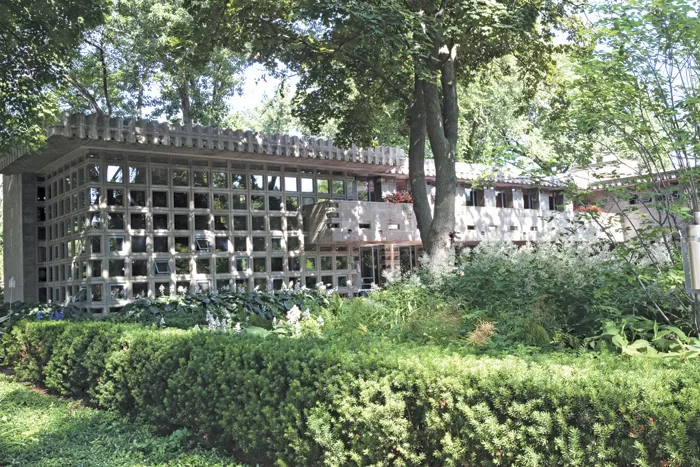 As it wends its way around Seven Mile and Woodward, just north of Palmer Park, stately Strathcona Drive is a veritable showcase of beautiful, well-maintained houses and finely manicured lawns. There's a host of handsome homes here in Palmer Woods, but the piece de resistance just might be the Frank Lloyd Wright Turkel House, commissioned by divorcee and parking lot baroness Dorothy Turkel.
Occupying 4,300 square feet and replete with some 500 windows, the Turkel house is hard to miss. Magnificent in its stature and irregularity, it's wholly different from the other houses that line the streets of Palmer Woods. And while it seems large and sprawling on the outside, inside it's charming and cozy.
According to co-owner Norm Silk, its lower-than-average ceilings create the intimate effect.
Built between 1955 and 1958, the home was designed by Wright in what he called the "Usonian" style, a term the famed architect used interchangeably with "American," meaning it was free of influence from other cultures and conventions.
The Turkel house was built to meld the worlds of indoor and outdoor, to blur the lines between interior and exterior. Throughout the home, onto the patio, and into the garden, large red tile flooring unites the space. And those 500 windows, along with myriad glass doors, invite one to venture outside, or merely to enjoy the gardens from inside.
Silk and co-owner Dale Morgan have renovated and restored the home, taking great care to keep with Wright's original vision. In fact, you could argue they've taken it a step further than Turkel ever did.
Though the Turkel house was designed to highlight the accompanying gardens, none of its previous occupants actually cultivated the grounds. Prior to Silk and Morgan's tenure, trees and grassy lawns were the only greenery surrounding the home. Now, with the help of an astute landscape architect, the gardens are lush and filled with beautiful green plants, all of which are indigenous to Michigan.
From the driveway, guests find themselves in a gravel courtyard where tables and chairs are situated along with a steel bar and some interesting furniture. While the home is private, Silk and Morgan often open up the grounds for special events for as many as 100 people.
Generally these events are for clubs and closed groups, but on Friday, July 18, they'll be hosting a special strolling supper through their home and garden. While the event is currently sold out, additional tickets might still be released (depending on the weather), in which case names can then be waitlisted.
For those who missed their chance to snatch up tickets for a rare public dining tour of the Frank Lloyd Wright Turkel House, there's still time to enjoy the beautiful gardens and vistas of Palmer Woods. On Saturday, July 19, the Palmer Woods Association is reviving an old tradition with a self-guided garden tour.
Starting at the green space adjacent to the Turkel house and winding through the gardens of homes designed by Albert Kahn, C. Howard Crane, and Minoru Yamasaki, Fabulous Flowers: The Palmer Woods Garden Tour, runs from 10 a.m. to 4 p.m.
According to Silk, the Palmer Woods Association hopes to draw upwards of 1,000 people on Saturday. Docents will greet guests at each home, and light refreshments will be available. Tickets are $15 in advance and $20 the day of, and proceeds go toward the reforestation of Palmer Woods.
Long considered one of Detroit's premier neighborhoods, Palmer Woods strives to preserve both its history and its majesty. And its garden tour promises a compelling look inside the kind of community you might not expect from a city long known for its decay and urban sprawl.
Fabulous Flowers: The Palmer Woods Garden Tour takes place on Saturday, July 19 at 19145 Strathcona Dr., Detroit. For more information, contact the Palmer Woods Association at 313-891-2514 or palmerwoods.org; tickets are $15 in advance and $20 at the gate.
Correction: A previous version of this article misspelled the name of co-owner Dale Morgan.