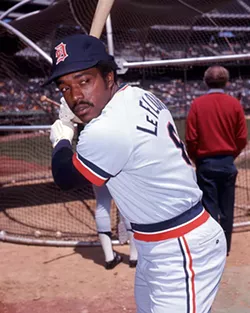 Former Detroit Tiger Ron LeFlore, who famously went
from prison to the big leagues
in the 1970s, has been nominated for induction into the Baseball Reliquary's Shrine of the Eternals.
Described by iconoclastic
Ball Four
author Jim Bouton as "the people's hall of fame," the Baseball Reliquary was founded by Detroit native Terry Cannon in southern California in 1996. Instead of focusing on players' gaudy statistics or
all-American reputations
, the Reliquary seeks out the colorful and compelling characters of baseball who might not qualify for induction into the hallowed halls of Cooperstown.
A native of Detroit's east side
who served time in the state pen for armed robbery
alongside
political prisoner John Sinclair
, LeFlore certainly fits the bill as one of baseball's most colorful characters.
In the winter of 1970, the 21-year-old LeFlore and two accomplices robbed an east-side watering hole called Dee's Bar across from the old Chrysler Stamping Plant. When the getaway car was spotted cruising Mack Avenue with its headlights off, LeFlore and his buddies were busted, and he was sentenced to five to 15 years in Jackson state prison.
LeFlore hadn't played any organized baseball growing up, but with little to do behind bars he soon joined the prison's baseball team. His first real game was in Jackson, Michigan, on May 18, 1971.
Upon his release from prison in 1973, LeFlore signed a minor-league contract with his hometown Tigers. And after only a year in the team's farm system (
where he played for manager Jim Leyland
), LeFlore was promoted to the big leagues — just one week before Richard Nixon announced his resignation as president of the United States.
On Aug. 1, 1974, LeFlore made
his improbable big-league debut
, batting lead-off and starting in center field before a sparse crowd of some 9,000 fans at Milwaukee's County Stadium.
After two seasons of ups and downs with the Tigers, LeFlore had a breakout year in 1976, starting the season with an incredible 30-game hitting streak and earning himself a starting spot on the American League All-Star team.
Soon there was a book about LeFlore, followed by a made-for-TV movie starring LeVar Burton. It is the stuff of legend — the legend of Ron LeFlore.
If chosen for induction later this year, LeFlore will be in good company. Every year since 1999, the Baseball Reliquary has inducted three iconoclastic individuals into its Shrine of the Eternals, including LeFlore's former teammates
Mark Fidrych
and Rusty Staub, as well as former Pittsburgh Pirates pitcher Dock Ellis,
who once threw a no-hitter on LSD
.
Other infamous inductees include
Bouton
, Pete Rose, and Shoeless Joe Jackson.
There are 50 candidates eligible for induction into the Shrine this year: 39 returnees and 11 newcomers, including Beat novelist and noted baseball fan Jack Kerouac and former major-league umpire Jim Joyce,
who you might remember from this
.
This is LeFlore's first year on the ballot.
Stay on top of Detroit news and views. Sign up for our weekly issue newsletter delivered each Wednesday.