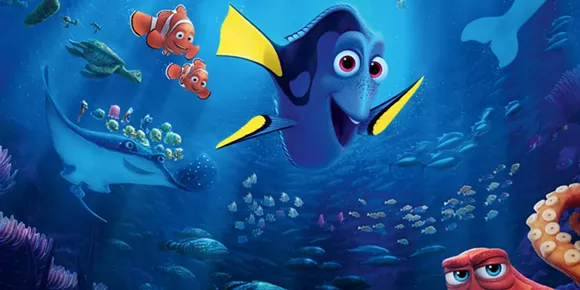 I still yell "Atreyu" randomly and with no good reason. I still concoct ways to booby trap my house during Christmas time. I still say "Gus, Gus" when I see a chubby mouse. These dumb little exhibitions are leftover from a bygone time in children's movies — when the sad bits were always overshadowed by the happiest ones I still carry with me today. The fantastical breeziness from
Neverending Story
,
Home Alone,
and
Cinderella
have all been replaced by award-hungry studios looking to one up each other.
Finding Dory
is the latest animated behemoth to rob children of their youth. I have a problem with a lot of animated features for force-feeding the viewer. There is a tendency to fill in every blank and tie up every loose end. But
Finding Dory
is a clear indication that Disney and Pixar are just in it for some Oscars. They take what worked in
Toy Story 3
and
Up
— the threat of death, despair and loneliness — and stretch it across the entire film. It works when it's touched on, but movies for kids aren't supposed to be Debbie Downers.
We all know Dory from
Finding Nemo
. She is voiced by Ellen DeGeneres (
EdTV
). Immediately, we are introduced to her backstory of getting lost and wandering aimlessly until she stumbles upon Nemo and Marlin. Nearly every minute leading up to our old friends is nails-on-chalkboard annoying. Dory suffers from short-term memory loss so lines are repeated and repeated and repeated to pound this point home. It's all made OK because the flashback scenes of Dory feature her drawn as cutely as possible. And that is how co-directors Andrew Stanton and Angus MacLane try to pull a fast one on kids and parents alike. Make everything super-duper cute and maybe that will cover up their hidden intentions.
If you're looking for fish with anime eyes and sweet voices, then this movie was made for you. Or if you love cuddly otters (WHO DOESN'T?) then you'll get your fill here, too. The story includes strangely aggressive squid, mostly blind whales, and humans who must be completely blind not to see the antics all these characters create. It was one thing to not see Woody and Buzz running around, but a huge squid carrying a blue fish in a coffee pot throughout an entire aquarium? Fish, please.
Exactly how to approach depressing topics in a children's film is a struggle. There isn't a sadder 10 minutes in animated history than in Up but people leave the theater content and joyous. Walking out of Finding Dory while the credits roll is relieving. The stress caused by Dory looking for her parents is endless. Ugh. Just thinking about it now gives me anxiety.
The 3D is fantastic, so choose that version if you're looking to suffer through a sequel that doesn't even come close to living up to its predecessor. But, it's cheaper and way more enjoyable to rent a classic and enjoy a night in with kiddos.