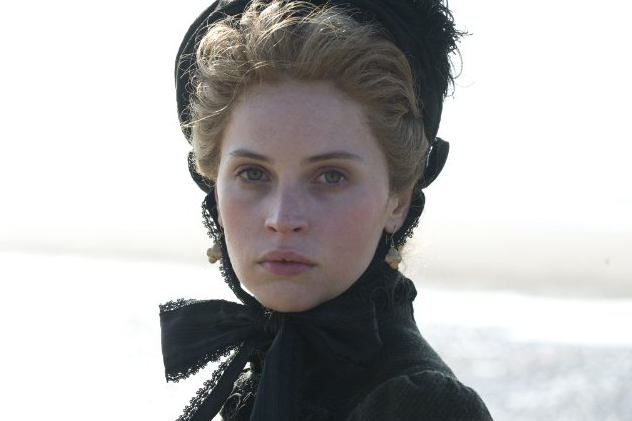 The Invisible Woman | B
If there's one thing that British culture cherishes more than sexual repression, it's nostalgia for bygone times when their repression was even more soul-crushing. For its inspiration, The Invisible Woman delves into a fairly unlikely biographic source: the pent-up sexual frustrations of a middle-aged Charles Dickens. Based on the scant remaining evidence, and adapted from Claire Tomalin's book of the same title, The Invisible Woman attempts to re-create the very lengthy, initially chaste and then illicit relationship between the famed author and Nelly Ternan (Felicity Jones), a winsome actress less than half his age. In the hands of director and star Ralph Fiennes, all that seething Victorian passion is rendered in the most elegant and tasteful manner — perhaps too tastefully, as the film is long on hushed intimacy and yearning, but rather short on payoff, which I suppose is the point after all.
Nelly was 18 when cast in a play, The Frozen Deep, which the celebrated Dickens happened to be directing, and which was written by his only slightly less famous novelist chum Wilkie Collins (a sprightly Tom Hollander). The bookish young Nelly is initially awed to be in the company of such distinguished men of letters, though over time she determines the true motives behind the unhappily married Dickens' attentions. Being a Victorian costume drama, those suppressed desires and flirtations do take forever to develop, like maple syrup sliding down an ice luge, though there are many gorgeously framed shots of warmly gas-lit drawing rooms and lush green walking trails to tide us over until the romance begins. Eventually it does heat up, and only then does Nelly realize the predicament she has become embroiled in; Dickens separates from his wife, but cannot reveal his mistress to the world for fear of a ruinous scandal, and within the strict limits of the Anglican faith, divorce and remarriage is unthinkable for a man of his stature. She can never be his wife, and though she has his love, she can never enjoy all the earthly benefits of being his woman.
The damming complications of this compromised romance constitute the backbone of this stylishly made drama, one that is thoughtful in every element of costuming, design and period feel. The film is on par with other recent well-made period fare, like 2009's tale of equally doomed literary love, Bright Star. The leads are both marvelously nuanced, though by nature of the material, somewhat restrained.
The script, by Abi Morgan, is solidly crafted but a bit drab, and forced by circumstance into speculation and wild guessing. The affair was never made public, and the participants both burned their letters to each other, taking their secret lust to the grave. Like the spaces between chapters, we are forced to fill in some of the blanks, making for a somewhat generic tale of strangled emotions.
The Invisible Woman is rated R, runs 111 Minutes and is in theaters Jan. 31.