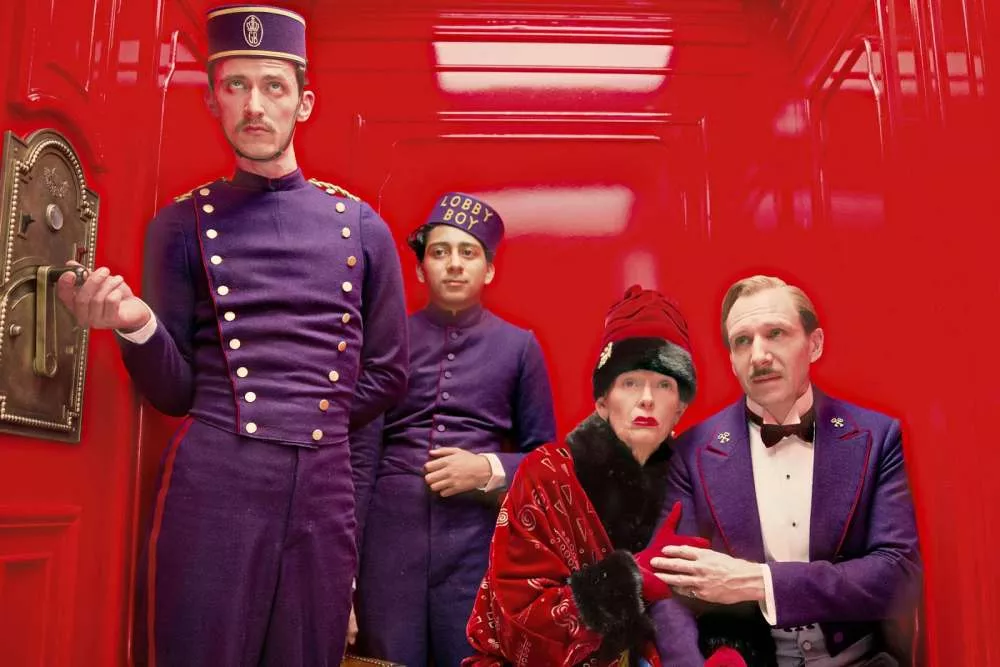 The Grand Budapest Hotel | B+
It's a madcap caper movie. It's a tongue-in-cheek prison break movie. It's a farce. It's a eulogy to pre-war European refinement and glamor. It's also none of these things because, in the end, it's a Wes Anderson movie. And if you aren't already sold on his obsessive, dollhouse-style affectations, deadpan sentimentalism and blank-faced comedy, The Grand Budapest Hotel will do nothing to change your mind. For fans, however, it's a sumptuously contrived and cunningly crafted confection with a hilariously exuberant performance by Ralph Fiennes at its center.
Layering his narrative with an unnecessary story within a story within a story, Anderson introduces us to an aging author (Tom Wilkinson), who recounts a chance dinner between his younger self (Jude Law) and successful businessman Zero Moustafa (F. Murray Abraham) 20-odd years ago at the Grand Budapest Hotel, a once-grand institution gasping for life after years under what is assumed to be Communist rule. Moustafa has a deep love for this fading hotel, since it was where he first found employment … and love.
Flashback to decades earlier, when Zero (Tony Revolori) was but a teenage lobby boy, taken under the wing of the incomparable M. Gustave (Ralph Fiennes), head concierge. It is the 1930s and the Grand Budapest Hotel's flamingo-pink opulence is renowned throughout the fictional alpine country of Zubrowka. It boasts the shabby elegance of Old Europe, where the idle rich took skiing and spa vacations, having their every expectation met by the elegant Monsieur Gustave. Included with Gustave's impeccable dedication to detail is his willingness to bed geriatric female guests, most particularly 84-year-old Madame Celine Villeneuve Desgoffe und Taxis (an unrecognizably made-up Tilda Swinton), who becomes his greatest benefactor and the source of dangerous intrigue.
Found dead under mysterious circumstances, Madame Celine's funeral brings out her freak show of a family, led by the evil Dmitri (Adrien Brody). A last-minute will revision leaves Gustave a priceless family painting, which not only earns him the enmity of the family but quickly finds him framed for murder. Hiding the painting before Gustave is sent off to prison, trusty lobby boy Zero assists in a prison escape, evades Dmitri's creepy cartoonish henchman Jopling (Willem Dafoe), and falls in love with a quiet pastry assistant (Saoirse Ronan). All of these travails occur against the backdrop of looming war.
Anderson brings his now expected rogues' gallery of eccentric characters, overstylized set pieces, colorfully busy dioramas and self-conscious artificiality to an Ernst Lubitsch-style comedy that drips with irony and, buried beneath the affectations, loss. It's a strange concoction that suggests a filmmaker in transition. But it's hard to say it works. War, death and childlike whimsy are uncomfortable bedfellows, requiring just the right mixture of humor and pathos and Anderson hasn't quite found the right balance. He says The Grand Budapest Hotel is inspired by the work of Viennese writer Stefan Zweig — a Jew who fled Austria when Hitler came to power and wound up committing suicide in Brazil. But aside for young Zero's refugee status and periodic allusions to political turmoil, it's hard to see that influence amidst the frantic juggling of comic plot threads and celebrity cameos (which include Jason Schwartzman, Edward Norton, Owen Wilson, Harvey Keitel, and Bill Murray).
There is darkness to be sure — Jeff Goldblum's estate lawyer suffers a black comic mutilation before his demise, soldiers with lightning bolt insignias denote the rising influence of Nazi-like fascism, and a narrated epilogue recounts the bleak outcomes of several characters — but it'd be a stretch to say they fit comfortably in a film that features slapstick dialogue, a whimsical stop-action animation Alpine chase sequence, and Anderson's hermetic environs and highly mannered emotions.
If for no other reason, however, The Grand Budapest Hotel is worth seeing for Ralph Fiennes' passionately silly M. Gustave. With a stiletto-sharp mustache and rapid-fire delivery, his dapper, suave, shallow and unflappable concierge is a larger-than-life creation that energizes the movie in ways few could. Much like Gene Hackman's impact on The Royal Tenenbaums, Fiennes seems both in sync and immune to Anderson's fastidious nature, delivering a protagonist that's as high-handed as he is good-hearted. It's the kind of tour-de-force performance that should earn an Oscar nomination but will most likely be overlooked in favor of more sober portrayals.
Newcomer Revolori proves to be a brilliant foil to M. Gustave's florid personality, bringing just the right amount of earnest naiveté to ensure his and Fiennes' status as a successful comedy team. The rest of the cast follows suit, embracing Anderson's frantic vision with relish … well, as much relish as his poker-faced style allows.
While it's difficult to identify exactly what The Grand Budapest Hotel wants to say or whether we should be moved by the melancholy undercurrents that shadow its manic plotting, Anderson has found a delightfully immersive world within a world for him to once again indulge in his charmingly absurd fetishes.
The Grand Budapest Hotel is rated R, has a running time of 100 minutes, and is now playing.