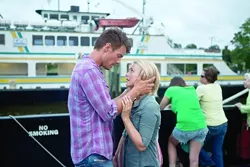 Safe Haven | D
Nicholas Sparks' adaptations are so incredibly formulaic that they offer comfort in their uniformity, much in the same way everything on the Taco Bell menu is essentially a remix of the same eight ingredients. These are the things you can expect in anything with Sparks' name on it: canoe rides, sunsets, swaying palmettos, handwritten letters, shadowy pasts, jealous ex-lovers, a thunderstorm where everyone gets soaked, and there will be at least one clambake, hootenanny or barn dance, where the attractive lead lovers finally let down their inhibitions or reservations about each other and abandon themselves to the music and the moment.
This movie is mercifully free of driftwood art or finger painting, but in most other ways is a replica of such previous Sparks vehicles as Dear John and Nights in Rodanthe, and is set in the same sort of sun-dappled, Southern coastal beach town that is Sparks' happy place.
This time Julianne Hough (2011's Footloose) is the winsome stranger with a dark secret who drifts into cozy Southport, N.C., trying to put some distance between herself and her disturbing recent past. She flees from an apparent crime scene under mysterious circumstances, but after a bus ride and about five minutes of struggle, she's found a waitress job at a seaside crab shack, and begun a hesitant flirtation with a friendly young widower and single dad Alex (Josh Duhamel), who runs the general store and boat filling station just down the dock. Meanwhile she bonds with his precocious kids, and befriends a pretty gal (Cobie Smulders) who seems to know a heck of a lot about Alex and his family. Meanwhile there's a vindictive, jealous, vodka-swilling Boston cop (David Lyons) on Hough's trail, eager to find her and trying to pin an attempted murder rap on her, for reasons that are screamingly obvious.
Will genre fans care that this basic plot is essentially just a gender flip of last year's The Lucky One? Doubtful. This is not fare made for overly discerning viewers.
Safe Haven is largely a film about Julianne Hough's short shorts, how they reflect the sun, how they move when she bounces, and how they creep into all the right places while somehow maintaining the flick's PG-13 rating. There is an obligatory beach scene, where the cinematography dispenses with any pretense of subtlety as the camera floats over Duhamels' well-sculpted six-pack and lingers on Hough's glistening, tight bikini bod long enough to reward the men dragged to this turkey against their will. This brief attempt at selling sex is made even more absurd by the film's tepid love scenes, which would be considered chaste by network TV standards. The sex is passionless, the action is hollow, and, stunningly, there is a head-spinning final revelation, attached to a character so drab even the actress playing her forgot she was in the movie.
Who is this gloop aimed at? Bored yoga moms or prepubescent girls who wistfully stare out their middle-school classroom windows and dream about their hope chests? Either demo surely has ample imagination to conjure up thoughts of something more sensual than the weak sauce that fluff like this provides.
Even by the low standards of the genre and Sparks' own output, this is a lackluster affair, laden with clichés and dead air. The recent high-water mark on screen for this sort of humid, paperback romance was The Notebook, due mostly to the chemistry of stars Ryan Gosling and Rachel McAdams; but here the blandly attractive leads are merely playing dress-up in somebody else's empty dream house.mt