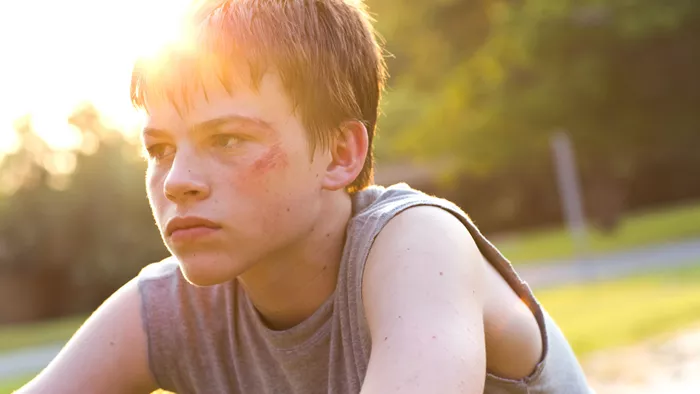 Hellion | B-

Chekhov be damned, some directors should forget about the gun in the final act and focus on the characters. Or better yet, not introduce the gun at all. Which is exactly why writer-director Kat Candler's otherwise tense and somber indie feature Hellion stumbles when it should soar.
Focusing on a working-class Texas family that's struggling through the aftermath of a personal tragedy, Candler proves a stronger director than storyteller. Her plotting is predictable and her characters should be substantially deepened, but her ability to capture the rage of male adolescence and the numbness of grief is nothing less than superb. With its intimate yet gritty handheld cinematography, Hellion is best when it eschews dialogue and exposition and instead focuses on the subtle emotional upheavals that alcoholic Hollis (Aaron Paul) and his two sons — defiant 13-tear-old Jacob (Josh Wiggins) and sweet-natured 10-year-old Wes (Deke Garner) — must endure.
Candler has an uncanny ear for the way teenage boys express themselves, with their knee-jerk insults, awkward use of profanity, naïve attempts at sexual bravado, and all-around antisocial tendencies. And in Wiggins, she's found an assured young actor with astonishing charisma. Wiggins displays the same coarse sensitivity that made River Phoenix stand out in Stand By Me.
The rest of her cast consistently chooses authenticity over dramatic impact. Paul, with his scruffy beard and weathered sense of hurt, easily distances himself from Breaking Bad's Jesse Pinkman. His flawed but likable widower can't decide whether to run away from his troubles or stand by the boys he loves, but once abandoned to grief. Hollis may not be the most vividly drawn character, but Paul's performance never once feels false.
It's when Candler follows Jacob, however, as he hangs with his crew of violent vandals, rocks out to heavy-metal music, or rides his motocross bike through the downtrodden suburban landscape of east Texas, that Hellion paints its heartbreaking portrait of working-class America. It's a discontented, go-it-alone landscape that offers few options and even less support. And though it would be unfair to claim that Candler's film has a political agenda, it's hard to ignore her all-too-real view of a Red State community, and the unforgiving impact it has on her characters. Juvenile detention is the prophesied future for a volatile teen like Jacob and, much as you might guess, child-protective services swoops in to take Wes away from Hollis and place him with his financially stable sister-in-law Pam (Juliette Lewis). But what seems, on the surface, like a responsible choice by the authorities, inevitably sends the already fragile and fractured family into a downward spiral.
Hellion convincingly charts just how difficult it is for some people to get back on their feet — emotionally and financially — after the rug has been pulled out from under them. The bitterness, anger, and confusion this sympathetic all-male family experiences are painful milestones in their journey to take responsibility for their failures. Given that focus, it makes sense that writer-director Jeff Nichols (Take Shelter, Mud) came on board as a producer.
But where Nichols' films boasted full-bodied narratives with memorably complicated characters, Hellion — most especially in its third act — unfolds in a highly contrived manner (though Candler should be commended for keeping most of the melodramatics at bay). Its final confrontation, which clings to Chekhov's pronouncement that a gun introduced in the first act must fire in the third, fully crosses into cliché. Luckily, the ending is redeemed by its moving and appropriately ambiguous last moments.
Unlikely to attract large audiences because of its bleak, slice-of-life subject matter, Hellion is best when it ignores the expectations of general audiences, jettisons plot-driven drama, and embraces the casually revealing moments of Jacob's sad but far from defeated circumstances. He's a poignant reminder that America is filled with teens who desperately long to grow up but stand to inherit far less than they deserve.
Hellion opens Friday, July 11, at Cinema Detroit and the Michigan Theater in Ann Arbor. It is rated R and has a running time of 98 minutes.