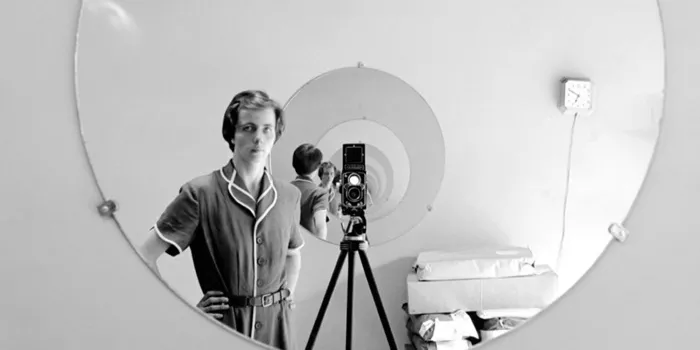 Finding Vivian Maier | B-
While there is little doubt that the mysterious Vivian Maier was a remarkable photographer, Chicago historian John Maloof's intriguing if perfunctory documentary crosses into murky ethical terrain when it presents her life and work. In fact, there is an unintentionally reflexive aspect to the levels of self-serving ambition on display in Finding Vivian Maier. On the subject's part, it is in service of personal creativity. In filmmaker Maloof's case, the goals are clearly financial. But more on that later.
In 2007, while researching his Chicago neighborhood, Maloof acquired a collection of photographs at auction. Reviewing them, he quickly determined that they weren't relevant to his research. A couple of years later, however, he gave the photos a second look and realized that he had come into possession of an incredible treasure trove of mid-20th century street photography — composed with the eye of a true artist. But strangely, the woman who took them — Vivian Maier — was completely unknown. Intrigued, Maloof hunted down more negatives, boxes of undeveloped film rolls, and as much information about her as he could find, tracking down people who knew Maier between the '60s and her death in 2009.
Along with co-director Charlie Siskel, Maloof chronicles his search and showcases Maier's arresting work in Finding Vivian Maier. What emerges is a profile of a highly private and very peculiar woman who made her living predominantly as a nanny and used her daily outings with the children in her care as an opportunity to shoot her subjects.
Interviewing the parents and now-adult children Maier worked for, this inelegant and boilerplate documentary gives us some details about the reclusive woman's life but never digs particularly deep. Six feet tall, she is described as both loving and abusive (depending on the family), using her imposing stature to keep others at arm's length. There are hints of mental instability, but nothing concrete (though Maloof seems all-too eager to dwell on anything approaching salacious).
What aren't in question are the incredible results of Maier's hobby. Maloff shows her photos to photographer Mary Ellen Mark, who likens them to the work of Robert Frank and Diane Arbus. They are appropriate comparisons, since Maier's stunning working-class portraits are both spontaneous and perfectly composed, displaying a master's ability to momentarily capture both the soul and personality of an individual. Many of them were poor, drunken, or otherwise debilitated, and it's not always clear if Maier had their consent to be photographed. You get the sense that the reclusive photographer didn't necessarily care. On the other hand, none of her nearly 100,000 Rolleiflex pictures were ever printed.
All of which calls into question Maloof's decision to not only display and market her work, but also to lay bare Maier's otherwise anonymous life.
An annoying on-screen presence, it's hard to get around the problematic ethics of Maloof's motives — to profit from selling and licensing Maier's photos. You get the sense that he's more interested in branding her mysterious life story (building a legend, if you will) in order to fatten his wallet rather than exploring her motives, artistry, or inspiration. His inquiries into her background are more tabloid than investigative, and he never adequately addresses the most intriguing questions: Why was she such an obsessive photographer? Why didn't she ever develop her work?
Maloof even has stacks of audio recordings with Maier but shares very little with the audience. Instead, he pays lip service to the ethical issues associated with displaying the work of someone who clearly shunned public attention (a topic several interviewees bring up) and gets his dander up when some members of the art world dismiss Maier's "genius."
As incredible as the photographs are and as intriguing as Maier's background is, Finding Vivian Maier left me feeling uneasy about the manner in which her life and work is being exploited. One wishes that a more ethically rigorous, artistically capable, and less financially invested filmmaker were entrusted to explore her art and tell her story.
Finding Vivian Maier is playing at the Main Art. It is unrated and has a running time of 83 minutes.