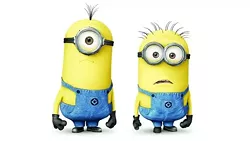 Despicable Me 2 | C+
The arc from dastardly super villain to doting single dad makes for a warm and squishy marketing hook but, for this amiable, frantic and inconsequential follow-up to the 2010 surprise smash, it makes the storytelling options a bit limited.
Now firmly ensconced in domesticity, reformed evil genius Gru (Steve Carell) has little use for his vast armory of high-tech gadgets, save for the occasional grocery store run in his armored tank and underground drilling machine.
Sure, parenthood is a full-time job, especially with a hyperactive trio of adopted little girls to raise, but staging tea parties will never compete with holding the whole world hostage with your latest wicked scheme. Luckily, our favorite mad scientist gets a reprieve from his boredom, and an instant romantic foil, in the gawky form of Lucy (Kristen Wiig). She's a spunky secret agent with a handbag full of her own tricks, including a nifty Taser, hidden in a lipstick tube.
She's not just here to mingle, however. This is a gal on a mission; she's working for a group called the Anti Villain League, and tasked with recruiting Gru to help bring in one of his dangerous former colleagues.
The baddie in question is a flashy egomaniac in a luchador mask called "El Macho" (Benjamin Bratt), who has a penchant for volcanoes and killer sharks with missiles strapped to their backs.
For mostly inexplicable reasons, the plan to snare this fiend involves Gru and Lucy setting up a custom cupcake storefront in the local mall, but then narrative coherence is not this movie's main selling point.
Indeed, there are long stretches during which dialogue becomes scarce, replaced by comedic action set pieces and the hectic slapstick antics of Gru's legion of goofy little "Minions." These cuddly yellow globs waddle about, jabbering away in nonsense gibberish, falling down, getting in trouble, and just generally testing the audience's tolerance level for unrestrained cutesiness. The filmmakers and Universal Pictures are banking on you to be in love with these freaky little goobers, so much so that the end credits serve as a clumsy audition reel for the already scheduled Minion spin-off.
Truthfully, for all its pleasingly colorful visuals, charm and playful exuberance, Despicable Me 2 can't help but feel like a fiendishly elaborate master plan there can be no escape from.
Despicable Me 2is in theaters now and is rated PG with a running time of 98 minutes.