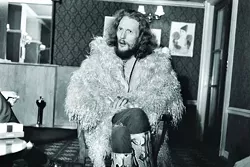 Beware of Mr. Baker| B+
A gifted malcontent with a thunderous soul built for percussion and driven by his own relentless personal metronome, Ginger Baker treated the whole world as if it were just another drum kit to be pounded into submission. This ultimate rock 'n' roll badass is best known as the fierce center of late '60s proto-metal juggernauts Cream and Blind Faith, a pair of fleeting "supergroups" that were both elevated and destroyed by Baker's mercurial rhythmic genius and appalling lack of social skills. The wiry, flame-haired Baker is still unpredictable even into his golden years, looking like the sort of battle-worn, leathery rock dinosaur that should have vanished from the earth long ago, but is kept alive merely by spite.
Intrepid filmmaker Jay Bulger tracked the reclusive star all the way to the South African ranch where Ginger keeps company with a much younger wife, kids, a stable of polo horses, and the still-active demons that stalk his every waking moment. When finally persuaded to sit down for interviews, Baker is refreshingly candid, surprisingly lucid but still cantankerous. He seems well aware of his sins, but remains gloriously unrepentant, chronically self-obsessed and paranoid; when Bulger casually mentions that he's off to interview Baker's old friends, the director gets the business end of a heavy cane bashed across the bridge of his nose.
Wherever he went, the fiery Mr. Baker left a perpetual path of destruction in his wake, both personal and professional. His relentless creative and other appetites made him a hell of a performer, but a lousy father and husband, as his grown kids and ex-wives eagerly testify.
Innately, Ginger's former colleagues still seem somewhat leery to discuss the notorious drummer's epic failures in great detail, as if Baker were a malevolent poltergeist that could be summoned by the mere mention of his name. Everyone may fear or loathe him, but there is still affection for the man's artistry.
Forever creatively restless, Baker's style merged jazz, blues, country and heavy rock, and his intricacy regrettably inspired bloated technocrats like Neil Peart of Rush. A decade before Paul Simon set foot on the continent, the fearless and inventive Baker was jamming with Afrobeat legend Fela Kuti in war-ravaged Nigeria. The naturally combative Baker thrived in the chaos he found there.
Drumming, especially jazz, is the sort of thing probably best judged by other musicians, and, for a moment, the fulsome praise heaped on Ginger's skills gets lost in a technical haze as foggy as the air in the rattrap London pubs in which he gigged his way up.
Ultimately, Baker's merciless style of mayhem is endorsed by no less an authority than the Sex Pistols' John Lydon, who has slyly built a marketing brand out of his own irritating personality. As Lydon argues, Baker's bad behavior and the wide swath of personal carnage he left behind was mitigated by the size of his talent: "How can you question it, when the end results are that perfect?" Lydon might be convinced, but Beware of Mr. Baker is hardly the final word on creative self-destruction. At least, like all funeral pyres, it certainly casts a captivating glow. mt
Showing at 7 and 9:30 p.m. on Friday, March 29, and Saturday, March 30, and at 2 and 4:30 p.m. on Sunday, March 31, at the Detroit Film Theatre, inside the DIA, 5200 Woodward Ave., Detroit; 313-833-7900.