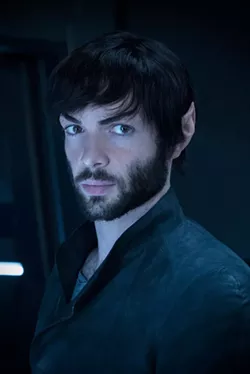 Ethan Peck understands the weight of legacy. As the grandson of Hollywood legend Gregory Peck, Ethan has seen showbiz from various angles, and has been acting on and off in screen roles since he was kid, when he acted in tween fare like Mary Kate and Ashley Olsen's Passport to Paris. Simultaneously a veteran and a bit of an up and comer at only 33, Peck is stepping into a larger spotlight as only the third adult actor to take on the iconic role of the stoic half-Vulcan Starfleet officer Mr. Spock, as seen on the new season of CBS All Accesses' hit series Star Trek: Discovery. Now he's preparing to step into this weird, wilder universe of sci-fi and comic book fandom with a stop at the Motor City Comic Con.
Metro Times: So you've been in the showbiz game for a long time, but how many conventions have you done?
Ethan Peck: I've only done one so far.
MT: So this is a whole new aspect for you. There wasn't like a Mary Kate and Ashley Con?
Peck: [Laughs.] Not that I'm aware of, no
MT: And you were Mary Kate's first onscreen kiss.
Peck: That's right, yeah.
MT: You've been acting since you were a kid, but now you're stepping into perhaps the most vocal and passionate fan base in the universe with Star Trek; it's like jumping from the kiddie pool into the ocean, right?
Peck: It's totally outrageous. It's still very surreal to me. I'm still trying to figure out how it fits into reality as I know it. It probably never will, and it probably shouldn't.
MT: It must be daunting.
Peck: I have to quote Carrie Fisher, when she spoke about Princess Leia, she said "I'm just the custodian of this character," and I thought that was a beautiful way of putting it. Though nobody else has played Leia other than her.
MT: Well, don't cross your fingers; we may get another one eventually.
Peck: Maybe. (Star Trek) is so much bigger than me, and any of us involved in it really. I feel incredibly lucky to be plugged into it.
MT: Have you talked to Zachary Quinto, who played Spock in the recent film trilogy? Is it like the living presidents getting together?
Peck: We've crossed phone calls several times because we both have busy shooting schedules, but I ran into him at a party and we did get to speak for a few moments. He seems like a super lovely guy and does an amazing job in the role.
MT: How much of a deep dive did you have to do into Trek lore and do research on the history when you signed on?
Peck: Big time. At the beginning of the auditions, I didn't know who I was reading for. I knew it was an important character, but never would I have guessed it would have been Spock. And about a month into the process, before my final audition they gave me a new set of "sides" which is a partial script...
MT: They give you just your scenes, not the whole script?
Peck: Yeah, right. There's a lot of the plot that's kind of disguised, but these sides revealed that it was Spock, and I was totally floored. I was basically blacked out through the final audition because I couldn't believe what I was doing. I felt incredibly lucky and grateful and thrilled to be this far along, but I also got a little afraid because it's such a big responsibility. He's such an important television hero that people look up to, and means so much to them, and I felt not yet proven as an actor, but suddenly I had the role and was in a state of terror. So I dove into watching the original series, because my Spock is in an earlier portion of the "Prime timeline" which leads to the version that Leonard Nimoy played in the original show. I read Leonard's memoirs, and had the pleasure of meeting his children, who were so supportive. They were the first step to making me feel worthy of the challenge. I sort of internalized what I saw Nimoy do, and added a bit of my own interpretation and let it fly.
MT: You're playing a younger Spock, so you get to have more emotional flexibility, and don't have to be so monochrome.
Peck: Yes, exactly. I think of this as his genesis: he's written to be in this state of total disarray at the start of his appearance on Discovery.
MT: It's a juicy part.
Peck: Oh it's a dream role. I still pinch myself because I can't believe it.
MT: Speaking of getting pinched, are you prepared to meet the fans in person?
Peck: [Laughs.] Um, yeah man! I'm so excited to meet them. I'm so excited that there are fans. I'm thrilled that people have responded to it and are charged up about it.
MT: Some will be excited and some will be angry about it...
Peck: Oh, for sure, though I'm hoping the angry ones don't come out.
MT: Yeah, it's easier to be mad online than get in the and car and be angry in meatspace.
Peck: Well, everyone is entitled to their opinion, and that's OK.
MT: Mostly though I think Trekkies are a pretty loving group. Their passion and commitment has really kept the franchise alive for decades and decades.
Peck: It's extraordinary what Gene Roddenberry tapped into when he came up with this. What's special about it is that it's such a beautiful, humanist dream of what we can be as a species and a people, and beyond that with other species and worlds. It's a really admirable vision.
MT: True, but there are some freaky sides. LeVar Burton (Lt. Commander Geordi La Forge) once told me that he got invited to fan's hotel room and when he got up there they were all in their furry suits.
Peck: No way!
MT: Is there anyone you're looking forward to meeting on the con circuit?
Peck: Oh my gosh, yes. I had the great privilege of being directed in an episode by Jonathan Frakes (Commander William T. Riker).
MT: He's going to be in Novi.
Peck: Yeah, can't wait to see him again because he's such a joy to be around. I'm just excited to meet everybody. It's like being invited to this incredible fraternity. Of course I want to meet William Shatner, George Takei... There's so many; I don't want to single anyone out.
MT: You're in that Star Trek club for life now.
Peck: Right? What have I gotten myself into?
MT: When did you start to understand who your grandfather was and how amazing his career was?
Peck: That's a great question. It's still kind of hard for me to wrap my head around what an enormous icon he was in the world. He was just Grandpa to me growing up. He passed away when I was 17, so I didn't really get to know him outside of just that grandfather role. I do wish he was still alive today because I have so many questions as I embark on a similar journey, at least I hope.
Ethan Peck will appear as part of Motor City Comic Con on Friday, May 17 and Saturday, May 18 with a panel/Q&A alongside his Star Trek: Discovery costars Doug Jones, Jonathan Frakes, and George Takei at 1 p.m. on Saturday in the Diamond Center of the Suburban Collection Showplace; 46100 Grand River Ave, Novi; motorcitycomiccon.com. Autographs are $50, photos are $60, and duo photo op with Takei is $95.
Get our top picks for the best events in Detroit every Thursday morning. Sign up for our events newsletter.