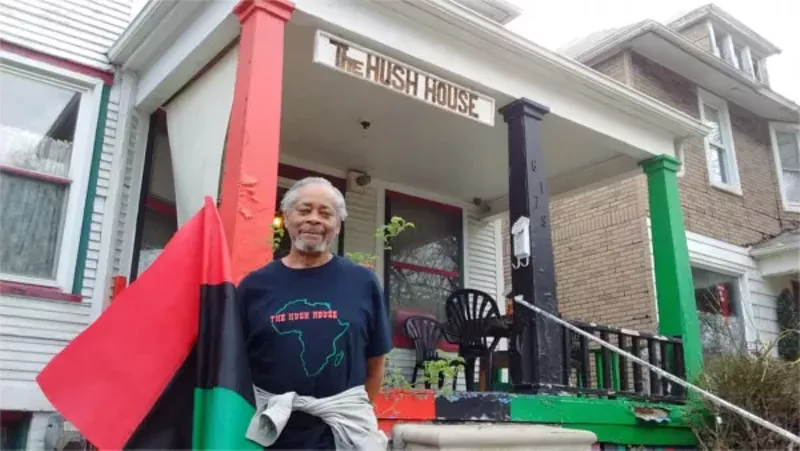 On a side street in Detroit is a little museum that tells a big story. It's called Hush House, but it also carries a mouthful of a subtitle: The Black World Community Museum and Leadership Training Institute for Human Rights.
Hush House is run by two educators, the Rev. Sandra Simmons and her husband Charles Simmons. Both have deep roots in Detroit. Sandra was ordained at King Solomon Baptist Church and is active in community ministry. Charles' roots are even more radical: His grandfather was a pistol-packing UAW organizers, and Charles himself was a member of Uhuru, a take-no-prisoners activist group from Wayne State University in the early 1960s. He has lived in Harlem, knew Malcolm X, and traveled to Cuba in the years after the revolution there.
The Simmonses are now elders in their community, people who recall a time before there was a Black History Department at schools, when African-American history was often as fragmented as it was precious. In those days, community elders often didn't want to discuss painful histories of enslavement, brutality, and second-class citizenship. But they often held keepsakes and relics that helped tell the stories they kept quiet about.
"People didn't talk about the old days, but they saved things," Sandra says. "There are so many pieces. People just started bringing things out because they've had them in the family."
The Simmonses have cobbled those pieces together into an exhibit that relates those untold stories. As they guide visitors though several small rooms of artifacts, they take special care to tie the events of the past with today.
At the core of the museum is a collection of 4-foot-square boards that were constructed by African-American curators at the Smithsonian in the mid-1980s. The exhibit toured the country for years in the late 1980s and early 1990s, and it now has a permanent home in Hush House's front room. It features advertising from the last century, in which caricatures of black faces are used to hawk products. It's disturbing stuff, designed to provoke discussions.
It's a great starting point for Hush House visitors, an example, Sandra says, "of how advertising can has been used and is used to racialize audiences, viewers, and consumers."
The collection that has gelled around that nucleus is equally impressive. Photos, fashions, and printed matter of the past are used not just to mark the advances made by African-Americans and women, but as tools to understand the present. Many visitors are drawn to the collection of sheet music, featuring the songs of the Tin Pan Alley era. Typically, the Simmonses will compare the entertainment of 100 years ago to the contemporary music industry, so young people may begin to see these ancient treasures as links to the past.
Not all the work is historic. For instance, there is a provocative artwork depicting the torso of a hanging body in the front window
"That was a project that was actually done by youth ages 8 to 16," Sandra says. "People were asking how we talk to young people about that history. When are children old enough to have that discussion? Some people don't think we should talk about the Great Captivity with children because it's too hard to deal with. But that project came out of a two-week period, a reading, writing, and critical thinking course about how the black body is constructed in public space."
What's more, the house has been in Charles' family for generations, and he can tell young people what it used to look like, and how it was a sustainable and racially mixed neighborhood with shops, well-kept homes, and busy street traffic. It's worth noting that many Detroit youths are surprised to learn what their city neighborhoods looked like 50 years ago. Again, that link to the past opens young eyes.
And what we call "black history" has come a long way since Charles was an activist in the mid-1960s pushing for such classes. Detroit has been at the forefront, with curriculum changes coming in early at Wayne, and the genesis of Detroit's Charles H. Wright Museum of African American History more than a half-century ago, with its grand new home constructed 20 years ago. Now this is a national phenomenon, acknowledged with the opening of the National Museum of African American History and Culture in Washington, D.C., nine months ago.
Increasingly, there's a national understanding that so-called "black history" is really American history, and that by confronting ourselves with it, warts and all, we begin to understand why we all need to look at it unflinchingly.
As Sandra puts it, the goal is to "emphasize the reality of racialized social and cultural space. And to ask, 'What does that mean for us as human beings, as Americans?'"
To answer those questions requires cutting a path through colonialism, imperialism, and what "whiteness" means for people who identify as white.
"This is their history too," Sandra is quick to point out. "We've gotten ourselves in these boxes where we have black history and American history. There are some false structures that have been put in to place. Can we understand how that isolates us from one another? And, if so, where can we meet?"
Black history is just one of the things the little museum aspires to share. Building "communities of compassion" where we can be better human beings to one another remains the higher goal.
Or as Sandra says, "to remember the things that we have forgotten as a black community, and to take these ideas from history and put them into practice as part of a wider community of human beings, of global citizens."
"If we can imagine it, we can do it," she says. "And so we imagined this house is going to be a museum, and it's a museum."
Hush House is usually open on Saturdays, noon to 4 p.m., and by appointment, at 6179 Wabash St., Detroit; call 313-896-2521 for more information on monthly poetry readings, as well as 90-minute group tours.