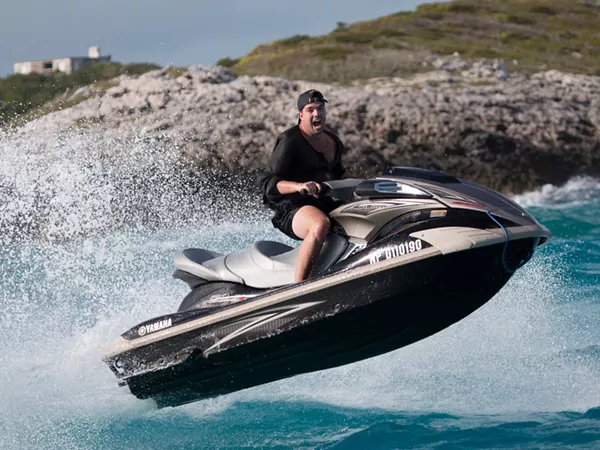 When you associate an event with the infamous failed Fyre Festival, it's bound to encounter some roadblocks — and it looks like the previously reported Fyre Festival LARP tentatively scheduled to take place on Detroit's Belle Isle is almost instantly off to a rocky start. In fact, it's already appropriately shaping up to be a total fucking dumpster fire, much like the actual Fyre Festival.

"The (Department of Natural Resources) just straight up told me that if I applied for a permit they would deny it," event organizer Michelle Birawer tells Metro Times. DNR runs the Belle Isle state park, which means the festival won't be held on the island as originally proposed.

Birawer of Harsh Tokes Booking created a Facebook event on a playful lark late last Friday, Jan. 25, with only one sentence in the event's description: "Come celebrate the two year anniversary of the greatest music festival farce of ALL TIME! Details TBA."

In less than 24 hours, Birawer's event amassed a following of nearly 6,000 people who listed themselves as being interested in attending, and had reached more than 250,000 Facebook users. Suddenly, Birawer had no choice but to create an IRL social experiment.

The live-action role-playing event promised a detailed itinerary of activities that would attempt to recreate the doomed 2017 luxury Bahama festival hosted by alleged conman Billy McFarland and clueless rapper Ja Rule with historical accuracy. (An example: Birawer was planning to charter a boat for those guests who would receive "Instagram Influencer" cards, plant a box truck full of luggage in a parking lot, FEMA-style tents, and, of course, serve up some of the saddest cheese sandwiches the world has ever seen.)

Shortly after speaking with Metro Times, Birawer's page had gone viral. It was only a matter of time until the DNR caught word of the event. Which they did.
"These are not the type of events we would consider," DNR's chief of southern field operations Scott A. Pratt told Metro Times via email. "But the person trying to organize this has yet to get into contact with anyone at the Belle Isle office or anyone else. She went ahead and put a date and time on Facebook and ran with it with no approvals from DNR staff."

Well, shit.

But the event has not been canceled — yet. Instead, Birawer has changed the location to the "Hamtramck Island," adding to the event's description, "The Department of Natural Resources does not want us. So we are going to bring the party to the party Island of Hamtramck instead!"

Of course, Hamtramck is landlocked, so there won't be any of the white sand beaches and jet skis as promised by the actual Fyre Festival. Guests will have to use their imagination.

"I have the Outer Limits stage already booked with Fleetwood Mac and Neil Young," she enthusiastically tells Metro Times through Facebook messenger. "Hamtramck has another festival now."

Birawer is set to hold a press conference at Hamtramck's KO Gallery this Saturday at 3 p.m., which will be livestreamed on Facebook.

To quote Fyre Festival founder, dreamer, and alleged master millennial scammer, McFarland: "So many things had to go right to make this a big failure."

And so it is with Detroit's Fyre Fest LARP.

Get our top picks for the best events in Detroit every Thursday morning. Sign up for our events newsletter.