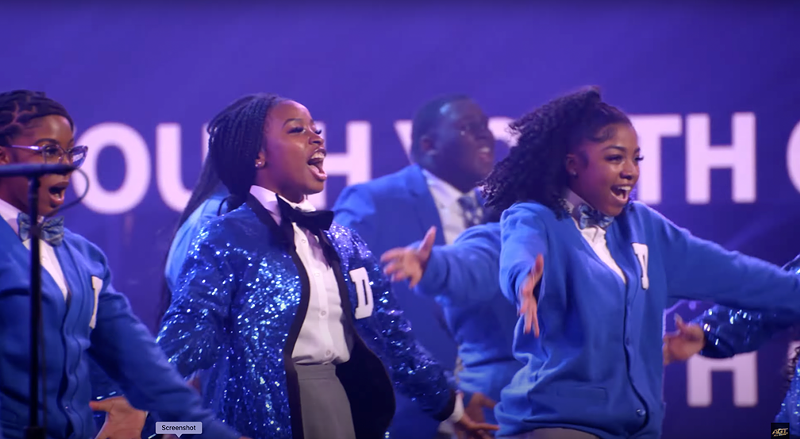 The Detroit Youth Choir is gearing up for the America's Got Talent All-Stars finals next week.
Win or lose, the sensational choir will always be a source of pride back home in Detroit. As such, the group has announced its first major annual hometown concert at Detroit's Orchestra Hall.
The concert will feature a special appearance by Broadway and film actress LaChanze, who won a Tony Award for her role as Celie in the original Broadway production of The Color Purple.
An American Treasure: Detroit Youth Choir in Concert with Broadway star LaChanze is slated for Sunday, March 19 in partnership with the Detroit Office of Arts, Culture and Entrepreneurship (ACE).
"The Detroit Youth Choir is one of Detroit's greatest cultural assets and my office is thrilled to help give the community an opportunity to see the choir perform in an incredible venue like Orchestra Hall," ACE director Rochelle Riley said in a press release. "These incredible young performers have graced the stage of Carnegie Hall and America's Got Talent, so it's only fitting that Detroiters have a chance to see them and support them right here on Woodward Avenue in Detroit."
Choir Director Anthony White said in the release the show will include songs the choir performed on the TV show like their rendition of "Thunder" from Imagine Dragons, which floored the judges and won them a golden buzzer. The set also includes hits from Broadway shows Hamilton, The Color Purple, and The Lion King, plus a few Motown and gospel jams.
"Our performers have a tremendous range, which spans Broadway, popular music, spirituals and more," White said. "This show truly will have something for everybody. We are thrilled to have the opportunity for our performers to be on stage with LaChanze, which will be incredible for them and memorable for our audience."
The performance also comes weeks ahead of a Disney+ documentary series on the Detroit Youth Choir called Choir.
The six-episode series follows White and the performers as they prepare for an invitation-only concert at New York's Carnegie Hall.
The Orchestra Hall concert is supported by the Skillman Foundation and Detroit Pistons, and all proceeds from ticket sales will go towards supporting the choir. Tickets are available online via Eventbrite.
If you need further proof of how talented these young people are, check out their performance on America's Got Talent All-Stars that left Terry Crews in tears.
Coming soon: Metro Times Daily newsletter. We'll send you a handful of interesting Detroit stories every morning. Subscribe now to not miss a thing.

Follow us: Google News | NewsBreak | Reddit | Instagram | Facebook | Twitter