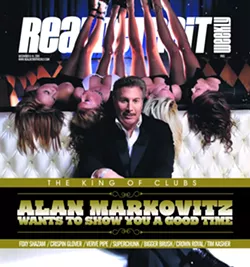 The story of the notorious Detroit strip club owner Alan Markovitz could come to the silver screen.
According to
Deadline Hollywood
, the film rights to Markovitz's memoir
Topless Prophet: The True Story of America's Most Successful Gentleman's Club Entrepreneur
were purchased by Symply Entertainment, the production company of fellow metro Detroit native Ron Senkowski.
Previously, Markovitz made local and national news through a variety of exploits, including surviving two shootouts, earning the ire of the mob, and installing a 12-foot statue of a middle finger next door to his ex-wife's house in 2013. In 2014, he starred in a Cinemax reality television show also called
Topless Prophet
.