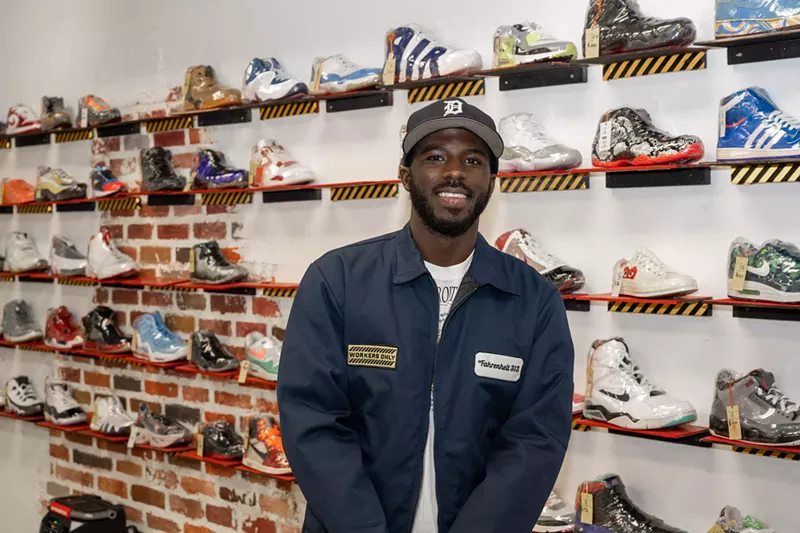 The
last time we spoke
with Frederick Paul II, he was preparing to open his sneaker store Fahrenheit 313 on the Livernois Avenue of Fashion. Paul's grand opening was March 13, 2020, the same day Governor Whitmer announced the closure of K-12 schools and three days before businesses began to
close due to the COVID-19
pandemic.
While many businesses were forced to close their doors during the pandemic, Paul's sneaker shop survived despite the odds being stacked against him.
"Our grand opening day was great but then literally we shut down the next week, so for me it was like you know, it was just survival at that point ," says Paul. "Like, we worked so hard to get here, and we're not gonna let this stop us. It was just about using our resources and being creative as soon as the store had to shutdown."
During the shutdown, Paul began to work on developing the store's online presence, which would eventually build not only his customer base, but a community. Paul relied heavily on social media to keep his customer engaged creating conversational polls on Instagram and relying on online sales to continue to build.
Two years later, Paul is now ready to expand the community with the release of his app Fire Exchange. The app allows sneaker fans to not only engage with each other and discuss the latest sneaker news and trends, it allows them to have exclusive access and perks at Fahrenheit 313. One of the exclusive perks is the Backroom, a function on the app that allows subscribers to view the backroom inventory of Fahrenheit 313 before it hits the floor.
"Customers come in all the time and say, 'Hey, is this all the inventory you have? Can I see what's in the back?' That's essentially what it's going to be, a peek into our vault, and first dibs on the inventory that we get in store," says Paul.
Paul says the idea for the app came from the customers who can't easily access his store, but still want to be interact with the owners and other sneaker fans.
While the app is free to download, the monthly subscription is $15, with $3 of that being donated back to the Detroit Public Schools Community District. The Renaissance High School graduate says this is just the beginning of his plans to continue to grow and give back to the community that educated him.
"No matter how big we get, we're always going to make sure we're donating back to the city; and we want people to actually be able to see where those dollars are going and the impact that's being made," says Paul. "I feel like, it's really important to start with the youth — the children in the schools. We have to start young with teaching them certain things, things that I didn't get necessarily growing up in [Detroit public schools.]"
Paul said he admires the way Big Sean gives back to local students and would like to contribute in a similar way, whether it's offering entrepreneurial courses or internships for students. Paul says he is even developing a design challenge for students to be able to submit their own original designs, with the winner being rewarded with their own piece of merchandise that sold in his store.
Fire Exchange will launch on both Android and iOS on Monday, Sept. 26. Fahrenheit 313 is located at 20114 Livernois Ave., Detroit; fahrenheit313.com.
Stay connected with Detroit Metro Times. Subscribe to our newsletters, and follow us on Google News, Apple News, Twitter, Facebook, Instagram, Reddit, or TikTok.