Art Babes — an intersectional collective made of up of 15 Detroit-based femme painters, photographers, writers, musicians, and mixed media artists — will set up shop on Sunday at the Schvitz for Problematic, its first exhibition of the year. The show will feature a variety of visual art pieces touching on topics like sexuality and cultural identity, and will also feature a performance from local electro-R&B artist Supercoolwicked.
The collective began with a series of exhibitions in 2015, when a group of multicultural, femme Detroit artists say they saw a gap in the local art scene. Although Detroit has been filling up with artists and galleries in the past few decades, the members of Art Babes say they felt like there weren't enough spaces for femmes and women of color to show their artwork. So, they made their own.

After two widely attended shows in one of the artist's Midtown homes, the members decided that they wanted Art Babes to be more than just a one-day affair. The artists began meeting regularly to critique each other's work, share resources, and offer support.
"One of the most important parts about Art Babes is we're very intersectional and representational of the community of Detroit," says Cyrah Dardas, a multidisciplinary painter and figurative artist. "The reason we felt we needed to build these [critique] groups is because often femmes and femmes of color are in very white, patriarchal environments in academic and gallery settings and it's difficult to be given a fair critique in those spaces, so we wanted to do that for each other."
Many of the artists recount stories where their work has been discounted or scrutinized because of its subject matter.
"Topics get chopped apart if they're certain topics," says Dardas. "We're here to embolden each other and say, 'This is a 'fucking good artist statement.'"
Callie Nazzpuller, who describes herself as a sex-positive painter who focuses mainly on centralizing the moods and sensations that women experience during sex, adds that her work is often misconstrued in mainstream art circles. "This collective, for me, feels like a direct reaction to experiences I've had where my work has been marginalized and not understood," says Nazzpuller.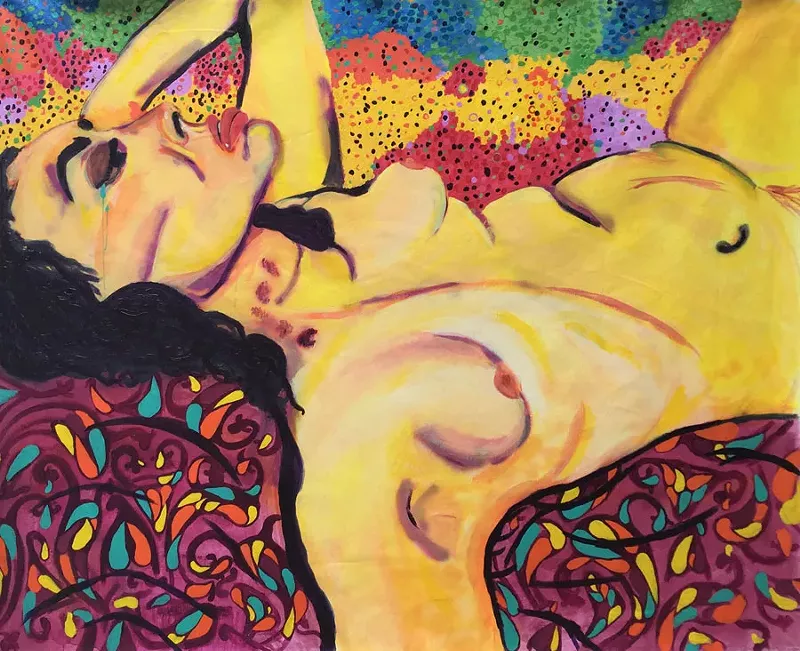 Despite their adverse experiences, the artists emphasize that Art Babes isn't all about "struggle art," but supporting and learning from each other.
"We're multiple, intersectional women coming together as, like, a superpower," says photographer and painter, Franchesca Lamarre.
Amen to that.
Doors to Problematic open at 5 p.m. on Sunday, March 4 at the Schvitz; 8295 Oakland Ave., Detroit; Admission is free.
Stay on top of Detroit news and views. Sign up for our weekly issue newsletter delivered each Wednesday.