For a city with such a rich history and culture, Detroit isn't used as a setting in fiction near as often as it should be. The horror genre in particular is missing out for not using a setting with such obvious potential.
This is one of the things the new comic book series
Corktown
is hoping to correct.
Corktown
was co-created by independent comic writer
Mario Candelaria
and artist Scott Ewen, with Zakk Saam on lettering duty. The story follows the ghost of a slain Detroit police officer as she tries to stop her corpse, which has been reanimated as a murderous vampire.
It's an unique twist on both the police-procedural and vampire genres, like
The Wire
meets
True Blood
with a little
Ghost
mixed in for good measure.
The
True Blood
comparison might be particularly apt because the fan favorite TV series did inspire the comic to a degree, according to writer Mario Candelaria.
"One day I was watching HBO's
True Blood
and I started wondering if vampires have souls since they are dead," says Candelaria. "I sent Scott (Ewen) an email asking him as if he would have an answer to such a ludicrous question, and a few messages later we had an idea for a comic."
It's a simple question that snowballed into a solid idea for a book, but many of Candelaria's past work similarly spawned from his day-to-day interests. "In my personal life I have a vast range of interests and hobbies, so I guess it is only natural that my body of work reflects that as well," says Candelaria. "I try to create stories that would interest me as a reader and my imagination guided me to
Corktown
."
Candelaria's diverse bibliography includes the firefighter-centric
Ashes
and the two-sided modern romance drama
Epilogue
, so the vampire/police story fits neatly into his pattern of having no pattern.
Mario himself isn't from Detroit, so he was lucky to be paired with two Detroit natives in the form of his collaborators Zakk Saam and Scott Ewen.
The idea of a Detroit-set vampire story was something that spoke to Scott Ewen on a personal level. "When I first started dating my wife in 2007, we used to drive past the Michigan train station all the time, and it had such a spooky look to it with the barbed wire fence around it and the broken windows... my wife used to say she imagined there were a bunch of vampires living inside it," says Ewen.
"When Mario emailed me with an idea he had about vampires being separated from their souls, I figured the train station would make a perfect setting for a story like that."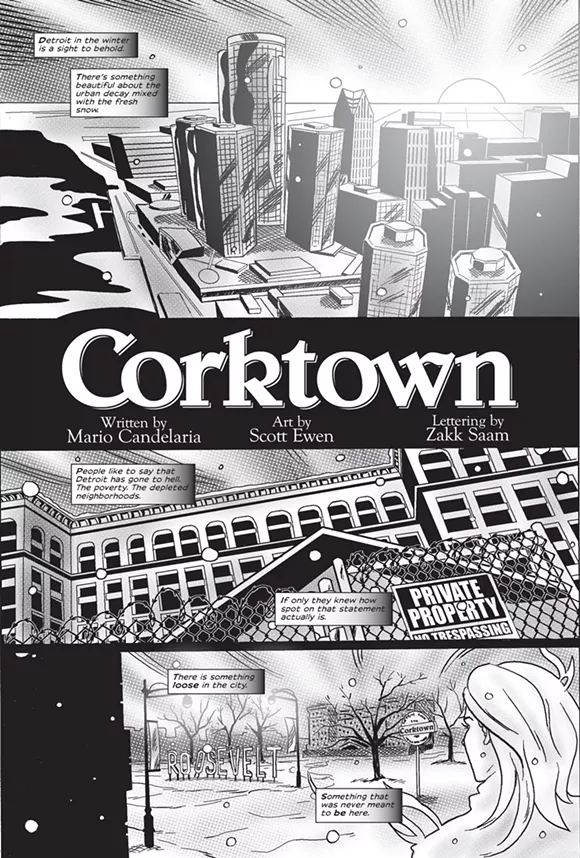 "I was lucky to have Scott by my side from the very beginning," says Candelaria. "Having been in Detroit his entire life, he turned me on to locations and landmarks."
Having "his entire life" to familiarize himself with the area gave Scott Ewen a leg up when it came to capturing the right tone for his depiction of the city.
"Living in the area that the comic takes place in was a big help," says Ewen. "The bulk of the story takes place near the Michigan Avenue train station, and during the early stages of pitching the comic, I lived in an apartment building only a mile or so away. If I needed photo reference for the artwork, I could ride my bike over to it and get exactly what I needed."
A student of the renowned
Joe Kubert School
, a university in New Jersey that regularly produces artists who have successful careers in the comic industry, Ewen's no stranger to tackling artistic challenges and finding exciting new ways to visually tell stories. His previous work includes art for the experimental web-comic
The Sundays
and the superhero satire
Titus.


Ewen appreciated the challenge of working on a horror comic, a genre he hadn't drawn yet. "Doing a horror book was pretty difficult for me because I had to consciously steer clear of making stuff cartoony and exaggerated," he says.
Ewen met the challenge by trying to mix his signature art style with a more "realistic" approach. "I'm not trying to sugar coat the less appealing aspects of (the city)… the broken down buildings and overgrown vacant lots… but also not overly emphasizing them either," he says. "It's a living city with good aspects and bad aspects, and I want to try to reflect that without focusing on the negative."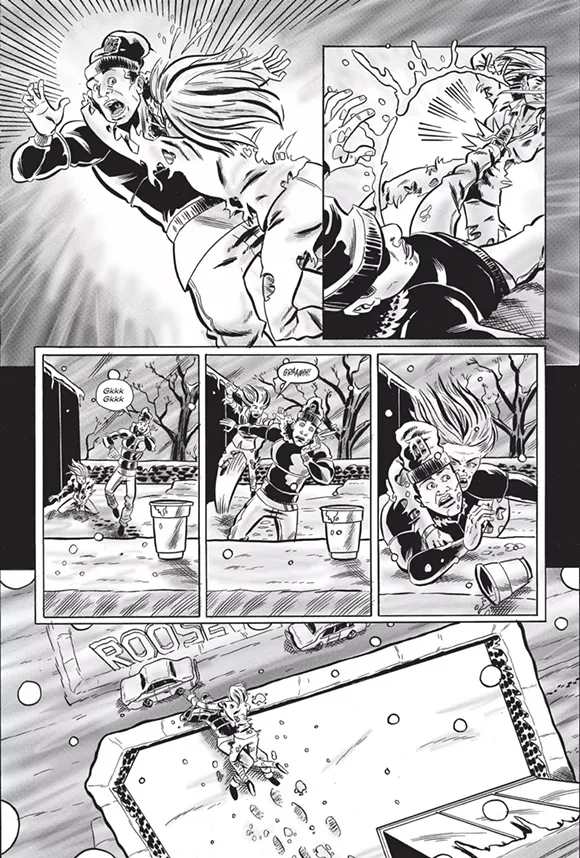 Corktown
is published by
Alterna Comics
, which specializes in distributing creator-owned comic books and graphic novels.
The first issue of
Corktown
is available for purchase on
Comixology
. The second issue is set to come out on August 31, #3 on October 12, and the fourth and final should be available on December 14.
A physical collection of the whole bloody story should find it's way into comic stores sometime around Halloween.