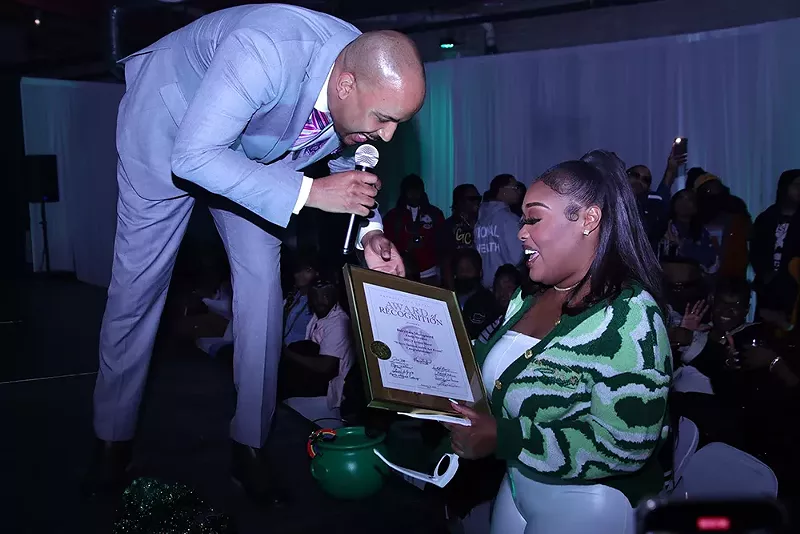 Fashion and music have been two of Detroit's biggest exports over the last several years. A quick click on your Instagram account and you'll see NBA players rocking Octane or Wealthy walking through the tunnel before a game, and hip-hop artists like Jezzy and Rick Ross picking up a Ruggero jacket before they hit the stage.
Enter Darylynn Mumphord, a designer and promoter who's had two feet firmly planted in both Detroit's fashion and music scenes for the last 15 years. Both will be on display on Sunday at the "Dream's Most Wanted Fashion Exhibit" event.
"A lot of people throw fashion shows, but they aren't a mixture of our culture between streetwear and music," Mumphord says. "Fashion and music go hand-in-hand. People try but they don't do it with the right aesthetic."
By "aesthetic," Mumphord means the curation that goes into featuring new designers with those that are established and also supplementing that with the right hip-hop artists.
"The Detroit cultural experience [is] between artists and fashion," she says. "So people can see the new brands that are coming out here. Some people throw fashion shows and it's always the same designers, the same people, when we have a whole new generation of people that's sewing clothes and making clothes."
The designers and brands featured will be Arte de la moda, In Hous, Theres Only Us, Kameron Amir, Hvnlee, 7 pieces 7 ways, Thousand Island, Foreign Appetite, 1derdul, Visions Collection, Ruggero, Alexander Rose, and Reespecs.
The fashion show will also feature performances by Baby Money, Tay B, Sterl Gotti, Gameova1k, and 423tdot.
"This experience is definitely showing off all the talents we have here. The experience is the feel, like, 'it's a vibe' is what people will be thinking," she adds.
Dream Rich presents "Dream's Most Wanted Fashion Exhibit" from 6-7 p.m. on Sunday, March 26 at 2000 Brooklyn St., Detroit. The show is produced by Code x Rosella, and sponsored by Hutch, Siempre, Viola, the Weedbar, and Moovin and Groovin. Tickets start at $40 and are available from eventbrite.com.
Coming soon: Metro Times Daily newsletter. We'll send you a handful of interesting Detroit stories every morning. Subscribe now to not miss a thing.

Follow us: Google News | NewsBreak | Reddit | Instagram | Facebook | Twitter