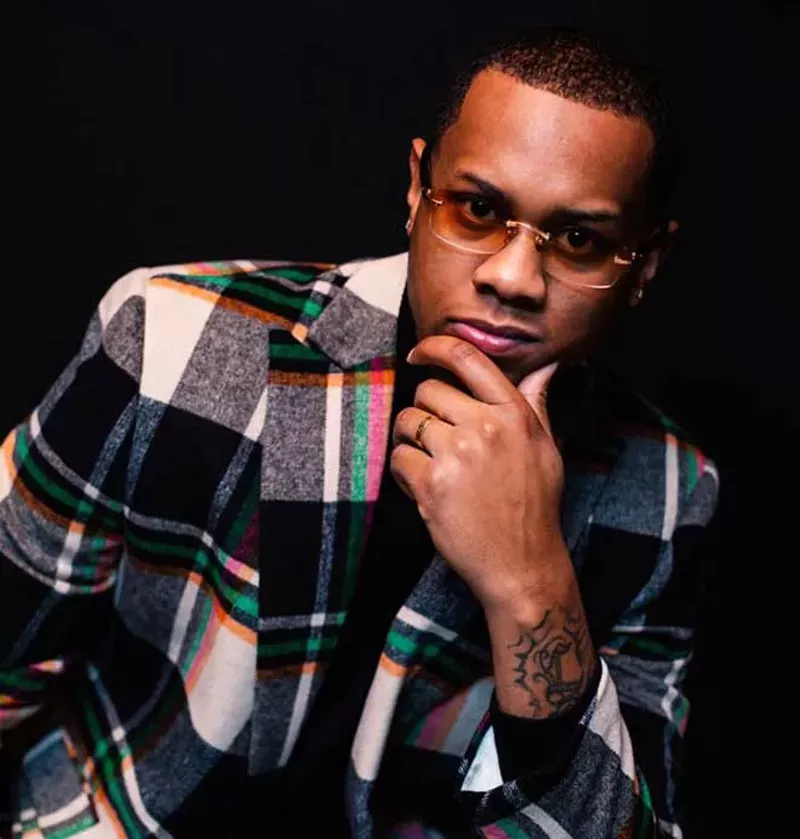 After Marcel Stewart was arrested following a misunderstanding with police, he started to paint "from the belly."
He was detained for 10 hours after police mistook his gestures for aggression when he was trying to help a woman who didn't speak English in downtown Detroit. But instead of going back to his canvas with rage and painting political commentary, he decided to focus on positivity.
"Where I came from is the east side of Detroit, and when I was a very young child outside of my windows, all I saw was abandoned buildings, burnt-out cars, and liquor stores, so from adolescence I knew in the future I just wanted to see positivity," he says. "So my thing is, for young people who don't have any control over things right now, they can look at [my art] and see something that they've never seen before, and that will give them hope."
Geometric shapes, splashes of bright colors, and paint drips appear throughout Stewart's abstract paintings with waves of paint flowing through like the passing of time.
A piece called "Midnight Dreams" bursts with colors that soothe the mind and emit childlike joy on the wall of Umoja Fine Arts Gallery in Southfield, where Stewart is showing his latest work. This is the positivity he's talking about. Six square cutouts jut off the canvas in various sizes. The shapes are how Stewart simplifies life.
"Abstract is the most simplistic form of any art, and once you really break everything down, including the human figure, it's just blocks," he says. "Look at anything in the world and it's literally a rectangle... So if we think about that in the aspect of life and society, you have this big rectangle, mother nature itself, and a spitting image of what's coming out of it — people."
Mother nature is the canvas and the blocks within "Midnight Dreams" are us, metaphorically. Each block is a different size with a unique pattern of paint splashed on it. Though we all have our differences in appearance, culture, and beliefs, we're all squares in the end. Though Stewart notes some of the blocks do appear similar since human beings created a status quo that they believe is "natural," even if it isn't.
"Who are we really?" the young artist asks. "If someone could look at us and say you're just a Black male, or you're just a Caucasian female, then how would they ever get to what's underneath the tip of that iceberg? Just like looking at an abstract piece at face value is only going to give you beautiful colors or a beautiful frame."
Stewart thought he knew who he was before he started painting in this geometric style. Prior to that, his trademark was an abstract "swoop splash" that he put on posters and clothing. That changed following his incident with the police in 2020, during the civil unrest around the murder of George Floyd.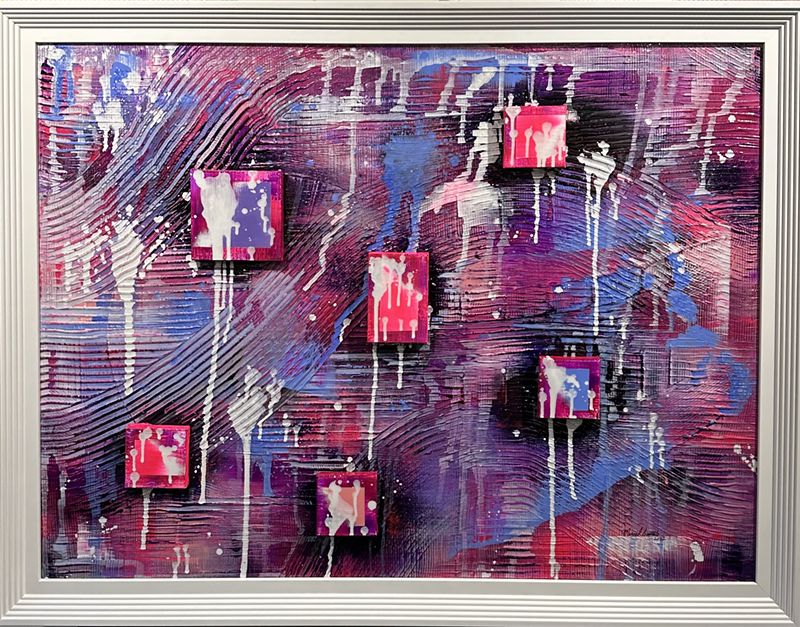 Umoja Fine Arts CEO and lead curator Ian Grant pushed Stewart to dig deeper in his art, as he saw something inside of him that wasn't yet translated through his work.
"When Marcel came on board three years ago, I told him, 'We want to you grow, so this will be the last swoop splash that you do for a while,'" Grant says. "We call it 'art from the belly' when an artist goes deep inside of themselves. When the cops came and tackled him and locked him up, he called me and I said, 'You want me to get you a lawyer?' He said no, that he just wanted me to know what happened. And I thought, now is the time that you come from the belly. Put that experience of how you felt on canvas for me. That was the beginning."
Stewart has been an artist since he was 5 but stopped making art in high school because he felt discouraged.
"I always knew I wanted to be an artist my whole life but I never had that encouragement or motivation… no one pushed me to say you can go further, you can take this and flourish in it," he says. "When I came to Umoja I really found a friend in Ian Grant. He was able to show me that this is not just a marketplace to grow in [monetary] value, but you can express yourself, tell your story, give back to your culture, and preserve history."
Stewart's "Midnight Dreams" piece is part of his environmental series. Other paintings come from other themed series like music, culture, and ancestral heritage. Another piece in the show, "Liberation, The Rise from Oppression" is an abstract version of the kente cloth and the metaphorical wealth, tranquility, and spirit in its traditional colors.
Stewart is influenced by abstract greats Jackson Pollock, Mark Rothko, and Piet Mondrian but still adds his distinct point of view.
"I'm able to tell my own narrative from my past, which isn't this vibrant, but I wish for my future to be and I want to give the youth hope for the future as well," he says.
Where to see his work: Stewart's work is part of Umoja's Blooming in Color III exhibition, which includes work from decorated Black artists LaShun Beal and Della Wells, alongside emerging artists like Stewart.
Coming soon: Metro Times Daily newsletter. We'll send you a handful of interesting Detroit stories every morning. Subscribe now to not miss a thing.

Follow us: Google News | NewsBreak | Reddit | Instagram | Facebook | Twitter