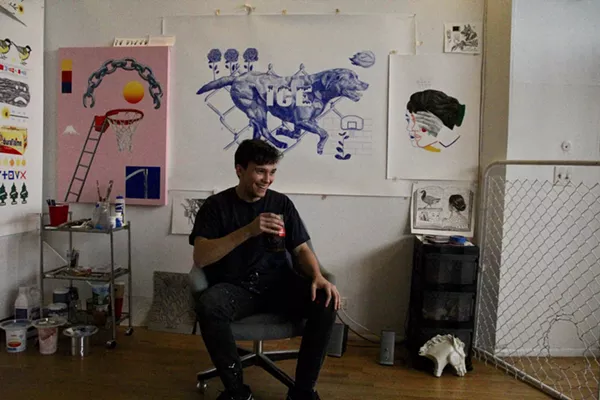 If not for awkward pubescent phases, Danny Sobor may have never become an artist. The 25-year-old Detroit resident and Chicago native began making art as a way to survive the most humiliating chapter of human development — middle school.
"I loved comic books. I was a chubby kid and I liked to make art because I liked to feel like I was making something beautiful," Sobor says. "I had bad acne and nobody would talk to me. I could zone out and listen to music and make art and it was super meditative and therapeutic and I got kind of addicted to it."
He's sitting in his studio space inside Eastern Market's Riopelle, surrounded by what he describes as "almost half of a-really-good-show's" worth of his artwork. Sobor has come a long way from sketching his favorite comic book characters. The artist's newest work represents a style popular among young artists today — hyper self-aware pieces inspired by the digital world and what he views as the mere absurdity of painting itself.
"More recently I've been thinking about how to make drawings about drawings and paintings about paintings," Sobor muses. "You can make a painting because you want to make something beautiful or impactful, and then you can make a painting where you know you're painting the whole time, and thinking about what that means."
It's super meta.
Sobor coins this painfully conscious creative process as "painterly angst." It's an attitude shared and pioneered by postmodernist artists like David Salle, one of Sobor's biggest influences. While postmodernism is nothing new, the self-aware and digitized nature of Sobor's artwork seems to go hand-in-hand with the omnipresent existentialist millennial plight: "What the hell are we doing here?"
Before painting the absurd, Sobor was obsessed with portraiture and how to illustrate the face. He credits this obsession with visual representation to adolescent time spent in Logan Square, where he was first exposed to giant wheat-paste illustrations and street art by Andre the Giant Has a Posse, Left Handed Wave, Don't Fret and Pizza in the Rain. "I would always get these sensory overloads taking the train and I would be like, I wanna do that. I wanna make that." So, for a long time, Sobor focused on drawing the perfect face.
"I think that was me teaching myself how to shade and draw properly, but now it's shifted," Sobor says. He studied neuroscience and visual art at Brown University but never took a formal drawing class.
"There's only so much that portraiture can do in terms of finding my own unique voice. Faces have a lot to do with the personal connection to the person you're painting or drawing and what emotions are going on between the two of you, but that's limiting. Whereas, if you're using objects you can say a million different things. By combining obtuse imagery or eccentric or weird objects, you can tell a better narrative."
Sobor's current body of work presents a cohesive narrative of the four seasons. His paintings combine vector files and product-based images with more classic, carefully shaded objects.
"I want to be on the border of work that has digital trails. You can see it was mocked up on a computer but you can also see that it was done by hand, so it occupies both worlds," he says.
Sobor also hopes to incorporate a 3D element to his artwork. "I want to make some objects too. I'm envisioning astro-turf, fences, swimming pools, beach balls, ice, snowflakes. I think seeing sculptures when entering the gallery space reminds people they are looking at art," he says.
While Sobor is not yet officially displaying his new work, you can get a preview by following his Instragram at @dannysobor or visiting dannysobor.com.