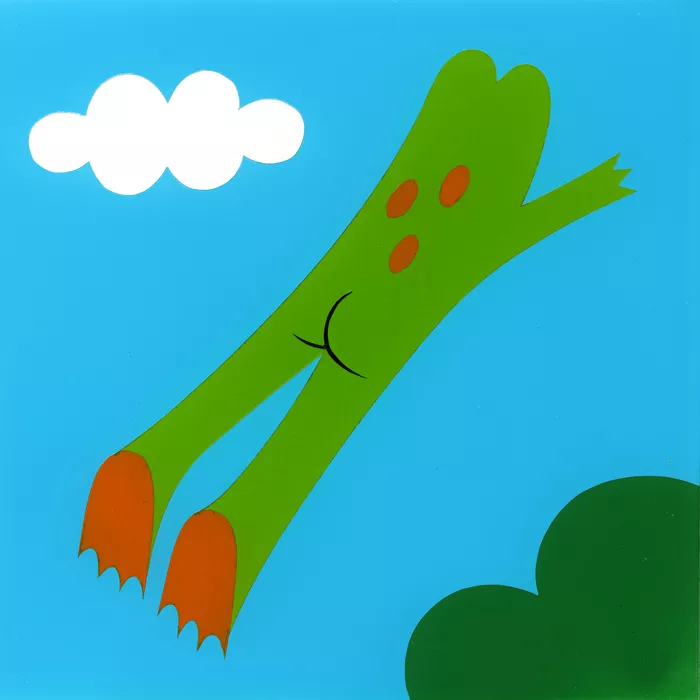 "It's the greatest book ever written," local artist Davin Brainard says when asked about his new release, Mountain Ocean Sun. "Actually, it's a fast food joint in Japan. It really is. That's where the name comes from."
It can be hard to tell when Brainard is being serious and when he's joking, as everything he says is delivered with the excitement of a child. Which is fitting, given the format of his new art book. It's promoted as an art book, but it's bound in the same way as those blocky, colorful children's board books — a format perfectly suited for Brainard's flat, playful images.
"With these kinds of books, the image quality is so nice and rich and shiny and durable," he says. "Kids, of course, love them. Parents think they're probably good for kids because they're colorful and they're cute and funny. But this is, you know, serious artwork."
In the middle of the book comes a typically Brainardian image — a frog with a human butt. It's innocent, but also a little subversive. "I love frogs," Brainard says. "That's how I see them in nature. They're always hopping away from me. After I had painted and drawn a bunch of them I started giving them human butts, because it's so cute.
"The frog with the human butt is gonna be huge," he says, leaving us unsure again whether he's kidding us. "It is gonna be big. When people start seeing that, it's gonna be everywhere."
The images in Mountain Ocean Sun are created in same style Brainard typically works: uysing spray paint on Plexiglas, cutting shapes out in reverse on brown paper backing, using them as stencils. He then peels the backing away to reveal the image. The method gives his paintings a flat and graphic feel — with just a dash of grit.
Brainard got the name Mountain Ocean Sun from pal Warn Defever (of His Name Is Alive), who was in Japan and saw the restaurant. Defever made a record of the same name, and Brainard did a painting for the special edition. The name struck Brainard as both childish and poetic. "It had such a nice ring to it, the publisher thought it would make a good book," Brainard says.
The two have a record label together, Time Stereo, and a band together, Princess Dragonmom. Over the years, Brainard has painted record artwork, posters, an overpass in southwest Detroit and, we should mention, several MT covers.
The book was released by Chicago-based publisher Soberscove press, along with four other books from other artists. "Normally I do all my own distribution," Brainard says. "You know, you make your own books and then you have to get rid of them all. This was so awesome; everyone just ordered them from the publisher, I didn't have to do anything. That's the way this stuff is supposed to work!"
"I feel like I officially have a real book," Brainard says. "I've made a bunch of books, printed at Kinko's, I cut all the pages and all that stuff — but this book is real because it was made in China."
Mountain Ocean Sun is available locally at Book Beat, Stormy Records, Ditto Ditto, or Soberscove's website, soberscove.com.
Brainard's work can be viewed at Desaturated: Abstract Black and White at 7 p.m. on Friday, March 7, at 1480 Gratiot Gallery; 1480 Gratiot Ave., Detroit.