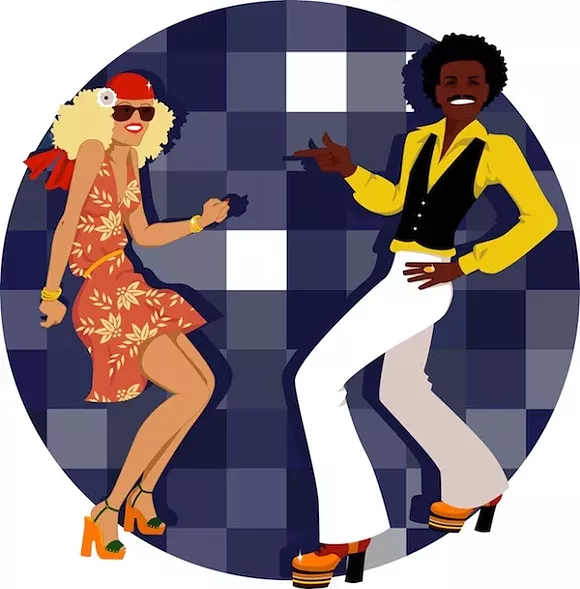 Here's an unusual promotion for a furniture store: Dance the day away amid all the funky furnishings you could desire.
That's what's happening this week at Robinson Furniture. This Friday, Robinson Furniture is asking Detroiters to get geeked up in their dandiest duds and shake a tailfeather for the TV show
Soul Town
, which promises to raise the profile of the store and the people gyrating inside it when it's featured as a paid broadcast on local television.
It's the kind of thing that harks back to some of the unusual Detroit dance events of the 1970s and 1980s, when TV programs such as
The New Dance Show
appeared on local television. Many people will think
Soul Train
and Don Cornelius, but the real local yokels will instead think of
The Scene
and natty Nat Morris, and those outtasite threads.
We spoke with Neil Master, the PR man who cooked up this idea, and he says it's going to be quite a shindig, including a Michael Jackson impersonator and Uncle Robinson himself, who'll be wearing a party suit and join in the fun.
He tells us that, while he asks guests to dress up, you don't have to don an Afro wig or find a pair of bellbottoms to participate. "I didn't want to restrict people to having to look retro," Master says, "but as long as it's funky, anything goes."
The jokes here would seem to present themselves. "Get down — into a new La-Z-Boy recliner!" Or, "You've got an uncle in the furniture business — and the dance club business too!"
Masters laughs at those ideas, but stresses that, as silly as it may seem, this is serious business.
"Our idea is to combine retail with dancing," he says. "We do 'advertainment.' We even have a circular bed with mirrors and a fog machine. There will definitely be people dancing on that. And Uncle Robinson is going to get down and funky — I'm going to dress him up in the craziest suit I can."
Bring your best moves and your funkiest dance outfit to Robinson Furniture at 11 a.m. Friday, May 13; there will be prizes for best-dressed and best groove; see Neil Master's Facebook page or call 313-338-3290 to sign up.