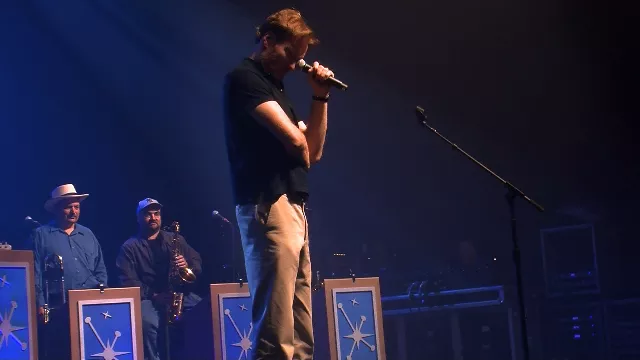 Conan O'Brien Can't Stop
GRADE: A-
Have you heard about that whole late-night war that went down last year? Director Rodman Flender presumes that you have, and skips most of the gory details of the ugly, very public Jay vs. Conan battle that resulted in O'Brien being forced from his dream job behind the desk at the legendary Tonight Show. Instead we jump a few months after his buyout from NBC, as O'Brien and his staff "Team Coco" regroup, look for a new TV deal, and begin the process of planning, writing and rehearsing a two month, 32-city live show, which turns out to be a revelatory and exhausting experience. What initially sniffs of being a pity party evolves into a hilarious, piercing, fascinating backstage exposé, though one that prompts the question; Is it possible to make a candid documentary about a subject that is painfully aware of his audience?
In front of a crowd, Conan is a pasty Irish tornado, wild red mane and gangly limbs flying in spasmodic fury. Deep down, he fancies himself a song-and-dance man, and the tour gives him a chance to work out his rockabilly fixation, including a sweat-soaked set in a tent at Bonnaroo, and an intense rave-up in Jack White's tiny Memphis studio space. Despite facing his greatest career failure just weeks before, O'Brien seems to be having the time of his life, but the exhausting demands of show biz do occasionally show on him.
O'Brien, by all accounts a dedicated, clean-living family man, does suffer from a major, crippling addiction: comedy. His insatiable desire to entertain borders on obsessive — and everyone within earshot is treated to a nearly endless stream of bits both goofy and lacerating. Is there another talk show host who can earn belly laughs with off-the-cuff references to Bess Truman and painter David Hockney? Maybe, but few of them could do it with the speed and mental acuity on display here, when O'Brien shows off the wit that gained him early fame in vaunted comedy venues such as the Harvard Lampoon and The Simpsons writers' room.
Like Elvis after a show, huddled around a piano belting out gospel songs till the wee hours of the morning, O'Brien simply can't turn off his gag reflex. The show never ends; when famous friends pop up backstage, such as Jon Stewart, Steven Colbert and Jim Carrey, the intensity cranks up. When Conan's former intern-turned-sitcom star Jack McBrayer stops by, he unleashes a lovingly savage torrent of hillbilly jokes, even tickling the ivories and belting out a dirty ditty about Jack's hick roots.
These moments make you realize that the version of O'Brien we see on TV, funny as he is, is commoditized and controlled. The unleashed id on display here is revealing, as is the comic's bottomless desire to please. He's almost incapable of saying no; he greets every fan, signs beer cans, and poses for pictures with his backup dancer cousins, until the point of collapse. At least O'Brien has the decency to feel shame about what he calls "innate neediness," but as this film makes clear, few truly famous performers ever get to the top without breaking a sweat.
Opens Friday, June 24, at the Landmark Main Art Theatre (118 N. Main St., Royal Oak; 248-263-2111).