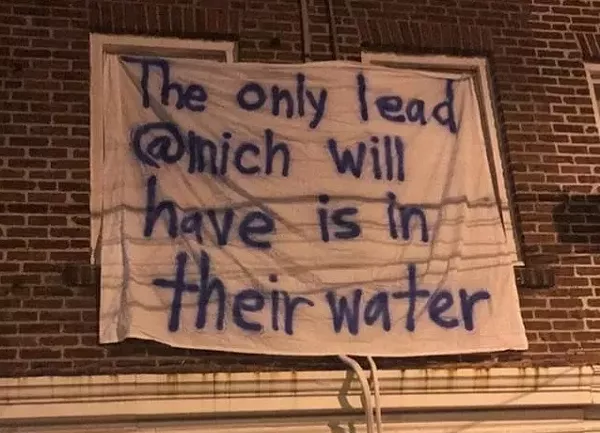 It seems plenty of college sports fans have what can only be very generously described as a sophomoric sense of humor.
Once again, an overzealous fan used the Flint water crisis as the punch line to a joke while making banners taunting the Wolverines. This time, at least one supporter of Philadelphia's Villanova Wildcats cracked a joke at Flint's expense, scrawling "The only lead @mich will have is in their water" on a banner ahead of Monday's championship game, which ultimately saw the Wolverines lose 62-79.
Villanova's faux pas is the latest in a trend in which college sports fans apparently put down their Natty Ice long enough to reach for the lowest-hanging fruit — vague, incoherent jabs at Michigan evoking the Flint water crisis.
Last year, Penn State students compared Flint's water quality to U-M's quarterback quality:
No chill whatsoever pic.twitter.com/O5oO1MfvsP

— Barstool Penn State (@PSUBarstool) October 16, 2017
And the year before that, arch rivals Ohio State pulled off a bad joke double-whammy by making a sign saying that Michigan girls are "more diseased than Flint water."
Truth pic.twitter.com/e5sUVeptxM

— Barstool OSU (@BarstoolOSU) November 26, 2016
Of course, aside from being geographically wrong — U-M has a Flint campus, but its teams are based in the main campus in Ann Arbor — taunts like these are just not funny.

The Flint water crisis has been linked to more than a dozen deaths, and has resulted in countless others getting poisoned with lead. And since systemic racism was found to be intrinsically intertwined with the crisis, and the emergency management law that led to the crisis has mostly been imposed on Michigan cities with a non-white majority, it can only mean one thing: College sport taunts using Flint as a punchline are racist.

(Hat-tip to The Big Lead.)

Stay on top of Detroit news and views. Sign up for our weekly issue newsletter delivered each Wednesday.