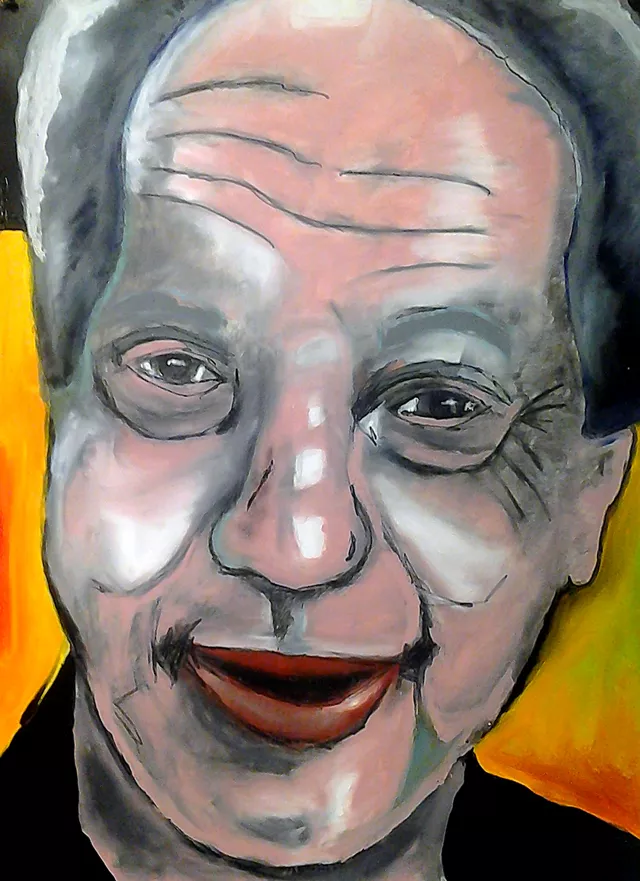 What: A new season at College for Creative Studies Center Galleries featuring "Local Color: Detroit Portraits by Matthew Hanna" and "For the Love of Painting: Selections from The Dicke Collection."
Where: Center Galleries, 301 Frederick Douglass St., Detroit; 313-664-7800.
When: Through Oct.20.
About a decade ago, Matthew Hanna, who's a sculptor by trade and a CCS alum (class of '86), decided to teach himself how to do portraits. And he took as his models friends and activists within the Detroit art scene, as well as prominent figures from the city's community at large and other miscellaneous characters. Coleman Young, Ernie Harwell and Chief Pontiac are just a few of the faces just about everyone will (or should) recognize while strolling down CCS' Alumni and Faculty Hall. And if you know the art scene of Detroit and the people who make it, you'll recognize plenty of other names and faces as well.
To help get started, Hanna studied works from the folk artist Howard Finster and the oh-so-sophisticated Alex Katz, both of whom he says have greatly influenced his own artistic style. Hanna suggests that a lot of people won't see the references (though it'll be clear once you're clued in). But the overall effect of the portraits is far from imitation and has a distinctly "Hanna" feel.
"It was just a matter of looking at how other people approached it and then developing my style," Hanna says. "At first, I more or less just used paint, but then I started using a lot more graphite. ... It was just kind of a discovery process in my studio — laying down layers to get the effect that I wanted. For the most recent ones, I start with graphite or pencil, and then I work the oil paint on top of them. Then I rub the surface in so some of the graphite comes back out and causes shadows and things like that."
Actually, the evolution of Hanna's artistic technique over the 10-year span during which the portraits were created lends the exhibition an appealing variation — each portrait has its own charm and character, much like the personalities they portray.
In addition to creating and exhibiting his art, Hanna is a quiet yet steadfast presence within Detroit's art community. To hear Hanna tell it, he's "just lucky to have a job in the arts." But those who work closest with him know differently. In a recent biography, Center Galleries Director Michelle Perron referred to him as "the Detroit art community's Professor Marvel."
Besides working fulltime at Detroit Artists Market, Hanna is the preparator at two area galleries where, as Perron puts it, he "designs and installs exhibitions with the eye of a genius." Over the years, Hanna has been involved in many important art spaces throughout Detroit, including the Willis Gallery, Detroit Focus Gallery and Alley Culture. He's also been behind some of the area's great artist collaborations and cooperatives, like the Slippery Weasel Society.
"It has always been a good breeding ground for artists," Hanna says of Detroit. "It's a good place to work and there's a lot of support in the community."
Accompanying Hanna's Local Color is Center Galleries' other exhibition, For the Love of Painting: Selections from The Dicke Collection, on display in the main gallery. The exhibition features 24 contemporary paintings from Ohio resident Jim Dicke's ample collection. Among the artists represented are the aforementioned Alex Katz, Ellsworth Kelly, Larry Poons, Takashi Murakami and Rackstraw Downes.
In addition to the enjoyment she hopes the public will gain from For the Love of Painting, Perron thinks it's important that current CCS students have an opportunity to experience the work of contemporary artists.
"You can go online, you can look at books, you can sit in an art history class and look at slides of work, but it's not the same as standing in front of a work of art and engaging with it one-on-one," Perron says. "These are 24 of the most important contemporary artists working today, so to have this kind of work available to see and engage with is really a coup for CCS."
Center Galleries is open 10 a.m. to 5 p.m. Tuesday to Saturday. Both exhibitions run through Oct. 20. See tinyurl.com/ccs-show for more details.