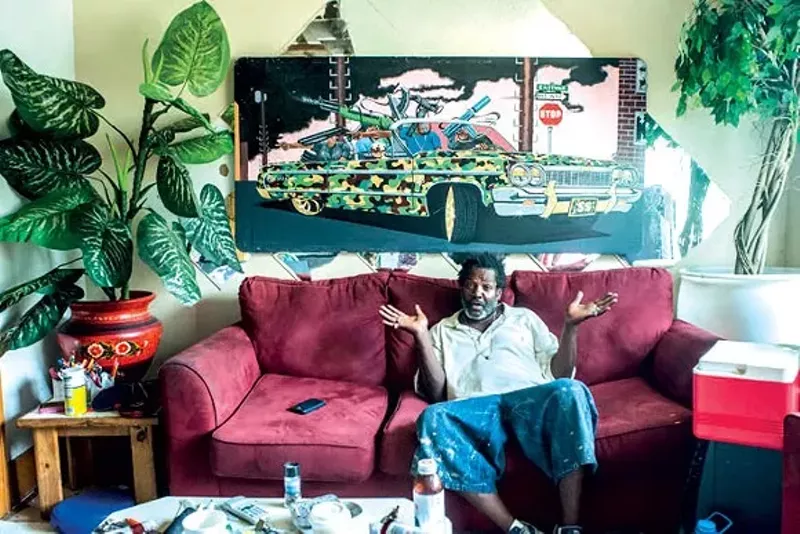 We've known photographer and inner-city documentarian Camilo Jose Vergara for a decade. Given his fascination with Detroit and his perspective as an outsider, we have no idea what will pop into his head next. The latest is as unusual as it is intriguing. But first you'll have to stay with us for a little while.
First of all, if you don't know Vergara, he's been documenting places Americans mostly dismiss as "ghettoes" or "slums" — proving that there is a lot that does not at first meet the eye there. For years he has authored unusual photos books, such as
The New American Ghetto
,
How the Other Half Worships
, and this year's
Detroit Is No Dry Bones
. We
interviewed him in 2006
and
again this year
, and he calls from time to time with his ideas.
One of them is the idea that venture capitalists can do create a brand like Shinola, which is designed to trade on people's interest in Detroit, but that nobody else has taken it upon themselves to create a brand that trades off the actual vernacular art of the city's black majority. When he pitched the idea to us a few months ago, it sounded almost too weird.
But in
an interview last week with the CityLab people
, his thoughts are rendered more clearly. It goes like this:
What if you had a Shinola of the ghetto? What would that be like and what would it sell? It would have the designs from the the stores, the soul food restaurants, the mechanic shops on things like towels, blankets, shirts, ties. It could start with images that already exist and create a link to the painters who are probably going out of business because signs are now made on vinyl. You could generate the sense of design and creativity that manifested itself in the storefront churches, party stores, memorials.

In this bold proposal, there are echoes of one of Vergara's key desires: to see this artwork protected. As he told us earlier this year:
The story is not very complicated. It's just that tens of millions of people live in ghettos in the country, and we all know examples of movie actors that came out of there, athletes, musicians, but you know what you don't have? None of the famous black artists, and I mean visual artists or architects, come from that area. And then I remember all these years of going to storefront churches and looking and seeing all the stuff that people put up there. You know, going into the party stores, barbershops, getting a haircut, and seeing a completely different sense of order, design, signage, and also seeing that nobody was preserving that stuff.
Now, having put the skeleton of a business plan out there, will anybody embrace the idea? So far, much of the stuff expressing the sensibility of black Detroit has been T-shirts with block print. Are we ready for a business, online or brick-and-mortar, that sells beach towels with artwork by Bird, or neckties decorated with art from a storefront church? Are there black entrepreneurs who want to deepen and extend our understanding and appreciation of the homegrown art of Detroit? It's an interesting question.
If so, please tell us. We'll let Vergara know.