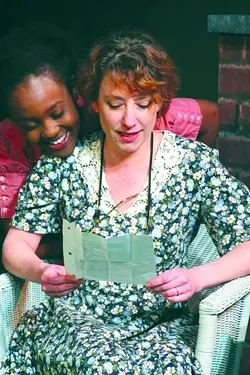 The Detroit Repertory Theatre, tucked away on a depopulated stretch of Woodrow Wilson Street on the city's west side, is one of those hidden gems more people should know about. For more than a half-century, "the Rep" has staged several plays a year, including at least one dramatically powerful play about an important issue each season.
Now, Roaming Charges is not one of those plays. This "world premiere" at the Rep is a slight, mostly family-friendly drama (with a few gasp-inducing harsh words) that is sure to leave questions swirling in theatergoers' heads.
The story concerns a precocious young black girl who traipses into a white woman's back yard and strikes up a friendship, one with repercussions that emerge down the line. The play is by Ralph Accardo, a journeyman playwright, a self-described "bleeder," who claims to write at a snail's pace. And this play seems almost like a fledgling writer's experiment, letting the characters noodle out a story with little guidance. The results are decidedly mixed — the characters are a bit thin, the premise gets increasingly hard to believe, and the story's real stakes remain hidden for most of the play — but Accardo has a real talent for penning rapid-fire dialogue where characters talk past each other, which almost makes up for it (and is employed well, here, under the direction of Charlotte Leisinger).
If the story seems a little shrug-inducing, stay with it — a second-act twist offers some surprises. The dramatic payoff could be bigger, as Accardo raises some issues but doesn't fully exploit them, perhaps preferring instead to leave the spectators pondering them on their own.
Of course, most in the audience will be drawn by the reputation of the institution itself, given the prestige of its professional productions: the quality sets of Harry Wetzel, the pitch-perfect lighting design of Thomas Schraeder, as well as the tight technical ensemble that keeps productions at the Rep on-time and humming. The Rep has declared a responsibility to produce plays that center upon issues of race and class, and this play fits the bill, even if those issues seem secondary in it.
Though local theater veteran Leah Smith and Rep newcomer Chevonne M. Wilson turn in spirited performances, the real treat of the show is the Rep debut of Kristin Dawn-Dumas, a senior theater student at Wayne State whose portrayal of 13-year-old Lacey Cubbard is realistic and bursting with physicality. Those who see Roaming Charges will be able to say they saw her when.
Performances at 8:30 p.m. Thursdays and Fridays, 3 and 8:30 p.m. Saturdays, and 2 and 7:30 p.m. Sundays, at the Detroit Repertory Theatre, 13103 Woodrow Wilson St., Detroit; 313-868-1347; $17 in advance, $20 at the door; detroitreptheatre.com.
Michael Jackman is the managing editor of the Metro Times. Send comments to [email protected]