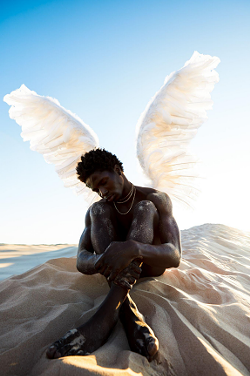 Photographer Bre'Ann White is combating the aggressive image of Black men.
While Black men are rarely portrayed as vulnerable or soft, White's Dance of a Black Man series shows them as angelic. She released two prints from the series this week at the Charles H. Wright Museum of African American History with a pop-up featuring Detroit poets like jessica Care moore, Joel Fluent Greene, and MARS Marshall.
In one of the photos, a dark-skinned Black man bathed in sunlight embraces himself as angel wings flutter behind him. In the second of the two prints, the same angel is at his knees looking defeated on top of a sand dune, the sun shining on his hung head.
"Combating stereotypes that Black men are inherently deviant, criminal, dangerous, and aggressive, this series instead reveals a vulnerable and beautiful humanity that isn't always shown," White said in a statement. "Drawing inspiration from movement, angelic themes, Afro-aesthetics, Detroit, and soft but vast natural landscapes, this project honors the black men — fathers, brothers, uncles, cousins — who have pushed me towards life-changing experiences, shifted culture, defied stereotypes, and ultimately transformed themselves to transform the world."
White said her inspiration for portraying the Black man as an angel came from Black American folklore of enslaved Africans "flying" home to Africa.
"I wanted to recreate that yearning for escape and the liberatory power of imagination," she said. "I also wanted to challenge cultural depictions of angels, because, in my life, Black men have been angels, offering guidance, protection, and love, even as the world continues perpetuating toxic masculinity. This tension — between societal expectations of aggressive masculinity, and the need to express their interior emotional lives — is a dance that all Black men must navigate, and the consequences of misstepping can be deadly."
The feathery, white angel wings contrast her subject's dark skin the same way the dominant portrayal of Black men contrasts the softness they embody in White's eyes. She explained how she asked the model, Jordan Blake, to pose from a place of vulnerability and the "fearlessness of his own truth."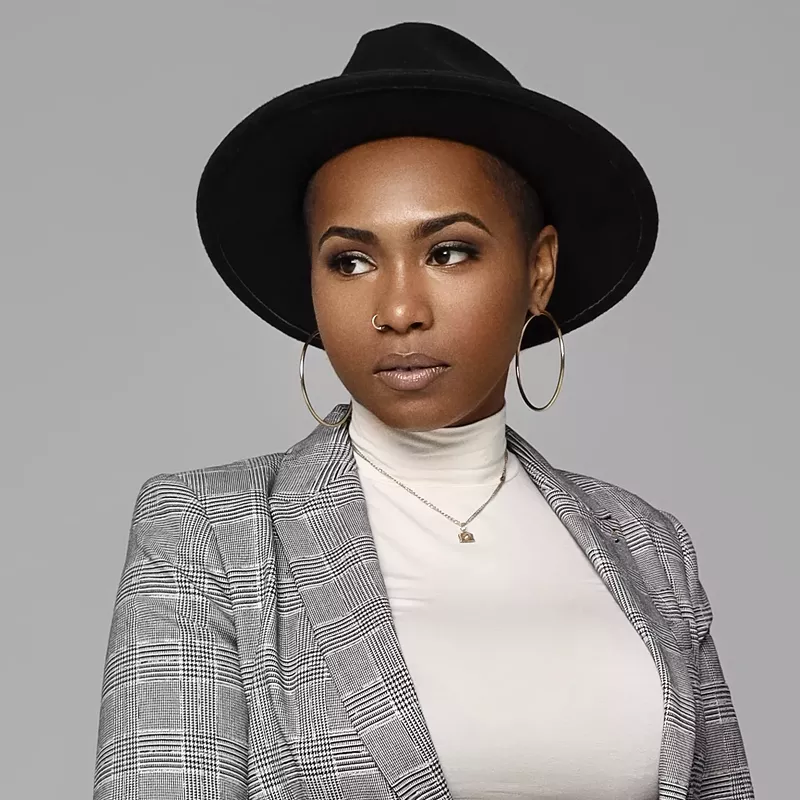 "Black men are not a monolith," the photographer said. "It's important to celebrate their playfulness, divinity, and softness too. I see them as a kaleidoscope of butterflies, as my guardian angels, as my teachers and muses, exploding with light, color, and possibility. Together, we fly towards freedom."
The release also coincided with an announcement for White's All For You Detroit + Park Project initiative, which will build a Black-owned and operated creative headquarters in Detroit to reinvest in local neighborhoods.
Plans for the project include an art gallery, studio space, library, and cafe with co-working, vending, and production spaces for multimedia artists.
White is based in Detroit and has shot and shown work around the world. Her work has been featured in Teen Vogue, Essence, Harper's Bazaar, and Netflix.
Where to buy her work: Dance of a Black Man prints are available at the Charles H. Wright Museum of African American History store inside the museum.
Subscribe to Metro Times newsletters.

Follow us: Google News | NewsBreak | Reddit | Instagram | Facebook | Twitter