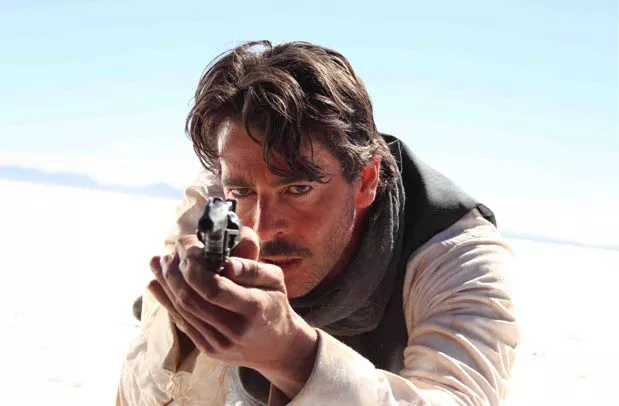 A terrifically vinegary performance by Sam Shepard and jaw-dropping images of Bolivia just aren't enough to make this elegiac tale of an aging Butch Cassidy any less unnecessary. But you can't blame a guy for trying.
Spanish director Mateo Gil has clearly studied the genre, emulating Sergio Leone's brooding anti-heroes and sweeping landscapes, and pairing them with the world-weary contemplation of Clint Eastwood's Unforgiven (and just about every other western that's followed). But no matter how Gil lassoes his iconic character, he's no match for George Roy Hill's rambunctious Butch Cassidy and the Sundance Kid. Of course, his reliance on flashbacks set in the same time period as the Redford-Newman classic certainly doesn't help.
Blackthorn picks things up 20 years after Butch and Sundance were supposedly gunned down by the Bolivian army. Butch goes by the alias of James Blackthorn now, and lives high in the Andes, raising horses, sleeping with a local woman and squirreling away a small fortune. When news of the death of Etta Place (Katherine Ross in the original) reaches him, homesickness inspires him to return to the states and find her now-grown son (who could be his own). Unfortunately, as soon as his trip has begun, he's waylaid by Eduardo (Eduardo Noriega), an amateur thief who drives off his horse and life savings. Hoping to outrun a posse of assassins, Eduardo offers Butch half of the $50,000 he stole from a crooked mining baron if Butch'll protect him. Innocent folks die, an old foe reappears, cowboy ballads are sung, and the retired outlaw is forced to strap on his six-shooter and ride back into action.
Moody, well-acted, and filled with big dollops of melancholy, Blackthorn unfolds its tale of loss with a patience that suggests it has something important to say. But unlike Unforgiven or Andrew Dominick's underrated The Assassination of Jesse James by the Coward Robert Ford, which offered piquant critiques of the American myth of the outlaw hero, Gil's movie is all shallow surfaces and knee-jerk glorification. Miguel Barros' script romanticizes the macho nobility of its lonely protagonist, making it clear that the only thing Butch regrets is growing old. The consequences, costs, and culpability of living life as a gunslinger are never really examined, which leaves us wondering: Why is the movie so damn broody?
Gil's overly serious tone seems misplaced for the tale at hand, though its pensive pace allows cinematographer Juan Ruiz Anchia (Glengarry Glen Ross, At Close Range) to revel in the gorgeous Andean snows, lush Bolivian plains, and haunting lunar salt flats that provide a backdrop to the action.
But where Blackthorn fails as a meaningful character study, it succeeds with its cast of characters. Veteran Irish actor Stephen Rea turns in a sharply drawn role as a former Pinkerton detective who was never convinced that Cassidy died. Noriega, unknown in the states, is similarly effective as Butch's charismatic accomplice. Shepard, however, really seizes the screen, proving himself a worthy inheritor of Paul Newman's mantel. Canny yet cantankerous, he brings an understated dignity to a role others might have turned into a cartoon of faux gravitas and actorly mannerisms (eg. Robert Duvall in Get Low).
Blackthorn wants to be a mature reexamination of a classic movie character, but mistakes age for insight and style for substance. Outlaw or not, Butch Cassidy deserves better.
Showing at the Landmark Maple Art Theatre, 4135 W. Maple Rd., Bloomfield Hills; 248-263-2111.