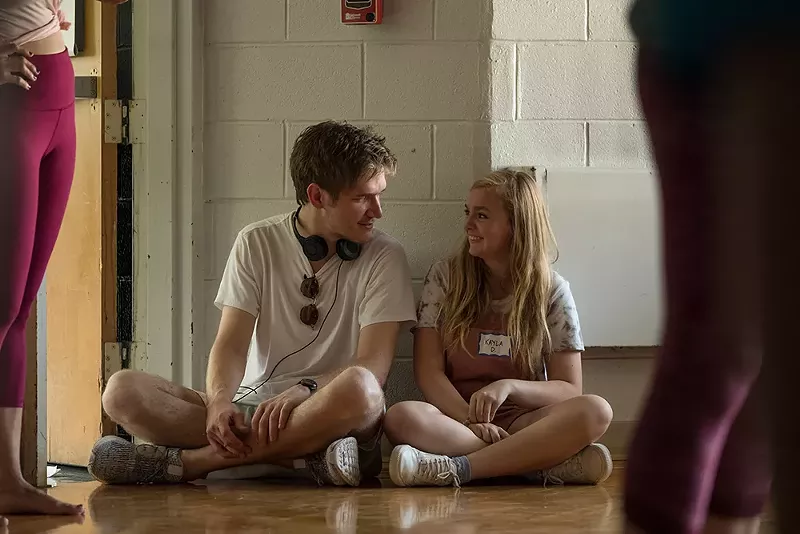 Lanky, scruffy, and possessed of the relaxed demeanor of a clerk at a suburban skate shop in early afternoon, 27-year-old comic Bo Burnham is not actively seeking any mantle of generational spokesman, but you could do far worse in searching for one in him.
The goofily laconic Burnham broke out a little over a decade ago as a teenage YouTube sensation, using the updraft of the video platform to launch what would become a very lucrative career as a touring stand-up attraction. Those comedy performances — complete with music numbers, smoke machines, and swirling lasers befitting of an epic arena rock extravaganza — belie Burnham's regular dude demeanor, and underlines the scope of his sneaky virtuosity.
Perhaps just to prove he could, Burnham has written and directed his debut feature,
Eighth Grade
— a remarkably tender, brilliantly observed character study of a girl attempting to survive the millions of tiny emotional disasters of daily life for tweens in 2018. The movie is centered around a phenomenal lead performance by Elsie Fisher as Kayla Day, a seemingly painfully normal 13-year-old whose relentlessly cheerful self-help tutorials she shoots in her bedroom and posts to YouTube are in stark contrast to the intense shyness and almost crippling social anxiety that makes every school day seem like an eternity for her.
Onscreen
Eighth Grade
is by turns stressful, hilarious, and heartbreaking, just as it is in real life — and with new pressures previous generations who didn't have texting, Twitter, or Snapchat access in their pockets might not be able to quite grasp. But Burnham came of age with social media, a fact which strongly influenced the movie's themes of isolation, privacy, and self-acceptance.
"I definitely had a professional origin online, but I also have like a personal origin there, as a person on the internet, just existing," Burnham says. Most of Burnham's formative years coincided with sites like Myspace, YouTube, Facebook, et al. — where kids are tasked with presenting and cultivating a digital persona to their friends, family, and even strangers — but he's just old enough to have glimpsed a touch of the old, unplugged world.
"Luckily, I do recall a time before we were always online," he says. "Social media kind of came around when I was about 16, so I had a little sense of myself before it showed up. That's a big part of the movie — what would it be like to have
no
sense of your own identity, no memory of yourself before all that stuff? That just seemed insane."
His is the first generation forced to cope with sorting out reality vs. the virtual, often fabricated realities we inflict upon ourselves, at a time when kids are still sorting out who they really are. This dual reality is an even more disorienting process for kids that aren't trying to become actors or entertain, and Burnham became fascinated with how this younger crowd navigates these confusing worlds.
Burnham says he's "not naturally extroverted." "I really wasn't, even though I was performing early on," he says. "It felt like the culture was calling for extroverts, for everyone to be extroverts, and that just isn't the case. I think some people are having a blast on the internet, and some people are really stressed out about it." Burnham considers himself to be in the latter category; so too is Kayla.
When asked why he chose to center the story around a young girl and not a boy, Burnham says he didn't want the story to be explicitly autobiographical. But he says there was also another reason: "If you really want to document this generation, they're doing it themselves," he says. "There's thousands of hours of video available. The thing was, the boys were all talking about
Minecraft
and the girls were talking about their souls."
Navigating this electronic landscape of instant responses, and endless stimulus and scrutiny, has become a challenge for older stars. Burnham, however, is closer to the source, having spent his whole career online, and his success having been generated by clicks and "likes," though he insists that this doesn't make him a guru on handling the weirdness of social media.
"I don't know if anyone navigates it well," he says. "The movie is really exploring the things that confuse me about the internet, the things I'm unsure about — not my authority about it. I feel like people that speak with authority on the internet don't understand it. And it's not really a time for us to speak with authority on the cultural moment because it's so confusing."
If Burnham, simultaneously a product and student of the digital media revolution, can't sort it all out, who can? For Burnham, that's the point. "Let's not try to figure this thing out," he says. "Let's kind of describe how it's feeling; and then in 20 years when 13 year olds become social scientists, we'll let them do it. For now, I just want to take emotional inventory."
Eighth Grade
Rated R
Runtime: 93 minutes

Stay on top of Detroit news and views. Sign up for our weekly issue newsletter delivered each Wednesday.