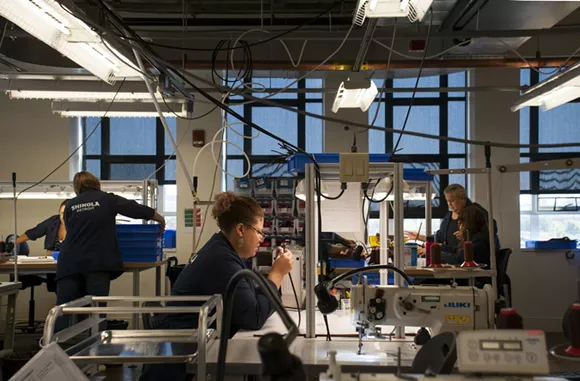 On the face of it, there's a lot to love about Shinola.
The Detroit-based designer and producer of watches, bikes, and leather goods invested heavily in the city during its 2012 death spiral, and the company employs nearly 400 people locally. Its sales topped $100 million last year. Those buying its products include President Barack Obama and Neil Young. A dozen Shinola boutiques worldwide sell its expanding product line, and Adweek labeled it "The coolest brand in America."
Importantly, Shinola's perceived authenticity drives its success. It's helping save Detroit. It's re-establishing manufacturing in the Rust Belt's battered capital. It's a job creator focused on quality, craftsmanship, and producing watches "with a story behind them," says Shinola President Jacques Panis.
By outward appearance, Shinola is a virtuous, soulful, authentic Detroit design company with deep ties to the city's culture and story.
However, those who look a little below the surface are finding that Shinola isn't presenting a long Detroit story, but an elaborate exercise in what Inc. magazine dubbed "marketing theater."
To be fair, the marketing is impressive, and the products look nice. But it becomes a problem when the grassroots-y, authentic, made-in-Detroit story to which people feel good about contributing (and is justification for $3,000 bikes or $800 quartz watches) is something less — a marketing campaign. In other words, people are paying more for a story that's contrived at best.

That's the conclusion some in the national press who sniffed out the company have offered for several years. Among the most comprehensive is Inc.'s recent piece entitled, "The Real History of Shinola, America's most authentic fake brand," in which it dissected the company's incredible branding operation.

GQ took a more humorous approach, writing: "The company's Detroit-ness is about as real as Chipotle's Mexican-ness."
And in its review of Shinola's Tribeca store, The New York Times wrote: "For a company that preaches the modest values of local craftsmanship, it is a bit of bait and switch."
Not surprisingly, there's been little reporting on that sentiment from the Detroit dailies. So what's the issue?

• Shinola isn't a grassroots, Detroit-owned company. It's a product of Bedrock Brands and Plano, Texas watch mogul Tom Kartsotis, who founded Fossil watches. He and seasoned Dallas-based Fossil execs launched Shinola.
• Many watch experts consider Shinola's watches midgrade, even if the hefty price tag indicates otherwise. Consumers are paying a premium for Shinola's branding.
• It isn't re-establishing manufacturing. The products are mostly foreign parts that are assembled here, not made in the USA or Detroit. The Federal Trade Commission recently ordered the company to quit saying or implying so.
• Shinola's marketing campaign implies strong ties to Detroit's history and culture. There are none.
Such truth-bending is an issue because we're living in an age when people have grown tired of the profit motive as a business driver — and young people in particular seek out socially conscious enterprises and small-batch businesses that strengthen the local economy.
There's a renewed appreciation for companies built from scratch off one person's dream, great idea, and hard work, and it's linked to the demand for genuine craftsmanship.
Concurrently, people are deeply nostalgic for a less complicated time when Detroit's manufacturing power fueled the economy, and America was at its best. After all, what's more American than Henry Ford tinkering in his Detroit garage, inventing the motor coach, developing the assembly line, and shaping our cultural identity?
That's the type of vision Shinola invokes. It seized scrappy Detroit's comeback story, played to young consumers' desires, and developed a potent marketing tool it wields masterfully. But make no mistake: That's not sincere. That's a near billionaire from Texas building on a genuine desire to buy from local producers.

Even before Shinola set up shop, it commissioned a marketing study and determined consumers would pay $10 for a U.S.-made pen, but $15 for a Detroit-made pen. So before swooping in to employ the natives, Shinola saw an opportunity on which it could capitalize — Detroit's a brand, and its comeback story sells.

To help animate the vision, Tom Kartsotis gathered a crew of execs from the Fossil watch company, which he founded, called in creative talent from Gucci and Louis Vuitton, then hired Partners & Spade. The latter is described by Inc. as "the New York City branding firm that made its name injecting its own heritage formula into mass retail brand J. Crew."
Compare that story to, say, Joe McClure of McClure's Pickle's lugging brine to Eastern Market at 6 a.m. every Saturday, and, after years of sweat in a challenging Detroit market, building a national brand.
Or look at the launches of well-loved Detroit-born brands like Dilla's Donut's or the Hub of Detroit bike shop. They all have what Shinola lacks — authenticity and ties, yet the Texas-based company gets an outsized portion of the glory.
As Detroiter Jon Moy, writing for Complex, put it: "Instead of starting in his parent's garage, Shinola is a trust fund kid that decided one day he wanted to start a company and had his dad buy him all the cool stuff."
As for the watches' price, reviewers note they are quartz, not mechanical. Quartz pieces are generally low- to mid-quality, while mechanical are typically high quality. While generally approving of the design, many reviewers highlight that consumers are paying $550 to $1,500 for branding as much as quality. The Gentleman's Gazette blog succinctly summed up the general feeling: "In our opinion, the marketing is much more impressive than the manufacturing."
Perhaps the most obvious and tangible problem lies with the Made in America question. The FTC ordered the company to stop saying or implying that. Now, when Shinola states "Built in Detroit," it must add "with Swiss and imported parts." It now admits the parts for its bikes and watches also come from China and Thailand.
Shinola President Panis showed me the company's operation at a former GM design lab in Detroit's New Center. The company never directly stated that its products were "Made in the USA," Panis said. It did, however, appear to imply so, enough to attract the FTC's attention.
Similarly, he replied, "We never stated we're a grassroots Detroit company" when I asked about the marketing campaign and pointed to Inc.'s article, which provides an in-depth breakdown of exactly how Shinola crafted its image.
"We don't claim to be anything other than what we are, which is a job creation vehicle, and what you're implying is very subjective," Panis told me.
People on all sides of the issue — customers and critics — seem to understand Shinola's branding playbook, yet its president doesn't?
It is, however, hard to argue against the creation of so many decent-paying jobs and the friendly, relaxed work atmosphere Kartsotis cultivated at Shinola. The factory, which is fully producing its own leather goods and will soon assemble turntables, is an impressive operation, and the workers earn as much as $15.50 an hour.
There's not much like that in Detroit. And by that measure, Shinola is accomplishing what Panis says is its sole purpose — job creation. But that simple explanation ignores how Shinola's method of image-building leads to a high-end designer drawing comparisons to Chipotle.