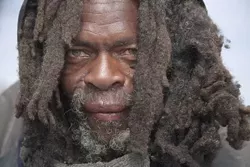 We were saddened to learn last week about the death of Dreadlock Mike, one of those iconic street people who entertained crowds around Comerica Park. He and another street person, James Van Horn, widely known as the "Eat 'em up, Tigers!" guy (for his mantra cheering on our home team), were reportedly killed by a hit-and-run motorist in the wee hours of Saturday, July 27.
So we were surprised to arrive in the office on Monday morning and find a poem left on our keyboard, apparently hand-delivered to our office. In the margins of the verse was printed: "Metro Times, can you print this for Mike"? We present here this anonymous tribute to the man known as Dreadlock Mike.
Social Vendor
We've seen you, Mike
Judges, priest, Pepsi
delivery men,
EMS, DTE.
Solid apparition
Solemn worn visage
Heavy roped dreadlocks
Moving between our
Civic world
Like an urban stream
of consciousness
Limbless in cold winter
Snow-covered and frozen
We gave donations
In pure conscience
A silver dime golden
A divine cup of soup.