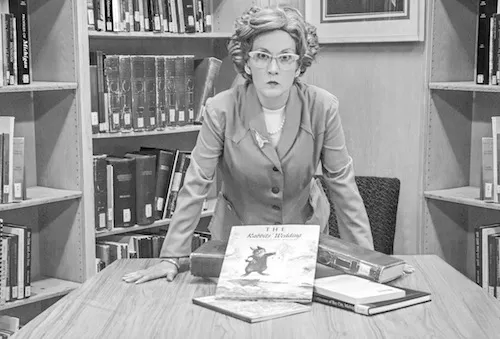 Unless you've been living under a rock (
or running a tavern called Bookies
), you must be aware that we have a long way to go when it comes to rooting out racism in the United States. And yet, we've come a long way, baby. Case in point: It's hard to believe that a simple story about two rabbits, one black, one white, getting married would enrage a segregationist Alabama senator. But that's what happened, and it's the basis of a new play put on by the Theatre Company at University of Detroit Mercy.
The play is called
Alabama Story
, and the UDM production is getting its Michigan Premiere this week at the Boll Family YMCA in downtown Detroit. It concerns the story of U-M-educated Emily Wheelock Reed, the state librarian of Alabama during the civil rights movement. In the 1950s, she defied Sen. E.O. Eddins and his White Citizens' Council by defending a book they demanded be purged from public libraries. The book concerned Garth Williams children's book,
The Rabbits' Wedding
, which depicted animals in a moonlit forest attending the wedding of a white rabbit to a black rabbit. In the fevered minds of segregationists, it was tantamount to a primer on interracial marriage. Reed countered that if that were the case, it still deserved a place in the library.
The local connection doesn't end with Reed's U-M diploma: It's also written by Detroit-born playwright Kenneth Jones, who was also drama critic for
The Detroit News
. Jones says, "
Alabama Story
is a look at civil rights, but through the lens of censorship. Its style is purposely thick and presentational, a mash-up of romance, political thriller, courtroom drama, memory play, social-justice potboiler and more. I'm excited that I'll be on the UDM campus for some of the rehearsal process to work with the Theatre Company, a troupe that I knew, loved and respected when I was a theatergoer in Detroit in the 1980s and 90s. I came of age as a playgoer at UDM, where offbeat authors, risky new plays and fresh ways to see the world were embraced. I'm honored to be part of its heritage and legacy."
Alabama Story
will be performed at 7:30 p.m. on Thursdays, Fridays, and Saturdays and at 3 p.m. on Sundays, Sept. 22-Oct. 9, at the Marlene Boll Theatre, 1401 Broadway, Detroit; tickets are $25, seniors $22, vets and students (with ID) $10; tickets available noon-5 p.m. Tuesday-Friday in Reno Hall 43, 4001 W. McNichols Rd., Detroit; 313-993-3270;

[email protected]

; for more information, see TheTheatreCo.com.