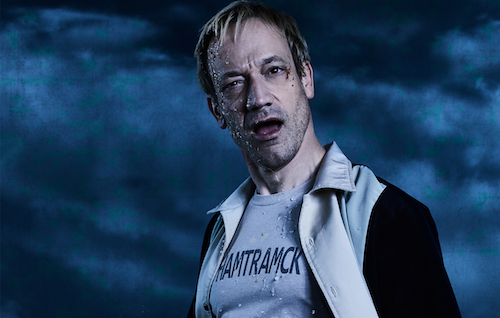 Earlier this month, we got the chance to talk to Ted Raimi. You may be more familiar his older brother Sam, director of such blockbusters as
Spider-Man
,
Spider-Man 2
, and
Spider-Man 3
, which altogether grossed more than $1 billion at the box office. Ted's career has often aligned with Sam's projects: He has played bit parts in cult classics like
Crimewave
, and portrayed the evil deadite Henrietta in
Evil Dead 2
, and fell into a number of hacker roles in the 1990s before playing the nebbish warrior wannabe Joxer in
Xena: Warrior Princess
.
As if that weren't enough to hit us right in our cult movie-loving gut, Ted, like the rest of the Raimi brothers, is also a native Detroiter. He lives in the Los Angeles area, but is still a Tigers fan who misses "the dynamism of Detroit." He jokes, "You have to be a glass-is-half-full guy in Detroit. Detroiters don't really know glass-is-half-empty guys, that is because those guys died a long time ago, either by depression or they actually got killed. But you
have
to be a glass is half full guy, you have to be positive and seek positivity. There is no other way to survive, and I think that mentality translates well into acting."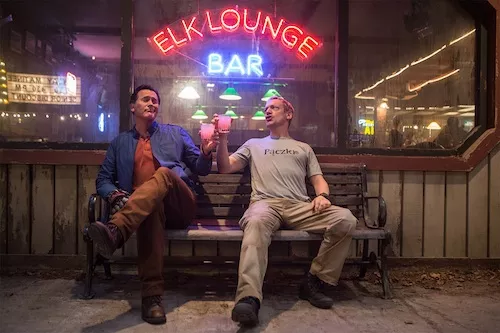 In a few weeks, he also will appear in season two of the popular Starz series
Ash vs Evil Dead
, which he's eager to promote. But we thought it was neat that he asked his publicist to pitch us that story specifically. Ted tells us he grew up reading
Metro Times
, and says, "I always hoped that one day I would get into the
Metro Times
."
We're delighted to oblige.
Normally, we'd digest this sort of sprawling discussion into an article that tells Ted's story, but it was such fun chatting with him, we're presenting the interview as a Q&A, hoping it captures some of the humorous back-and-forth with a hometowner who's not just a cult character actor, but a guy who feels comfortable ad-libbing in front of large audiences at comics conventions. Here's the best of a frank, funny, sometimes silly half-hour talk that even includes some singing. It begins with Ted reminiscing about his favorite stuff in metro Detroit.
Ted Raimi:
I'll tell ya, I dream about Time Travelers comic shop and Sidney Boggs chocolates right there in Berkley. I also really like Chazzano Coffee in Ferndale. Also, obviously what is bizarre to me is that the Cass Corridor is now becoming hip. I was like, "What?"

Metro Times:
There is a high-end leather store there now. I heard they have bowls on the street where they pipe in water for dogs to drink from.
Raimi:
That is ridiculous! I also heard there is a new beer joint, two or three, right near Wayne State.
MT:
You got Jolly Pumpkin, which is a Belgian-style brewery. I go across the street to Motor City, generally. There is Hopcat, and they have like 130 tap handles in there. It is so weird for me: I walk by and I see smiling, happy couples having the time of their life and I am like, "Do you even realize what this place looked like five years ago?"
Raimi:
[laughs]
MT:
I asked one of my friends, Mike White, who said you are one of his favorite character actors, what I should talk to you about. He wanted me to ask you...
Raimi:
That is the nicest compliment I have ever heard
MT:
Yeah, well, he is a huge fan. But he, and a few other people, wanted me to ask you if you remember stuff like …
Bill Kennedy
and
Sir Graves Ghastly
.
Raimi:
[laughs] Yeah! Sure I remember them. You know, Bill Kennedy I remember, obviously, from just when you are sick. That's what all Detroiters my age remember Bill Kennedy as, when you are sick from school you watch him. Bill fits his own world, he was lucky to get the job of being a daytime TV host. And, of course, Sir Graves was great. I lived for him. It is so sad that the days of the local horror movie host on Saturdays are over. They do not have that anymore. I sort of revived it, though, in a web series called
Deathly Spirits
, which is sort of a Sir Graves deal. It is pretty short, only five of them, but they wound up being surprisingly popular, and those things were totally inspired by him. And then of course there was
the Ghoul
.
MT:
I think he was from Ohio somewhere? He was on channel 62.
Raimi:
The only time any time would ever tune into that station was to watch him. Unless there was like a tornado, you would never tune into that channel. Yeah, I did love that though.
MT:
You're not alone.
Raimi:
By the way, where is
Metro Times
located these days? Are you in Royal Oak or Ferndale?
MT:
Yeah, about three years ago we "went into exile" in Ferndale and we are over by Hilton Road and Woodward Heights Boulevard.
Raimi:
Yeah, I know exactly where that is. It is amazing what has happened to Ferndale, it is just a great thing. It's funny, like when I was a kid, Ferndale was nothing and Berkeley was absolutely nothing. But now Berkley is Ferndale, Ferndale is now Royal Oak, and Royal Oak is now Birmingham. I mean when I was a kid I remember dreading having to go to Royal Oak because there was still one barber that my parents would take me to that gave me flat top. Like, that's how square that place was back then.
MT:
That was just about where I wanted to start, anyway, growing up in Detroit. Were you born in Detroit?
Raimi:
I grew up as a kid on the west side, on Six and Livernois. Then my parents moved out to Franklin. We really had a change of scenery, it really was like, an adjustment. But then I went out to suburbs for high school, I went to Groves. I flipped around colleges though, I went to New York University until I finally wound up back at the University of Detroit. Which wound up being great because it taught me everything that other acting colleges could not — which is Detroit-style survival: you learn or you die.
MT:
[laughs]
Raimi:
That's right, learn or die, there's no other option. So David Regal and Mary Bremer and Arthur Beer, who were my professors, all had the same philosophy, which is: "You want a part in this play? You are going to be acting with other professionals, who are from the same city, they are going to audition with you…You better get better or you are not going to get a part, that is all there is to it." Which was in complete opposition to what I had just gotten through at NYU. Going to U of D was really refreshing. You could not screw up there. That school informed the rest of my acting career. So you get good, or you forget about it. So the second I made it to L.A., I tried to be as good as I possibly could be all the time. Coming from Detroit has its advantages, you know. Your work ethic is unparalleled. It is hard to keep up your energy over here, but when you are from Detroit, it is not.
MT:
Yeah, there's a good bunch of Detroiters out there acting in Los Angeles now.
Raimi:
I had a group of buddies from Mercy Detroit that would, you know, get up to no-good after school, a bunch of actor buddies of mine, some of them are still around.
Keegan-Michael Key
is on fire. Keegan was really cool, he ran a fund for kids who do not have improv training at their schools, he was raising money it in L.A., so I helped him out with that. A whole bunch of Detroiters showed up. It was crazy! It was him and me and
J.K. Simmons
and just a bunch of us, it was like a little-weird night of Detroiters in Hollywood.
MT:
Can you talk a bit about your start in television?
Raimi:
The very first T.V. show I did was called
SeaQuest
and that was back in the '90s, and it was about a submarine in the future, and I wore this T-shirt in one of the episodes...because I went to U of D, I wore a University of Detroit T-shirt with a graduating shirt of 2020 ... and now the class of 2020 is basically there this year!
MT:
It seemed at one point you were typecast as a satellite analyst or some other sort of technical person.
Raimi:
Oh, I did those roles for years! And those were serious parts.
MT:
How'd you break out of that?
Raimi:
You know, I was forced to. I started playing those roles around the age of 22-23. I think the first one I did was a Tom Clancy movie,
Patriot Games
. Then I went right into doing that to
SeaQuest
, where I played that role again for three years. I did it for one other movie, and then I got too old to be one of the computer kids. Then I was 29.
MT:
Yeah, you can't be a 29-year-old hacker.
Raimi:
[laughs] If you are a 29-year old-hacker then you are basically a loser. Move out of your mother's basement and get a real job!
MT:
[laughs]
Raimi:
So I was forced to change. As some female actresses are forced to make that change when they are not 27 anymore, I had to reinvent myself. I did like doing comedy, and I hadn't done any yet. I remember as soon as I finished my last TV part in 1996 or 1997, I just was completely broke. I had no money. I was not paid very much for that show. I threw all my stuff in the back of my older car, a Saturn, and I just said goodbye to everybody. I remember going into the offices at Universal, where I had done
SeaQuest
, because my old pal Rob Tapert was there, and I went to say goodbye. Right then and there he suggested I move to New Zealand and do the show
Xena
. I was like, "Yeah!" Any scenario where I am not broke is a good one to me!
MT:
And so it winds up throwing you back into the same dramatic universe as Bruce Campbell.
Raimi:
Right, yeah we started off making movies together, and for like eight or nine years we made our own TV shows and movies, and then we both wound up doing
Xena
together for like six years. When that show ended, Bruce did a couple movies here and there and I did too. And now we both end up on
Ash vs Evil Dead
.
MT:
What is it like to have that "the band is back together" moment? You can't have imagined back when you were "Henrietta" in
Evil Dead 2
that you'd be doing this today!
Raimi:
It is crazy to be working with Bruce again. I mean I am a different character in this now. I am Kaminski, but it is surreal. They flew us to New Zealand, where they'd rebuilt Detroit and other small areas in Michigan, in Auckland, New Zealand, and put us there.
MT:
What? Are you kidding me?
Raimi:
No! I was down there, and the show takes places in Berkley, or the fictional "Oak Grove" where Ash grew up. They re-created all of it around sound stages in Auckland. Bruce and Lucy and I are tripping around the bottles of Faygo pop, boxes of Buddy's Pizza, …
MT:
And the Vernors gnome peering around the corner …
Raimi:
Yeah! There is Vernors crap everywhere. A vintage Iggy Pop & the Stooges poster for St. Andrews Hall. But here we are, 19,000 miles away from any of that. But you feel like you're there.
MT:
Tell us about your character, Chet Kaminski.
Raimi:
The head writer gave him the name Chet. I gave him the last name Kaminski, because he might have been from Detroit. And I created this shirt that he wears throughout most of the show — it says Hamtramck on it. Every TV show or character when I am playing someone from Detroit I try to throw back some love. The first time you see me [in the show] I am wearing a shirt that says "paczki" on it.
MT:
I saw that too. I was wondering about that!
Raimi:
I know it is an in-joke with only Detroiters, sometimes I get people from Chicago, but mostly everyone else is like. "What the hell is that crap all over his shirt?" They do not even know it's Polish.
MT:
And what could make things more surreal except having Lee Majors there. What is it like working with him?
Raimi:
I have to stop myself from calling him "Steve" all day. I remember one day we were talking about how his name is "Lee" not "Steve Austin." He is as charming as you might think he would be. He is from Kentucky, but, weirdly enough, he was born in Michigan.
MT:
No, that does not surprise me. It's that whole Hillbilly Highway thing connecting Michigan with the South.
Raimi:
The Hillbilly Highway, man! It goes right to Michigan! He is not unusual in that regard. He is one of that group. He moved back to Kentucky and became a film actor, and all of that. He is an old pro, he has done a billion
Big Valley
, did, like, 112 episodes of that. And then
The Six Million-Dollar Man
. He is no stranger to a film camera being pushed into his face.
MT:
I find I remember those 1980s TV shows better than I think I do. You ever try to just sing the theme song for
The Fall Guy
?
Raimi:
No, I can't say I have done that recently. Can you do it for me? I don't know what it is.
MT:
You know, I found I remembered a lot of the words … He's talking about all the girls he has been with. "I'm not the kind to kiss and tell, but I've been seen with Farrah …"
Raimi:
Now, you are making that up!
MT:
No, it is hilarious … [sings] "I might fall from a tall building, I might roll a brand-new car, but I'm the unknown stunt man that made Redford such a star."
Raimi:
[laughs] I did not know those were actually the lyrics!
MT:
I noticed you brought Lucy up, is she just hanging around or is she on the show?
Raimi:
She plays a girl named Ruby, who is like a mysterious underworld figure. I mean that literally: She is from under the Earth, some sort of demon. I was with her for six years too. There is Lucy, there is Bruce, and the executive producer Rob Tapert. So it is like basically three Detroiters and a Kiwi. We need to have a band called that! Then, of course, there is the fantastic Ray Santiago, who plays Pablo. Then Dana DeLorenzo who plays Kelly, those kids are like the new faces of
Ash vs Evil Dead
. Like when we are all dead, they will be our age, and, like, hiring new actors to be the third incarnation.
MT:
Sadly, I didn't get to see it. I did see the trailer. It seems like the same old mix of creep-outs and laughs and lovable characters, freshened up for TV.
Raimi:
Yes, exactly right. There is more gore, more guts. If that is even possible! They managed to squeeze more in. It is also fascinating, that Starz allows us to do what we would not be allowed to do in theaters. It is so gory. That is how television and cable are flipped around. This could play at an art house, if you strung all the episodes and made two gigantic films, you would have to have them unrated in an art house: It is too disgusting and gory for an R-rating. It would have to be greatly edited for an R-rating. Cable has enabled us to show extreme gore, do extreme jokes about the gore, which just plays right on TV.
MT:
One more crazy question, back from the VHS era, when lots of crazy shit got made. What is the story with
Lunatics: A Love Story
?
Raimi:
I'm glad you asked about that. That was the first indie movie I ever made. It was my first starring role too. It has a place in my heart. I also think it is a pretty good movie. The director, Josh Becker, who also wrote it, did a fine, fine job. That movie, you're right, should have been released at least on DVD. What is Sony thinking? "Sony Pictures, wake up, what is your problem?" You can quote me on that. Sony has released some fine movies, for sure, but they also have released some movies like
Trancers 19
and you are thinking, "Really? This gets a DVD but not
Lunatics
?" And another thing: This year Lunatic actually is showing a profit — after 20-some years, it is a profitable movie. So, come on, dude! Release that on DVD.
MT:
That's a good note to end on. Thank you for taking the time to speak with us.
Raimi:
I'm glad to talk to you. I know you handle social issue articles as well. My nightmare was you would start an article saying, "Even though Ted Raimi has no social conscience whatsoever, he does love blood, guts, and gore."
MT:
[laughs] Oh, gosh. Well, it is nice to take a break from the serious issues and talk about fun stuff like this. To paraphrase Emma Goldman, "If I can't laugh, it's not my revolution," right?

The STARZ original series
Ash vs Evil Dead
returns for its second season at 8 p.m. Oct. 2.