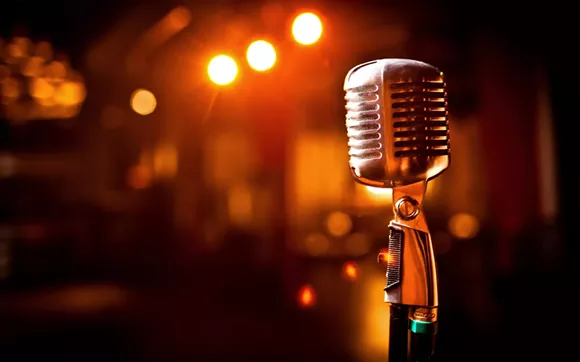 You're in the mood for something intimate: murky lights, fresh roasted coffee, chapbooks. Maybe you're a great poet searching for an underground outlet or someone interested in being part of a small, artistic community. Chances are you can find what you're looking for in one of the many open mic series that dot metro Detroit's cultural landscape. Here are some that may interest you:

The Return of Creative Juicez Open Mic Series
; doors at 9 p.m., open mic at 10 p.m.; Saturday, June 25, at The Artist Village Detroit, 17736 Lahser Rd., Detroit; $5 for performers until 12 a.m., $10 for patrons
Nights @ HYPE: Workshop and Youth Open Mic
; 7 p.m. to 8:30 p.m., Tuesday, June 28, at Clay Office and Conference Center, 453 Martin Luther King Blvd., Detroit; $1 for performers; $2 for patrons

Mahogany @ the Museum: Detroit, Open!
; doors at 7 p.m., performers arrive by 7:45 p.m., open mic at 8 p.m., Friday, July 1, at Charles H. Wright Museum of African American History, 315 E. Warren, Detroit; $5 for performers, $15/$20 for patrons (bought in advance/at the door); brownpapertickets.com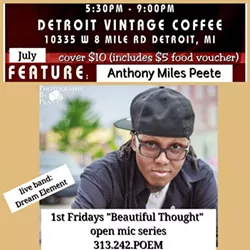 Beautiful Thought Open Mic Series
; 5:30 p.m. to 9 p.m., every 1st Friday, at Detroit Vintage Coffee, 10335 W. 8 Mile Rd., Detroit; $10 cover charge (includes $5 food voucher)
Fresh Water Poetry Slam: The Untitled Botegga
; 7 p.m. to 10 p.m., every 1st and 3rd Monday, at The Baltimore Gallery, 314 Baltimore Ave., Detroit; $5 cover charge
Open Mic Poetry at Always Brewing Coffee
; 7 p.m. to 10 p.m., every 2nd Tuesday, at 19180 Grandriver, Detroit; free entry
Unity Detroit Presents Tell it Tuesdays
; 7:30 p.m. to 11 p.m., every 1st and 3rd Tuesday, at Bert's Warehouse, 2727 Russell St., Detroit; $5 cover charge before 9 p.m., $10 after
Urban Echo Poetry Slam Series
; 8 p.m. to 11 p.m., every 2nd Wednesday, at Trinsophes Cafe, 1664 Gratiot Ave., Detroit; $10 cover charge
Open Jazz & Poetry
; 9 p.m. to 2 a.m., every Wednesday, at Harbor House, 440 Clinton, Detroit; $5 cover charge
Open Mind Mic Series
; 8 p.m. to 11 p.m., every Thursday, at They Say, 267 Joseph Campau Ave., Detroit; free for performers, $5 for patrons
Nandi's Knowledge Cafe Open Mic Series
; 9 p.m. to 12 a.m., every Thursday, at 12511 Woodward Ave., Highland Park; $5 cover charge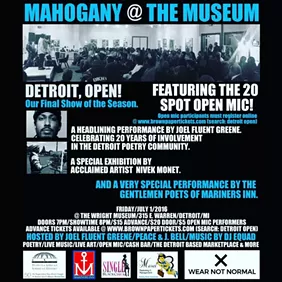 Spotlight Open Mic
; 9 p.m. to 12 a.m., every 1st and 3rd Friday, at Manila Bay Cafe, 4731 Grand River, Detroit; $5 for performers, $10 for patrons
Peaceful Poetic Places
; 6 p.m. to 10 p.m., every 2nd Saturday, at Royal Oak Woman's Club, 404 S. Pleasant St., Royal Oak; $10 cover charge
Sweet Speak
; 6 p.m. to 9 p.m., every 3rd Saturday, at Good Cakes and Bakes, 19363 Livernois Ave., Detroit; $5 cover charge
Broadside Press Poets Open Mic
; 3 p.m. to 6 p.m., every 3rd Sunday, at Grounds Coffehaus, University of Detroit Mercy, 4001 W. McNichols Rd., Detroit
Sound Off Sunday Open Mic
; 8 p.m. to 11 p.m., every other Sunday, at The Baltimore Gallery, 314 E. Baltimore Ave., Detroit; $5 cover charge
The Drunken Retort Open Mic
; 8:30 p.m. to 11 p.m., every Sunday, at The Hopcat, 4265 Woodward Ave., Detroit; free entry
Sunday Night Expression
; 9 p.m. to 1 a.m., every Sunday, at Club N.E.P., 9351 Woodward Ave., Detroit; $5 cover charge